Pink Flowering Border for Valentines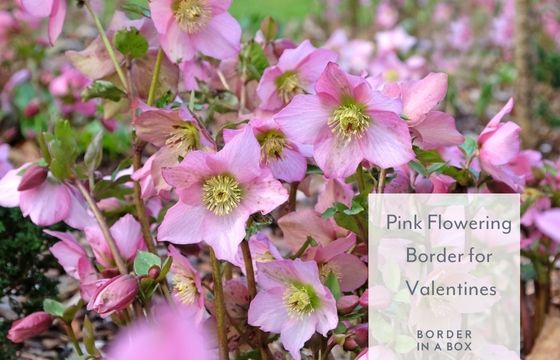 Roses are the flowers we all associate with love and friendship and are frequently given on Valentine's Day and Mother's Day. But how about offering a different token of love this year and create a beautiful border filled with lovely pink flowers and shrubs that not only look pretty but are loved by our pollinators too! And it has the benefit of flowering for years to come!
In this border design, I've included scented plants so place them close to a path or by your door to appreciate them even more.
Daphne 'Perfume Princess' –
these are one of my favourite winter shrubs as they're evergreen, happy in dappled shade and the scent is gorgeous. Plus, they only grow to around 1.5m x 1m tall and flowers from January to March. The flowers form in clusters along the stem which makes them ideal to cut and place in a vase indoors to fill the room with their perfume. One tip – plant them in their 'forever home' as they do get grumpy if they are moved. They may take a while to establish, but its definitely worth the wait.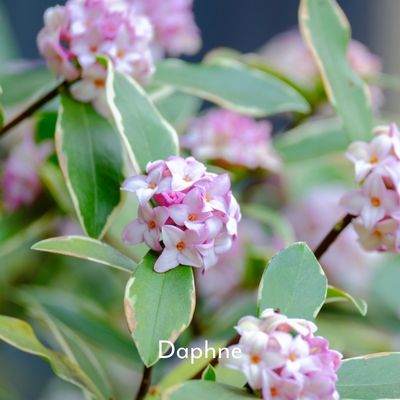 Wallflower 'Sugar Rush Purple Bicolour' F1
I love to include these in my pots and borders. I feel you get a lot of flowers for your money as they can bloom twice a year – once in March-to May and a second show from September to October. Although I have grown them pots with tulips, I've found they are more vigorous in a border. They're loved by bees and are happy growing in full sun or partial shade, to around 30cm tall.
Tulipa 'Angelique' –
if you plant one tulip, this variety is the one to go for as they are often mistaken for peonies in my garden with their bowl-shaped soft pink flowers that open fully in the sun. Plant them in swathes to create even more impact.  They grow to around 45cm tall, and you can buy them in pots (in the green) from the garden centre ready to plant in your borders.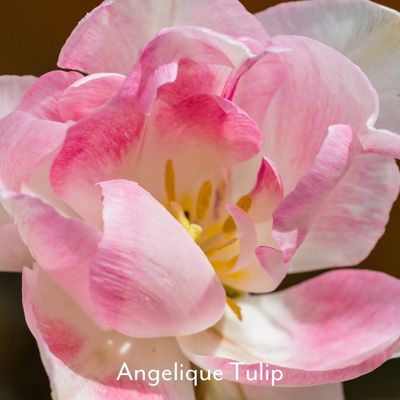 Hellebore 'Walberton's Rosemary' –
Another beautiful pink flowering variety. They prefer partial shade, so plant them in the shadow of the Daphne and Salix. They flower from February to April, are also loved by bees and again plant them in swathes for more impact. They grow to around 50cm tall, and the leaves are semi-evergreen, dark green and leathery. They will also expand in clumps over time too.
Salix gracilistyla 'Mount Aso' –
who doesn't love a fluffy catkin in spring? These are a gorgeous shade of pink, and once established they also make lovely additions to flower arrangements. Although willow trees are renowned to grow rather large, this particular variety will only grow to around 1.5m x 1.5m. Pollinators, especially moths love a willow tree and prefers a sunny spot in the garden.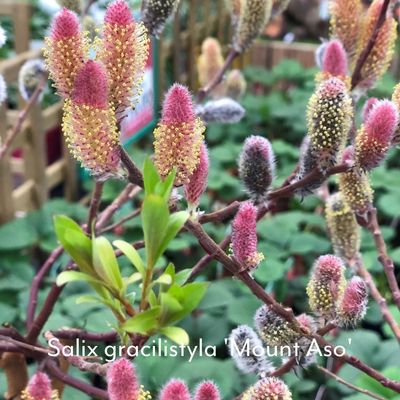 Mini Planting Plan
Here's a mini planting plan incorporating all of these plants. Plant the wallflowers, tulips and hellebores in swathes to create more impact.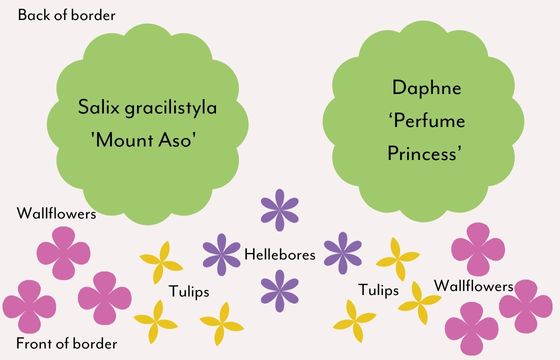 If you would like to join my Garden Lovers Club, click on the link below – you can expect a weekly email (every Sunday at 4pm) containing tips and ideas for your garden and nature. It's all FREE too!