Creating An Autumnal Evergreen Garden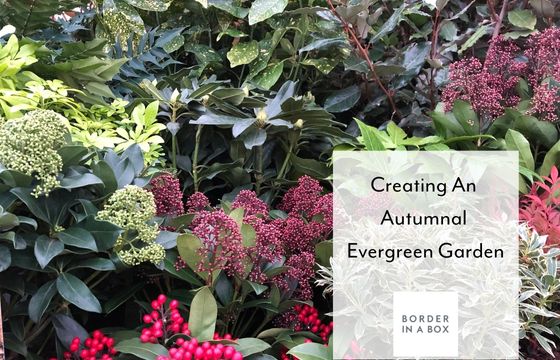 With climate change happening in front of our eyes, the seasons have been affected and we're finding that gardening is a year-round activity. Therefore, it's important to consider our plant choices even more as they're expected to work hard by offering maximum flowers from the minimum space for the longest time.
There are so many lovely shrubs with great colour and shaped foliage that can create interest and texture to your garden all year round and I always include them in every border I design.
Evergreen Shrubs
Evergreen shrubs are great for adding structure in the garden. Larger and mature shrubs can have their lower branches pruned back and thereby raising the canopy (crown lift) – this is where all the leaves are located in the top section of the plant. This pruning technique can also improve the health of surrounding plants due to increased light and air surrounding them.  These look great when they're under planted with flowering perennials and bulbs such as Colchicum 'The Giant' which is an autumn crocus.
Photinia
One of my favourites is the Photinia x fraseri 'Red Robin' – these are commonly used in hedges, but I love the lollipop tree versions as they're great for adding height and interest in a small garden. In the spring the new foliage is bright red which turns green as it matures. Alternatives to use are Bay trees – both trees are happy in a sunny or part sunny spot. Bay leaves have an added benefit as they can be used in cooking. Keep them clipped to the desired height and shape.
In this photo they're underplanted with a row of lavender, which also keep their silvery leaves during the winter.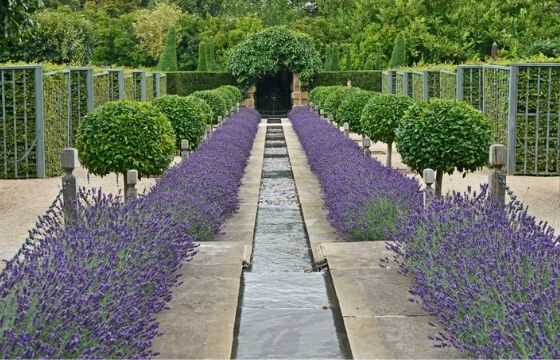 Plants with different heights also create interest – low growing evergreen grasses such as Carex oshimensis 'Evergold' which provides movement in the border and looks fantastic underplanted and around Cornus sanguinea 'Midwinter Fire' with its bright orange stems. Although this is a deciduous shrub, it is grown for its colourful winter stems. The Carex will grow to around 50cm tall and wide when mature and the Cornus will grow to around 2m tall and wide.
Abelia × grandiflora 'Hopleys'
has a pretty variegated leaf, with white flowers in spring. It's an evergreen shrub that grows to around 1m tall and wide but can be easily cut back to the desired height. It's one of those plants that I just leave to do its thing in my garden and always looks good!
Alternative variegated leaves are Pittosporum 'Elizabeth', Euonymus fortunei 'Silver Queen' and if you want a dwarf evergreen shrub the Hebe 'Heartbreaker' with its purple leaves in the winter months is gorgeous for the front of a border.
All these plants can be grown in containers too – which you could place in gaps in the borders during the winter months.
Here are some top tips for container gardening in the cold months:
Make an impact – as plants grow much slower in the colder months, it's best to fill the planter right from the start, so choose larger specimens, or more of them. Add ivy to spill over the sides of the pots and use winter pansies & violas for instant colour and bulbs for seasonal interest. Remember to dead head the pansies to encourage more flowers.
Raise the pots off the ground to aid drainage – don't over-water or underwater the pots, as the water can freeze and damage the plant roots and ultimately may kill them.
Choose frost-proof containers. In severe weather protect the plants and pots by placing in your porch and/or insulation to wrap around them.
Readymade Garden Border
I have created an Evergreen garden design kit to help anyone who wants to create a border with year-round interest – here's the link for further information EVERGREEN BORDER KIT