Sensory gardens are becoming more popular as people look for ways to enhance their wellbeing and enjoy nature. Whether you have a large space or a small balcony, you can create a sensory garden that suits your needs and preferences. Here are some tips and ideas on how to plan and design your own sensory garden from scratch.
Engage all the senses
A sensory garden should engage all the senses – touch, sight, scent, taste, and hearing. You can also focus on one or more senses, for example, if you want a calming space, you might choose soothing colours, scents and sounds; if you want a stimulating space, you might choose bright colours, textures and noises.
Some examples of sensory elements are:
Touch: soft grasses, fuzzy leaves, smooth stones
Sight: colourful flowers, contrasting shapes, patterns, lights
Scent: fragrant herbs and flowers
Taste: edible plants, herbs, fruits
Hearing: water features, wind chimes, bird feeders
Plan your layout and features
Once you have chosen your sensory elements, you need to plan how to arrange them in your space. You might want to create different zones for different senses or activities or mix them up for variety. You might also want to include some features that enhance the sensory experience, such as:
Seating: benches, chairs, hammocks
Shelter: pergolas, gazebos
Paths: gravel, wood chips
Containers: pots, baskets
Structures: trellises
Art: sculptures
Once you have designed the layout of your garden and completed the hard landscaping such as paving and structures you can move onto the next step of planting.
Planting for a Sensory and Wellbeing Garden
Touch
1. Stachys byzantine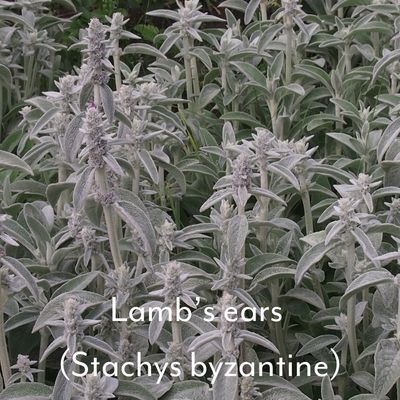 This has to be my #1 plant for softness – I love it! It has thick felt-like silvery leaves. The photo shows the flower-heads, which have tiny pink flowers, but they're grown for their mound-forming woolly leaves as they're evergreen. Prefers full sun, likes any soil except clay. Alternatives to this plant is a herb called Silver Mint which looks very similar. Ideal for flower arranging too as it's aromatic and soft to the touch
2. Pennisetum 'Fairy Tails'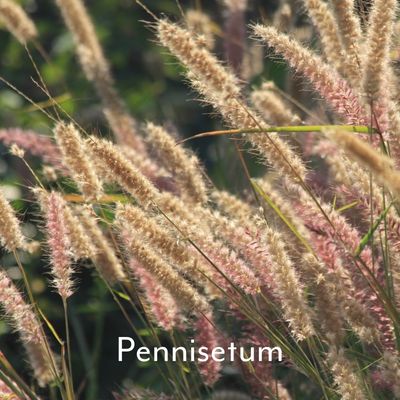 This grass has soft seed heads and has a dual purpose in a sensory garden as it has a slight rustle when the breeze blows through it. This variety grows to around 1.2m tall and will die back during the winter months to re-grow in the spring. Prefers a sunny position too in most soils except clay. Alternatives to this grass would be the bunny-tail grass which you can grow from seed and also has soft seed heads.
3. Rose Campion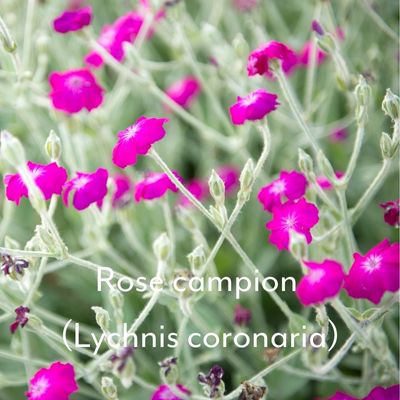 This plant also has soft silvery leaves but has vibrant pink flowers from June to October, so its great for the garden borders and also a winner of the RHS Award of Garden Merit. Great for pollinators too and although it's a perennial, it doesn't last long but it will self-seed. Loves full sun, grows to around 90cm tall and prefers fertile, but well drained soil.
Sight
1. Roses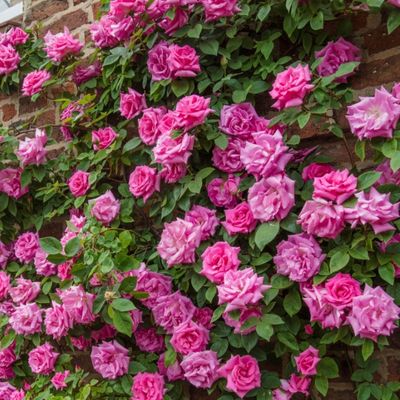 With so many colours and varieties to choose from, you will find one suitable for your garden – there are thornless options too such as Rosa Zepherine Drouhin which is a pink flowering climber and is available from David Austin Roses. It has a fabulous scent too, so its a brilliant choice for a sensory garden. Choose a repeat flowering version so you have blooms all summer long and then leave the hips in the autumn for the birds to enjoy.
2. Cornus kousa 'Chinensis'
Commonly known as dogwood and is a large,flowering deciduous shrub or small tree. It has ovate leaves which turn red and orange in autumn. In the spring it is smothered with white flowers (bracts) which turn to deep pink fruits that look like strawberries. They are edible, but you probably wouldn't want to eat them! This is a beautiful tree and is ideal for any garden.
3. Dahlias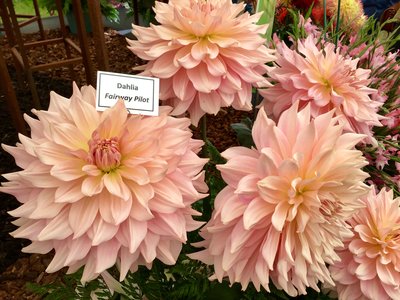 As with roses, there are so many colours and varieties to choose from and are renowned for their bold big blooms, such as the Cafe au Lait which is almost as big as your head! There are the smaller varieties too such as 'Jowey Winnie' which are ideal as a cut flower too.
*top tip* cut the flowers when they are mature as they do not open from bud when in a vase
Taste
1. Bronze Fennel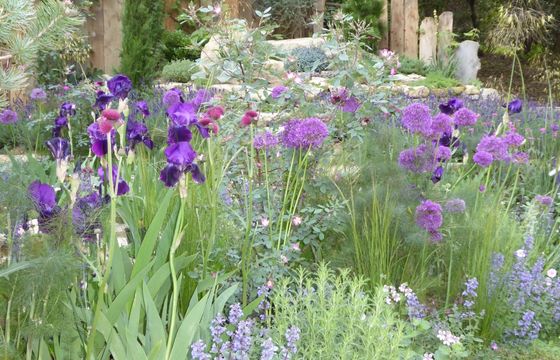 Bronze fennel looks gorgeous in a Mediterranean style garden border with it's feathery leaves as you can see in the photo above, it goes well with the purple pom-pom Alliums and vivid irises. The flowers (not shown) are yellow umbel style and you can use the seeds in breads and biscuits. The seeds may also be used to make fennel tea. It has an aniseed/liquorice taste to it which I love.
2. Thyme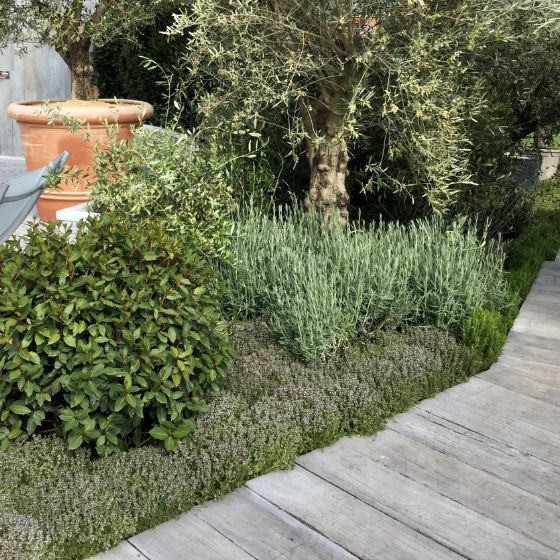 Thyme is a brilliant little plant that can plug the gaps in a sunny border. In the photo above, you can see it's edged the path nicely and is just coming into flower too – delicate little pink flowers. The main tree is an olive which is underplanted with lavender which makes a lovely aromatic planting scheme for a Mediterranean style border.
As it's a herb, it is suitable for adding to all sorts of dishes, such as soups, stews and on top of pizza's instead of oregano.
3. Chives
This herb is a perennial which means it dies back each year in autumn, then fresh new growth appears again in spring. It's part of the allium family, and has lovely pinky/mauve bobble flowers in the summer. The leaves are primarily grown for savoury dishes, but the flowers are also edible and can be sprinkled on salads. They prefer a sunny spot too and grow to around 30cm tall.
Scent
Aromatherapy has been used for centuries and is used as a holistic healing treatment that uses natural plant extracts to promote health and well-being – such as Lavender which is renowned for helping you sleep. So, having scented plants in the garden are so important to our wellbeing and there are plenty to choose from throughout the year.
1. Hamamelis × intermedia 'Pallida'
Commonly known as Witch Hazel – this deciduous shrub has the most amazing scent in winter. Then in the autumn, the bright green leaves turn beautiful  shades of yellow, orange and red. It grows to around 3m tall x 3m wide, and prefers full sun.
2. Scented Pelargoniums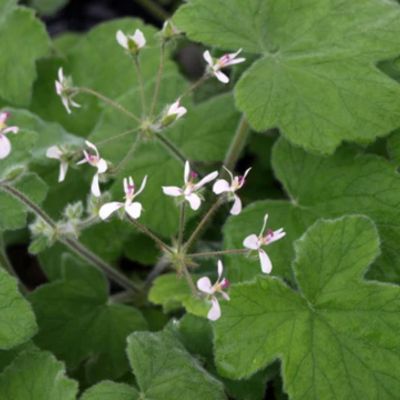 Tomentosum has felt like leaves – so soft with an amazing minty scent. I used it in my Chelsea show garden last year – and I gave one to Tom Allen. He brought his mum to the show and they both had their photo taken on my garden. He is such a character! The plant tends to grow sideways rather than upwards or bushy, so its lovely at the front of a border. The flowers are dainty and will bloom for many months during the summer.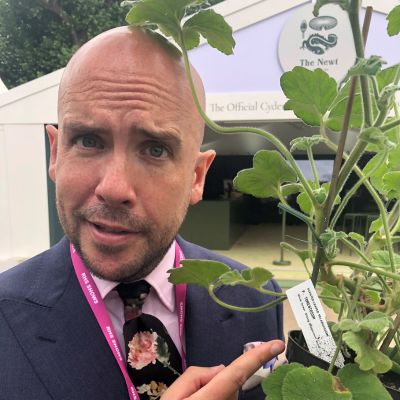 3. Syringa
Commonly known as Lilac, this deciduous shrub has gorgeous scented flowers around May/June timeframe. It grows to around 4m x 4m, so it needs space to mature. It also has lovely heart-shaped leaves too, so it makes a pretty backdrop to other flowers. You could plant around it with other scented plants such as Hyacinths, Roses, Nicotiana (Tobacco plant) and Dianthus.
Sound
Creating sound in the garden doesn't just involve plants and trees, you can use water – ideal to drown out background noise too. The sound of water can be soothing and calm a frazzled mind, so I like to include them in a garden planting scheme.
1. Water feature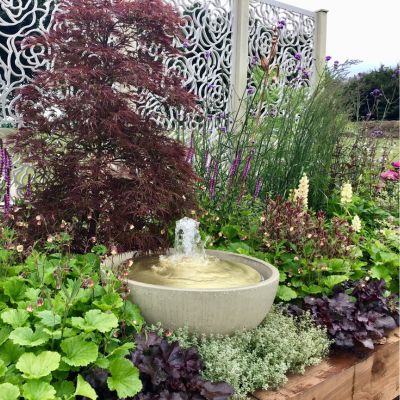 This water feature is by Solus Decor and uses an electric pump. The water is contained inside the concrete dome and the pump simply pushes it up and over the metal dome and back round. It has such a gentle sound. The bowl comes in many colours and the dome is either silver or gold colour. For more information go to their website – https://solusdecor.co.uk/
The photo above is my 'Wellbeing' garden at BBC Gardeners' World Live. The water feature is in a narrow border and surrounded with Thyme, a purple leaf Heuchera, Geums and a Japanese Maple at the back.
2. Ornamental Grasses
When the breeze blows through the grasses, not only do they look visually appealing, it can create a rustling sound which can be soothing. Poplar trees also create a lovely rustling sound when the wind blows too.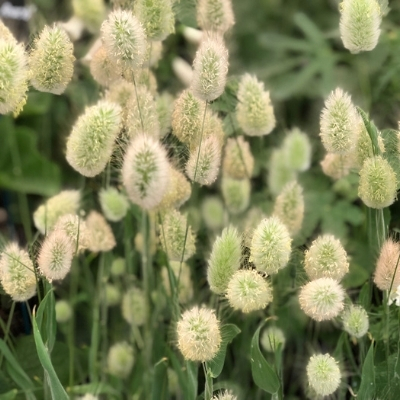 Bunnytail grass
It's proper name is Lagurus ovatus and obviously has it's common name because of the seed heads that look like a bob-tail. So cute, soft to touch and are great for kids gardens too. Super simple to grow in a pot or border in a sunny spot. They grow to around 45cm tall and are great to use as a dried flower. I usually cut them and pop them into a vase and they dry themselves.
Carex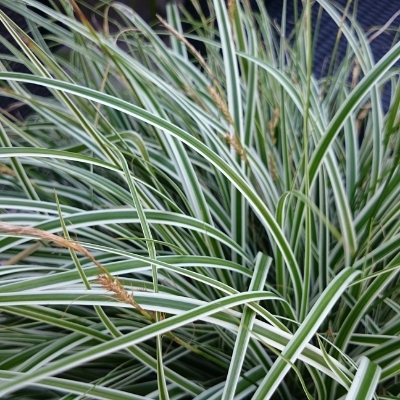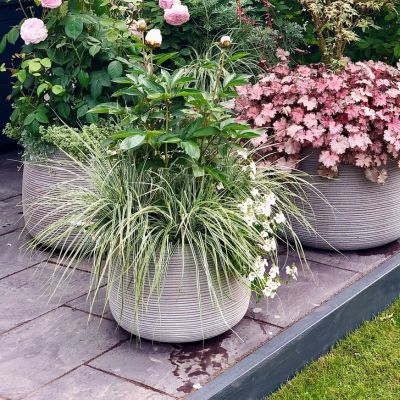 This is an evergreen grass and one of my favourites – I've used it here to underplant a white peony called Shirley Temple. There are many varieties to choose from, but this is a white version called 'Everest' and is part of my RHS Chelsea Show garden last year.
If you are looking for a bolder styled border, I used Carex testacea 'Prairie Fire' which has bright orange leaves, in this border at BBC Gardeners' World Live and I planted it with purple Sedums and orange Echinacea – which are loved by bees and pollinators.
READY-MADE GARDEN DESIGN KITS
If you would like some help with your planting plans, my ready-made kits have been created for you to easily and quickly plant a professionally designed sensory garden using the Wellbeing Design Kit.
I have created a traditional planting scheme with scented roses, herbs and perennial flowers in a harmonious colour scheme.
The border measures 3m x 1m, but can easily be adapted to fit any size or shape of border.
All designs contain a mixture of perennials (plants that die back in the winter and return in the spring) and evergreen plants. The plans have taller plants at the back of the border, with shorter plants at the front of the border which provides a tiered effect. The taller plants will grow to around 1m in height but can be pruned to the required height and shape.
CONTENTS:
Garden design (fully labelled) to know what plant goes where
Plant list – containing simple and clear information about each plant in the design including plant care and flowering periods
Tips and ideas to personalise and help you create your gorgeous garden
2x Packet of seeds to scatter between the plants for added colour from spring through to autumn
Mood board with photos of each plant so you can see how pretty they look together
2 x wooden plant labels
PLEASE NOTE: DOES NOT INCLUDE PLANTS
WHY BUY A READY-MADE GARDEN BORDER?
If you have no clue about plants or what goes well together, these kits will help you easily create the WOW factor in your garden. You will be the envy of all your friends with a fabulous garden! No green fingered expertise required – it's all worked out for you, saving you oodles of time and stress.
The shopping list enables you to buy the plants online or from your local garden centre easily without having to read lots of tiny plant labels with unpronounceable botanical names.
I've chosen plants that are simple to look after too and will provide enjoyment for many years to come.
For more information click this link – https://borderinabox.com/product/wellbeing-garden-design-kit/