Greening Grey Britain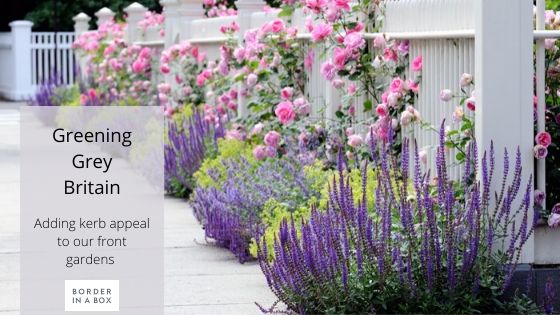 Greening Grey Britain is a campaign by the Royal Horticultural Society (RHS) to improve our homes with simple planting. It doesn't have to be Chelsea Flower Show standard – it can be a windowbox or hanging basket which can be easily changed in each season.  You could also use a large pot or a border, which can be filled with pretty flowers by sowing annual seeds, plant cuttings or with established shrubs from your local garden centre.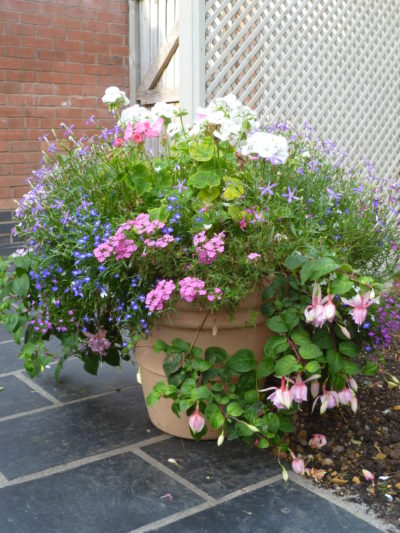 Summer container with geranium, fuschia, verbena, laurentia and lobelia
Why we need to add plants to our front gardens
The RHS are encouraging us to plant more for various reasons, not only does it improve air quality in towns and cities, but it can support our wildlife and insects, which are crucial in the pollination process. Around 90% of our plants require pollination by insects (and the wind) which creates our food and ultimately our livelihood.
Butterflies are among our prettiest garden visitors, but they're dwindling in numbers: according to a Butterfly Conservation report published in 2015, The State of Britain's Butterflies, three-quarters of UK butterflies have shown a 10-year decrease in their population levels. The Greening Grey Britain plan is to reverse this trend and encourage homeowners to create more green spaces to encourage our wildlife and insects.
Many homes have paved over their driveways, which means surface water has nowhere to drain to. By making some simple changes, our front gardens can become pretty and welcoming as well as functional. Space is usually at a premium, so why not add a climbing plant, in a container by the front door, such as a Jasmine which is evergreen and the flowers smell divine. Instead of slabs or concrete paving, use gravel with a porous membrane. Utilise the corners by adding a shrub or container, in a style and colour scheme that co-ordinates with your front door.
These are some simple ideas to transform your front garden which will make your outdoor space a nicer place to live and a welcome back home with some great kerb appeal!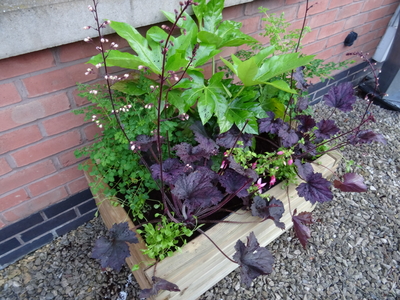 Wooden trough planted with Fatsia, Heuchera and Dicentra – all suitable for a shady spot by the front door.