How to create a capsule collection of gardening tool essentials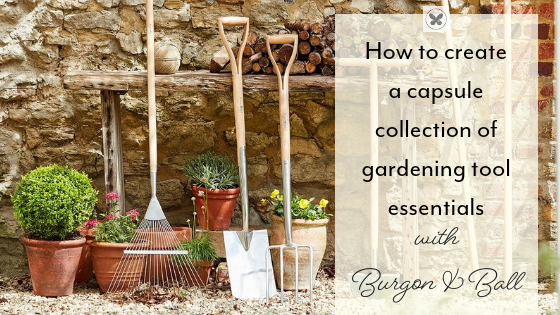 Choosing your essential gardening tools:
As there are many new homes currently being built, you may be new to gardening and overwhelmed with the choice of tools available at the DIY store. So to make the decision a bit easier, here are some top tips from my friends at Burgon & Ball on how to create a capsule collection of essential gardening tools.
When it comes to putting together a capsule gardening kit, it's probably better to talk about tasks rather than tools, since the same gardening tasks are (broadly) universal. We tend to think of five key garden jobs:
Cultivating
Planting
Weeding
Cutting
Tidying
Each of these tasks happens in different ways across different sizes and types of garden. If you have a compact patio garden, you might just need the smallest option for each task; for example, a trowel for planting. If you garden on a grander scale, you'll need a trowel for getting close-up and personal with your soil, but you'll probably need a spade as well, for planting shrubs, digging over veg beds, or dividing rampant perennial plants. Here are Burgon & Ball's suggestions on the basics in terms of tools, which will help make each of these tasks as easy as possible.
Cultivating
Is all about preparing the ground – breaking it up so you can use it for planting. Depending on the size of your plot, you will probably need a fork.  There are different sizes, depending on your needs:
Hand fork for your flower borders, and/or a
Large digging fork to break up compacted soil in beds or untended ground.
A mid-handled fork can be useful if you have deep borders as it affords extra reach, and it's ideal for raised beds too, as they can sometimes be an awkward 'in-between' height.
Tools like a claw cultivator or twist cultivator are extremely effective at breaking up soil ready for planting, or to help with the absorption of water and nutrients, and give an attractive 'tended' finish to any unplanted areas.
Planting
Planting is, of course, the fun bit and brings the garden to life by adding colour, texture and shape to your creation.
A trowel is essential, regardless of the size of your plot. Choose one that is easy to handle.
A spade probably falls into this category as well, even if your garden is fairly compact. Look for treads (folded-over top edges) that will protect your feet as you push down, and a sharp lower edge to slice through the soil.

A digging spade is a large spade; a border spade is usually slightly small and lighter, ideal for digging in tightly-planted borders, and also more comfortable for gardeners of smaller stature. Of course, there are a plethora of further 'little helpers' – it just depends on how you garden. If you're planting lots of bulbs in spring or autumn, you might find a long-handled bulb planter or hand-held bulb planter useful. A compost scoop is handy for filling pots quickly. A mid-handled trowel gives extra reach for the backs of borders, or for raised beds. The choice is yours!
NOTE:
Choose comfortable handles that suit your abilities, some tools have extra-long handles (or telescopic handles) to prevent having to bend over so much, such as trowels, spades, hoes and rakes.  Whilst gardening does require some effort, using the right tools will definitely make it easier to carry out.
Weeding
Weeding is a never-ending task for many gardeners, however if you have a densely planted border, this can suppress weeds which not only reduces maintenance, but is also prettier to look at too!
The definition of a weed is a plant growing in the wrong place, and of course some are very pretty, not to mention helpful to wildlife. But left unchecked, they can suffocate your prized plants, take over your lawn and crowd out your crops, so weeding is a must.
A traditional weeding favourite is a hoe, of which there are many designs. In Burgon & Balls 1922 catalogue they offered 96 types of hoe!
For tackling weeds in containers and small spaces, a hand tool like a weeding fork is a great choice, offering precision and accuracy in the tightest of corners – it's ideal for nooks and crannies in walls and rockeries.
For beds, borders and between allotment rows, a Weed Slice is hugely popular, as it skims below the surface, slicing through weed roots and leaving the soil surface undisturbed. For lawns, their Wonder Weed Puller is lightweight and extracts weeds without bending. Once again, the tools that are most essential depend on the plot you're gardening.
Cutting
Cutting is essential for every gardener, from the precision deadheading of roses to the removal of sizeable tree limbs.
There are two types of secateurs:
Bypass secateurs – liken these to scissors, where there are two blades (top and bottom) – these are ideal for cutting live plants, such as dead heading. It will leave a cleaner cut and reduce the risk of infection.
Anvil secateurs – liken these to a knife, where the sharp top cuts down on to the 'anvil' which is blunt. These are ideal for cutting thicker wood twigs and branches.
There are in fact lots of other cutting tools such as hedge shear for extensive soft growth; a saw for heavy-duty cutting, pruning and tree limb removal; and snips for detailed tasks like deadheading and cutting flowers. But I wouldn't include them in your initial 'essential' items to purchase when starting out.
For more delicate trimming and general cutting of twine, compost sacks etc., good garden scissors are handy to have.
For most gardens, some kind of lopper is also a good buy – again, a bypass action lopper is useful for cutting living plant material. These are useful if you have hard to reach plants (due to longer handles) or the thickness of the branches is more than secateurs can handle.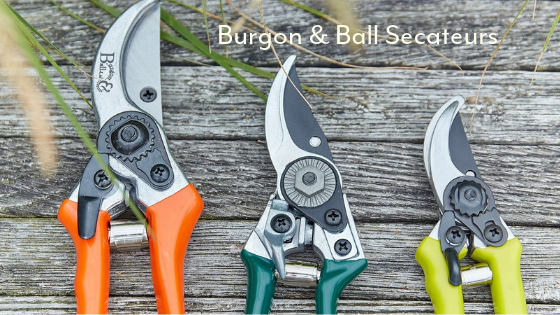 Tidying
And finally, tidying covers 'just about everything else' in the garden. From removing moss from the lawn, to tidying up autumn leaves, or clearing debris from under shrubs so slugs have nowhere to hide, a rake is a must-have.
Leaf rake – (sometimes known as a lawn rake) this has tines that are fan shaped and can be made of plastic or metal. Ideal for collecting fallen leaves
Bow rake – this is usually made of metal and has a shorter, thicker and wider toothed rake, which is used for raking gravel, sand and compost
A good brush will also stand you in good stead – ideal to sweep up any debris and give the finishing touches to your beautifully maintained garden.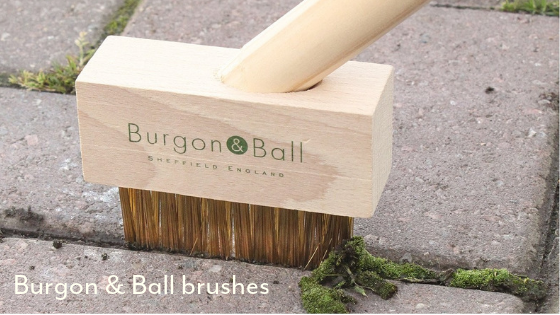 Whatever the size or style of your garden, and whether it's fabulously floral or vibrantly veggie… as long as you have these five key garden tasks covered in a way that's right for you, it's easy to put together the perfect capsule collection of multi-tasking, hard-working garden tools.
To summarise:
I would include the following items with your essential tools when starting out:
Spade
Fork
Trowel – one for scooping compost and one for planting
Secateurs
Broom
About Burgon & Ball:
Burgon & Ball offer an extensive range of high quality garden tools for every gardening task. They've been creating tools in their Sheffield factory since 1730, and the metalworking expertise of it's workforce is packed into their tools. These tools combine high quality materials with ergonomic design, taking the hard work out of gardening and making them a pleasure to use, for many years to come.
They are passionate about designing and manufacturing tools to make gardening easier. They are designed in the UK and made to last for many years, with a rigorous testing procedure to ensure consistent quality. And where no tool exists to perform a particular task – they will design one! They are renowned for their investment in innovative new designs.
Their stainless steel garden tool and cutting tool ranges are endorsed by the Royal Horticultural Society, one of the world's foremost horticultural organisations and the UK's leading gardening charity. They are confident of the quality of their tools: all their RHS-endorsed stainless steel tools come with a lifetime guarantee against manufacturing defects, with all RHS-endorsed cutting tools carrying a ten year guarantee.
In addition to their RHS-endorsed ranges, they also offer a wide selection of tough tools in high carbon steel; beautiful gift-boxed designer hand tools; and traditional country outdoor tools.
https://www.burgonandball.com/