Japanese Maples – Beautiful trees for small gardens
Japanese Maples make beautiful trees for small gardens.
If you're looking for a tree suitable for a small garden, a Japanese maple is the perfect choice! They are small deciduous trees that are happy in the border or large container. They are one of my favourite trees as the foliage is really pretty and in autumn they turn the most beautiful colours.
The best time to plant them is in the autumn in a sheltered sunny or part sunny spot as they don't like cold winds or frosts.  You can protect them with horticultural fleece during the winter. The sun can scorch their delicate leaves, so a dappled shaded area is perfect for them.
They prefer slightly acidic, nutritious, sandy, well-drained soil, but will generally grow well in most soils; however, they don't like water-logged soil, overly dry or very alkaline conditions.
If you're growing in a container, keep the compost moist and feed with a slow release fertiliser in spring and summer.
Care & maintenance
If your tree needs cutting back, do it when it is dormant – ideally between November to January. When a maple is cut it will bleed sap which could weaken and ultimately kill the tree, so it's best to keep pruning to a minimum.
If you need to reduce height and/or width, simply cut back to a side branch and also prune crossing shoots which will keep the framework looking good.
Here are some of my favourite Acers that look fabulous:
Acer palmatum Sango-Kaku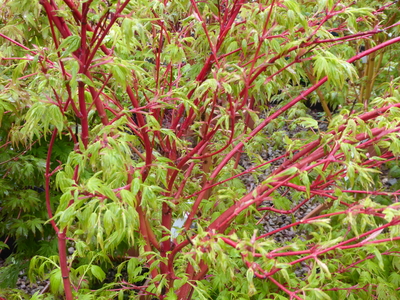 This can be a shrub or small tree as it can grow upto 6-8m tall and spread 2.5-4m.  It likes a sheltered sunny or part-sunny spot in the garden and is deciduous but suitable for all soil types. I love the gorgeous red stems with contrasting green leaves, which as you can see turn a lovely yellowy-red colour in autumn.
Acer palmatum dissectum Inabe Shidare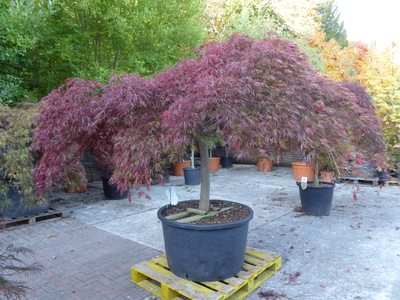 This tree is so pretty – the spreading shape and the finely cut leaves are stunning. This variety grows to around 2.5m tall and also likes a sheltered position in a sunny or part sunny garden. It's happy in all soil types too.
Acer palmatum 'Shigitatsu sawa'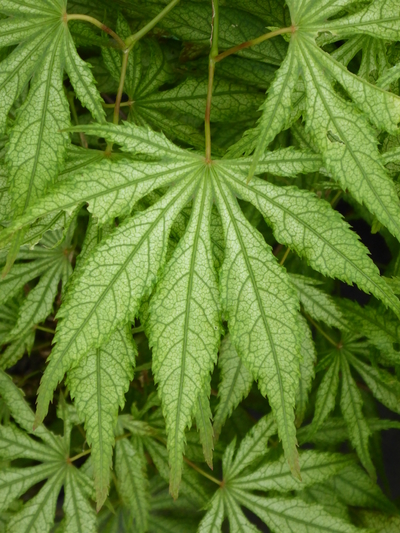 This tree grows to around 4.6m tall and 3.7m wide so its better suited to a larger garden. It has fabulous cream leaves with dark green veins and certainly creates the wow factor in any garden. As the leaves mature, they become green and then turn red in autumn.
Acer palmatum 'Shishigashira'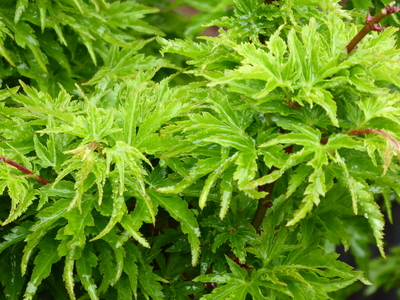 This is a bushy upright Acer which is happy in all moist but well drained soils in part shade or sunny areas of the garden.  It grows to around 4m tall and 2.5m wide.
If you would like to visit a nursery specialising in Japanese maples, I can recommend Leaf Creative plant centre at Huntley (not far from Ross-on-Wye, Herefordshire). Photographs were taken there in the spring and autumn. Further details and opening times https://www.leafcreative.co.uk/.
These trees are a perfect addition to any of the Border in a Box designs and I used Acer palmatum dissectum 'Omatum Fontana' in my Platinum award winning show garden border at BBC Gardeners' World Live 2018. You can recreate this design with the Wellbeing version of Border in a Box.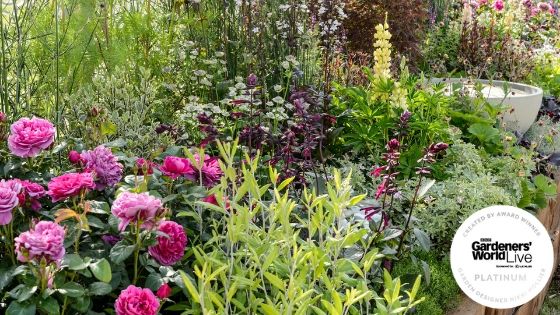 More information on this design kit click here – https://borderinabox.com/product/wellbeing-garden-design-kit/