A gravel garden is a great option if you wish to create a low maintenance or Mediterranean style garden. These types of gardens use plants that are drought tolerant, which reduces the need to water regularly although some minimal weeding may still be required.
By choosing the right hard and soft landscaping, a gravel garden can be beautiful, practical and attractive to wildlife.
When planning your garden, the soil is the first thing to consider. If you have clay soil, you will need to add plenty of organic matter as a lot of the plants used in a Mediterranean style of garden prefer a sunny spot with well-drained soil.
Next decision is the gravel – there is a vast array to choose from. With different sizes and colour, there should be something suitable for everyone's taste whether that be traditional, Japanese style or an industrial look. I would suggest getting a sample of the different types you like and taking them home to try as it will look different in your own setting.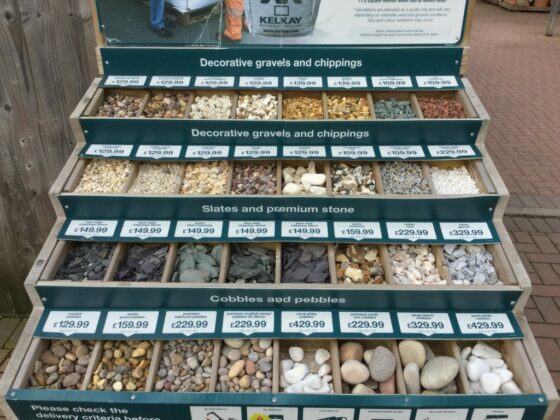 When choosing the type of gravel, its also important to consider if it will be walked upon as angular medium grade gravel is easier under foot. Plus, if you use small (10mm or below), you could find your garden is suddenly more attractive to cats!
Any surface dressing helps shade the soil and keeps it cool which prevents it from drying out as fast after rain or watering and this allows more water to go into the ground for later use. Adding large stones and pots not only creates an interesting focal point, it can also decrease the quantity of water needed as the soil dries out less quickly.
After levelling and raking the surface of your garden border, lay landscape fabric over the surface and cut a cross in the fabric and place your plant through it. Once all your plants are in place you can gently add your chosen gravel to a depth of around 5cm. It's cheaper to buy gravel loose rather than in individual bags (which also cuts down on plastic waste).
So once you've chosen all your hard landscaping materials, the exciting bit is the plants which will bring it to life!
What plants are suitable for a gravel garden?
There are many plants that are well suited to dry, drought like conditions. As a general rule of thumb choose plants with the following attributes:
Small leaf – such as Verbena bonariensis, thyme, Pine tree
Silver leaf – Olive tree, Lavender, Rosemary
Thick leaf – Sedum, Sempervivums, Agave
Hairy leaf – Stachys byzantine commonly known as lambs ears which are so soft and tactile.
When planting small plants they can become swamped by gravel, so plant them so that that they are raised slightly above the level of the gravel.
The Contemporary Version of Border in a Box is ideal for this style of garden.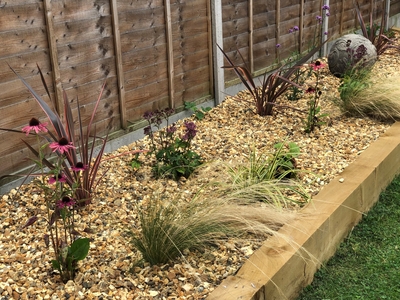 This is the Contemporary Design & has just been planted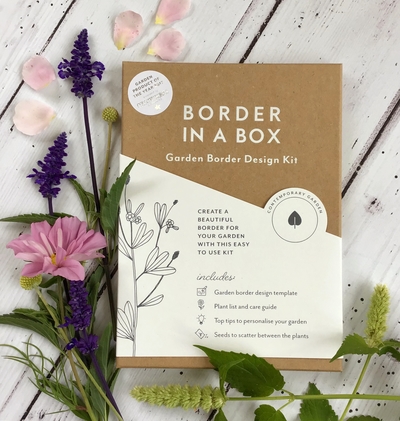 Link to the Contemporary border kit for more information – https://borderinabox.com/product/contemporary-sunny-garden-border/
Looking after the garden during hot weather
Watering is key to growing plants well, but we need to use this resource wisely and be mindful of the effects of climate change and protect the environment.
There is no general rule of thumb for watering as each plant has different needs – for example, a container plant in hot sunny weather may need watering daily, whereas a mature shrub might only need a drink in extreme drought.
Best time of day is to water in the morning – this helps reduce slugs and snails as they love a cool damp plant pot and soil and are more prevalent in the evening (or after rain).
A large plant in a small pot will need more frequent watering than one planted in a border.
Rainfall, hours of sunshine, temperature, wind, and humidity will affect the rate of water use. Generally speaking, plants use more water in the warmer summer months and less in the cooler winter months.
Wilting can indicate underwatering and overwatering. So do a touch test of the soil and put your fingers under the surface to see if its dry, if so, water well.
Water the soil, not the plant/leaves so the roots receive the water and reduces the risk of disease on the leaves.
If you have saucers under your pots, don't let your plants sit in water for a long time – this could damage your plant roots and will freeze in the winter and potentially drown them in the summer.
Save rainwater – plants much prefer natural water rather than tap water. Install a water butt with a rainwater diverter which are designed to collect water from the down pipe and still lets the overflow enter the drain. You can avoid the water becoming smelly or carrying diseases if you clean water butts annually.
Once your water butt is set up, you can attach a solar powered watering system. This looks like a hosepipe, but it has drippers at intervals to place into the soil/pots to water your plants.
Hozelock also have automated watering systems that you can fix to an outside tap with a timer so the watering can be done at the same time every day, which has been proven to reduce water consumption compared to a standard hosepipe.
More top tips:
Sunshine can cause damage to leaves and scorch them (it can turn the leaves brown and flowers to drop off), so if they're in pots, move them into dappled shade to protect them. If they're in the ground, you could use an open garden parasol to create some shade and protection from the sun.
Add a mulch to the surface (of the pot or border) to reduce water expiration (this also reduces weeding too, so it's a double win!)
If you're planting a new garden, do it on a cloudy day and make sure the plants are watered regularly until they're established.