Father's Day is coming up soon, and if you're looking for a gift idea that will make your dad happy and show him how much you appreciate his green fingers, why not get him something gardening-related? Gardening gifts are perfect for dads who love spending time outdoors, growing their own plants, and enjoying nature. Whether your dad has a large garden, a small balcony, or an indoor windowsill, there's a gardening gift out there that will suit his style and needs.
To help you find the best gardening gifts for Father's Day, we've compiled a list of some of the most popular and unique options available from Border in a Box. From accessories to personalised seeds, these gifts will make your dad smile and inspire him to get his hands dirty.
DADS ALLOTMENT SEED COLLECTION – PERSONALISED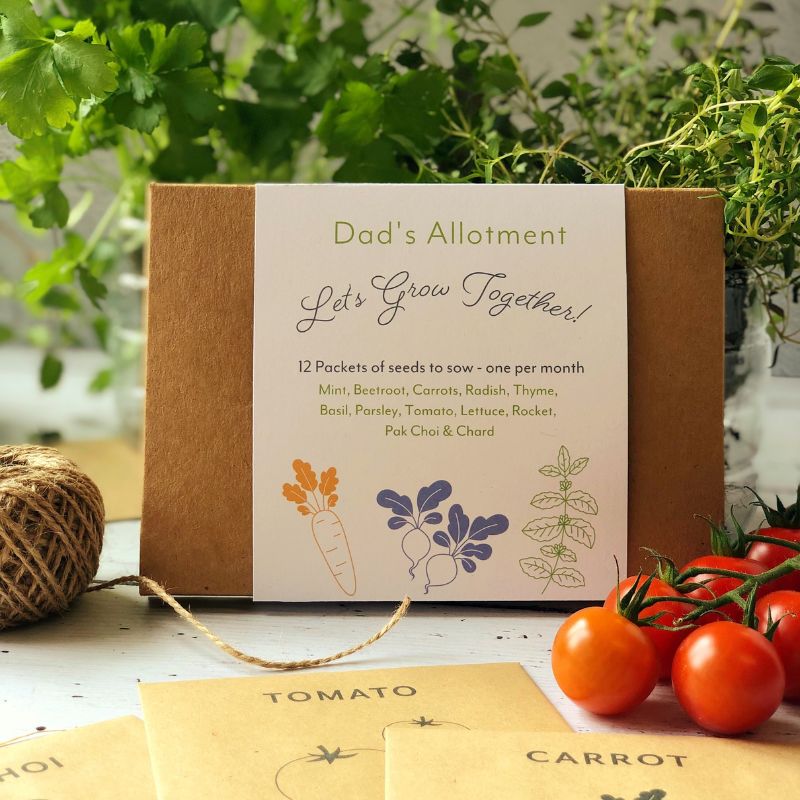 Introducing the ultimate gardening gift that keeps on giving, Dad's Allotment Seed Collection! Featuring 12 packets of seeds – one for each month – this versatile collection offers a fantastic variety of vegetables, salads, and herbs, perfect for any setting, from gardens and allotments to balconies, raised beds, and containers. Suitable for both beginners and experienced gardeners, there's never been a better time to dive into the world of homegrown goodness.
More information here: https://borderinabox.com/product/dads-allotment-seeds/
GROW YOUR OWN FLOWER GARDEN – PERSONALISED
Grow Your Own Flower Garden can be personalised with the recipients name eg: Grandad, Nanny, Josh, Amelia etc and makes a thoughtful gardening gift.
If you love growing flowers from seeds, this gift is perfect for you. It contains 12 different varieties of flowers, one to sow for each month of the year. You'll get a selection of seeds including annuals and perennials which can be used for cutting and displaying in a vase too.
It's suitable for beginners and experienced gardeners alike. You can enjoy the satisfaction of growing your own flowers from seed and create beautiful displays in your garden, patio or balcony. Whether you want to attract pollinators, add fragrance, create a cottage garden look or simply enjoy some colour, this kit has something for everyone.
More information here: https://borderinabox.com/product/grow-your-own-flower-garden-personalised/
MENS DENIM GARDENING GLOVES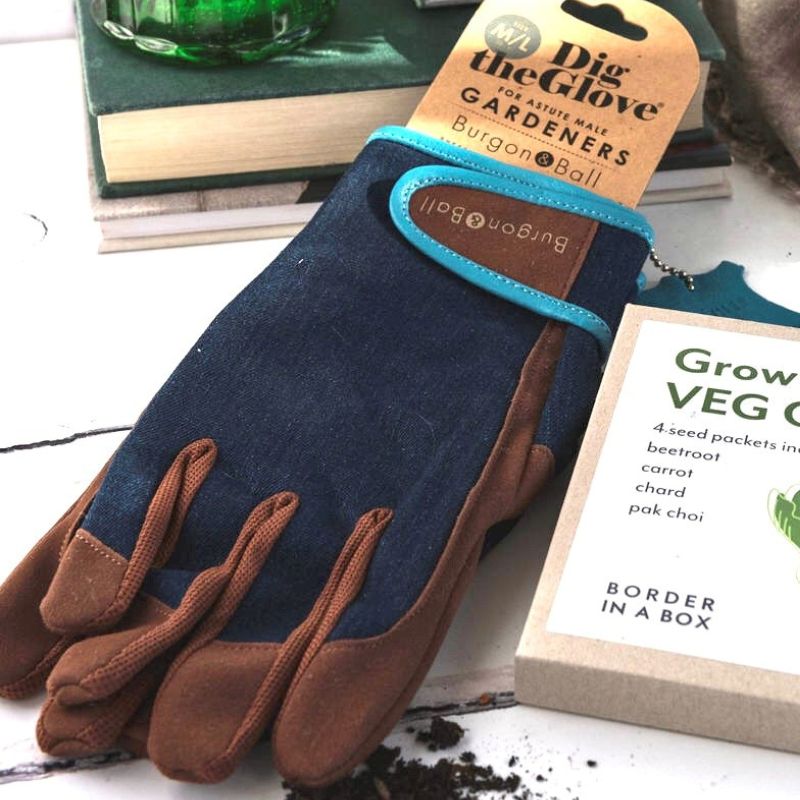 Mens denim gardening gloves in a stylish denim and tan leather design makes an ideal gift for Father's Day for any father figure or mentor.
These ultra-soft gloves have been created in hard wearing fabric that doesn't stiffen when it gets wet. The padded palm gives extra cushioning to protect hands during tough or repetitive tasks, and there's two-way stretch mesh between the fingers to keep hands cool and improve dexterity. A wrist strap ensures a snug fit and stops debris dropping into glove, with a hook-and-loop fastening that's easy to open and close.
The genuine leather trim adds a touch of luxury, and to keep these gloves looking smart, they're machine washable at 30°C.
More information here: https://borderinabox.com/product/mens-denim-gardening-gloves/
DAD'S GOURMET PIZZA KIT – PERSONALISED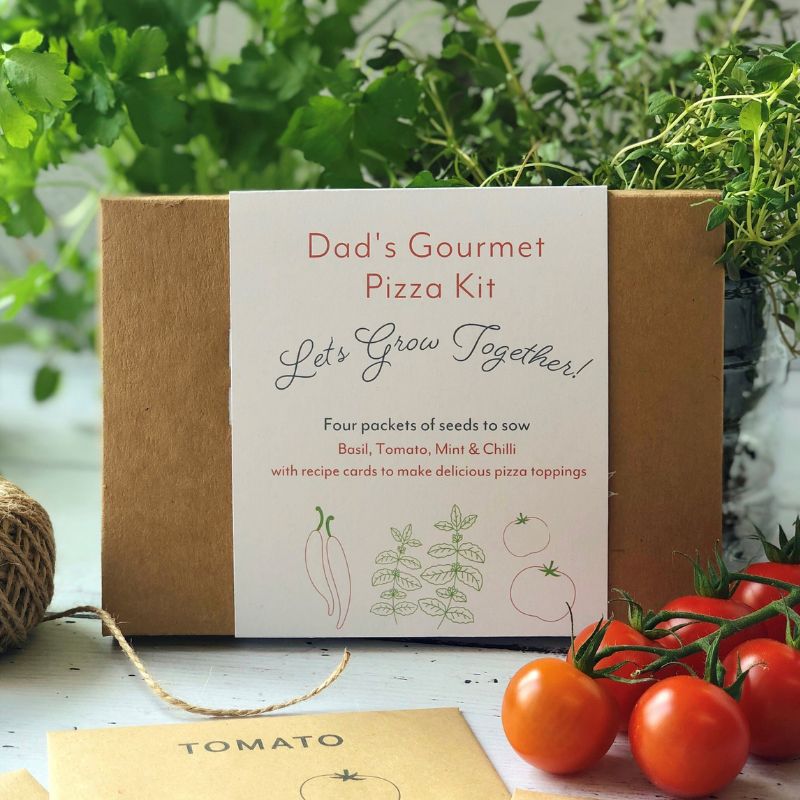 Dad's Gourmet Pizza Kit contains seeds to grow your own pizza toppings and includes recipe cards to turn your home grown veggies and herbs into culinary masterpieces. No need for green fingers or expertise, just a windowsill, some compost/soil and a dollop of enthusiasm to 'grow your own'.
Everything simply tastes better when you've nurtured the seeds and harvested them yourself. Plus growing your own food is a great way to know exactly what's in your food and where it came from and it's plastic free!
For more information, click here https://borderinabox.com/product/dads-gourmet-pizza-kit/
PERSONALISED SUNFLOWER SEEDS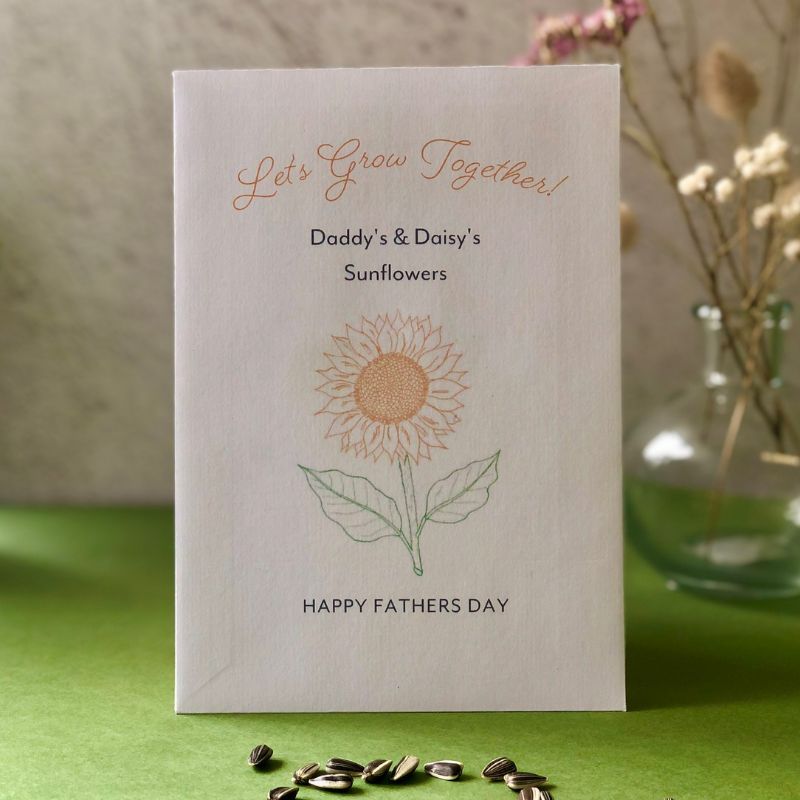 Personalised sunflower seeds – this is such a cute gift for a child to give to their parent on Fathers Day or Mothers Day. It can be personalised with their names and date at no extra charge – just let me know in the order comments section.
The sunflower seeds can be sown in pots/containers or in a garden border in a sunny spot. They are a shorter and bushier variety called 'Valentine' and grow to around 150cm tall. Ideal to 'grow together'.
Matching cards and coasters are also available along with lots of other gardening gifts – https://borderinabox.com/gardening-gifts/
For more information click here: https://borderinabox.com/product/personalised-sunflower-seeds/
All of these gifts have been designed and created here at Border in a Box HQ in Worcestershire. The seeds are supplied by Mr Fothergills who are one of the largest seed merchants in the UK and are sealed in foil packets.
Delivery by Royal Mail second class post is included free of charge, however, you can upgrade the service to Royal Mail Tracked 24 at the checkout for a flat fee of £4.99.