Carol Klein's Top Tips for Autumn Colour in Your Garden
I had the pleasure of meeting the Gardeners' World presenter Carol Klein at the RHS Malvern Autumn Show 2019.
As we sat down to talk behind the main stage, one of Carols colleagues shouted over and asked Carol if she had a sewing kit in her handbag, Carol replied "No, but I've got a boiled egg, babybel and a piece of chocolate!" So now you know what Carol keeps in her bag… who knew!!! It certainly broke the ice as I found it very funny.
Carol is a regular visitor to the Malvern Shows and loves the people and plants, she says it's very down to earth and loves mingling with everyone in the floral marquee.
But we all want to know, what's in Carol's garden right now that's looking good?  Here's what she had to say about some of her favourite Autumnal flowering plants.
Rudbeckia fulgida var. deamii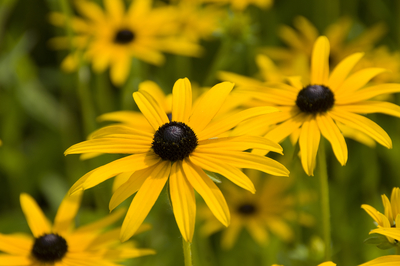 Carol loves this plant as it's such a 'sunny' autumnal flower and grows well in her gardens heavy soil. She went on to say they're really easy to propagate and it's best done in the spring.
They are a perennial which grows to around 60cm tall, with dark oval hairy green leaves and bright yellow daisy flowers which bloom from late summer to mid-autumn. Ideal for clay, loam or chalk soils in full sun or part shade.
Molinia caerulea subsp. caerulea 'Edith Dudszus'
Commonly known as Moor Grass. This grass turns gold in autumn and she loves how it tumbles over in the border and can easily self-seed.
This grass can grow in any moist but well drained soil in full sun or part shade, but prefers neutral soil.  It grows to around 90cm tall so it's ideal for mid/back of borders. It's deciduous and its best to remove any dead foliage and old flowered stems in spring.
*TOP TIP* Carol loves Asters and has a top tip of combining similar flowers of different heights to give a tiered effect.
Aster × frikartii 'Mönch'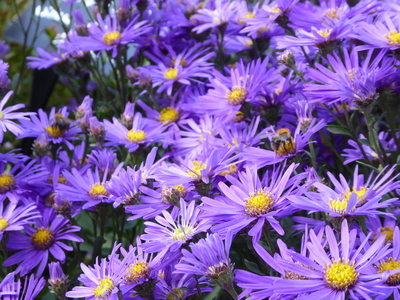 The word Aster comes from an ancient Greek word meaning star, Carol went on to explain where the variety name came from and it's an interesting story.  But in a nutshell a Swiss plantsman called Frikart created three new cultivars, naming them after Swiss Mountains: 'Mönch', 'Eiger' and 'Jungfrau'.
Monch is a bushy perennial that grows to around 1m tall, likes full sun and is happy in loam, chalk or sandy soil. It has pretty lavender-blue flowers which bloom from August to September. Loved by pollinators too!
Symphyotrichum 'Little Carlow' (cordifolius hybrid) aster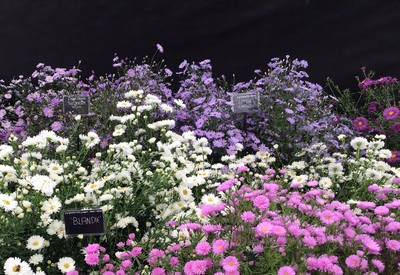 This aster (shown in the back of this photo) is also a bushy perennial that grows to around 90cm tall. It's happy in most soils – clay, loam, chalk and sandy so long as it's moist but well drained. It likes full sun or part shade. It may need staking. It's also easy to propagate in the spring too.  It has pretty violet-blue flowers which bloom from August to October.
What an interesting insight into Carols garden and her advice on propagation is invaluable, she said it's simple but as asters put all their energies into flowering late in the season, means it's not until spring that their new roots begin to grow. Chop up an aster in autumn and your divisions may well sulk and possibly die.
We crammed a lot of information into a short space of time, and I would like to thank Carol for sharing her fabulous tips and knowledge with me.
If you would like to see the National Collection of Asters, please visit Old Court Nurseries and The Picton Garden in Malvern, Worcestershire – it's a beautiful garden and you can buy Asters too!
JOIN MY GARDEN LOVERS CLUB
Sign up to my newsletter to receive top-tips, my monthly offer, and planting ideas to create your perfect outdoor space!