Summer is a wonderful time to enjoy the beauty and fragrance of flowers in your garden. Whether you want to simply relax in a colourful oasis, or support butterflies and bees, there are plenty of pretty flowers to choose from. Here are some of the best summer flowers to grow:
Lantana camara
Lantana is an evergreen shrub that produces clusters of small, tubular flowers in a range of colours, from yellow and orange to pink and purple. Lantana is a magnet for butterflies and hummingbirds and can tolerate heat and drought.
They grow to around 1.5m tall and spread and are happy in any soil as long as its moist and well drained.
Rosemary – Rosmarinus officinalis
Rosemary is a fragrant and evergreen herb that also produces beautiful blue flowers in summer. Rosemary is a great choice for a sunny border, as it has many culinary and medicinal uses – I like to use sprigs in my winter door wreaths to add texture and scent.  It's best to buy them in small pots or take cuttings and grow them on in well-drained soil and full sun.
Yarrow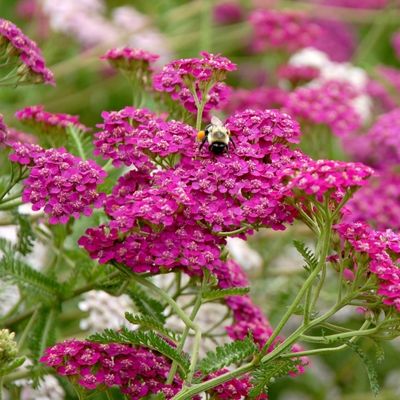 Commonly known as Achillea and is a hardy perennial that produces flat clusters of tiny flowers in shades of white, yellow, pink or red. Yarrow is a versatile plant that can be used as a cut flower, a dried flower, an edible herb or a medicinal plant. Yarrow is also attractive to bees and butterflies, and can cope with dry and poor soils. You can grow yarrow from seeds or divisions, in full sun and well-drained soil.
Echinacea
One of my favourite perennials! Echinacea, also known as coneflower, has large, daisy-like flowers with prominent central cones. Echinacea flowers come in various colours, such as purple, pink, white, orange, tomato red or yellow. Echinacea is a popular plant for wildlife gardens, as it attracts bees, butterflies and birds. It has immune-boosting properties which you can buy in tablet formula from your local chemist. They can be grown from seed or mature plants from the garden centre. They also prefer full sun and well-drained soil.
Sedum
There are plenty of colours to choose from, but I used Sedum 'José Aubergine' in my show garden at BBC Gardeners' World Live which has dark purple leaves and flowers. It's a succulent plant that produces fleshy leaves and star-shaped flowers in summer and autumn. The photo above shows the Echinacea and Sedum which was the star of the show!
Sedum flowers are loved by bees and butterflies. It's an easy-to-grow plant that can thrive in dry and sunny conditions.
Cosmos
One of my favourite annual flowers as they're so easy to grow from seed and that's why I include them in all my kits. They're incredibly long flowering too, from midsummer until the first frosts. Cosmos is very useful for filling gaps in summer borders, look good in meadow-style planting schemes and are ideal for container displays. They're fantastic cut flowers and are loved by bees, butterflies and hoverflies. There are loads of colours to choose from and the 'piccotee' variety will be included in the seed calendar for 2024.
Marigold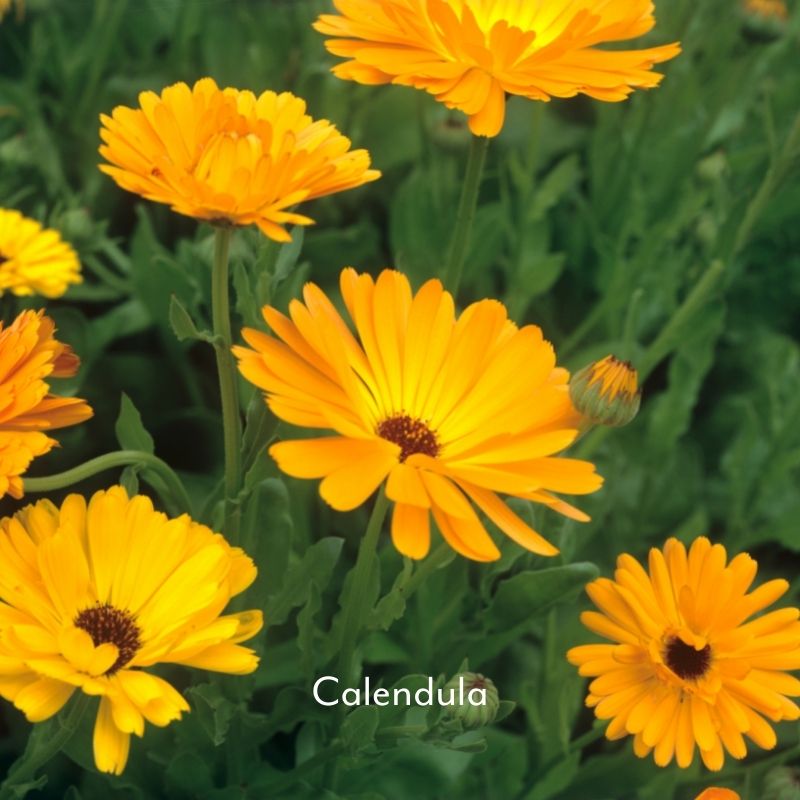 Marigold is the common name for Calendula and are cheerful annual flowers that produces bright yellow or orange flowers throughout summer. Marigold is a great plant for adding colour to your garden, as well as deterring pests and attracting beneficial insects. Marigold is also edible and can be used to flavour salads or teas. I include a packet of seeds and a recipe card to make Calendula Balm in the 'Wellbeing Gift Box' as its renowned for soothing skin.
Verbena bonariensis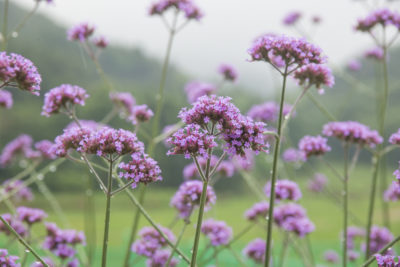 Another favourite perennial Verbena bonariensis has tall slender stems and is topped with clusters of purple flowers. Verbena bonariensis is a stunning plant for adding height and movement to your garden without taking up lots of space. It's also excellent for bees and butterflies. Verbena bonariensis looks good with many different plants – such as cosmos , ornamental grasses , dahlias or yarrow . Also simple to grow from seed too and are included with the flower seed calendars.
Hibiscus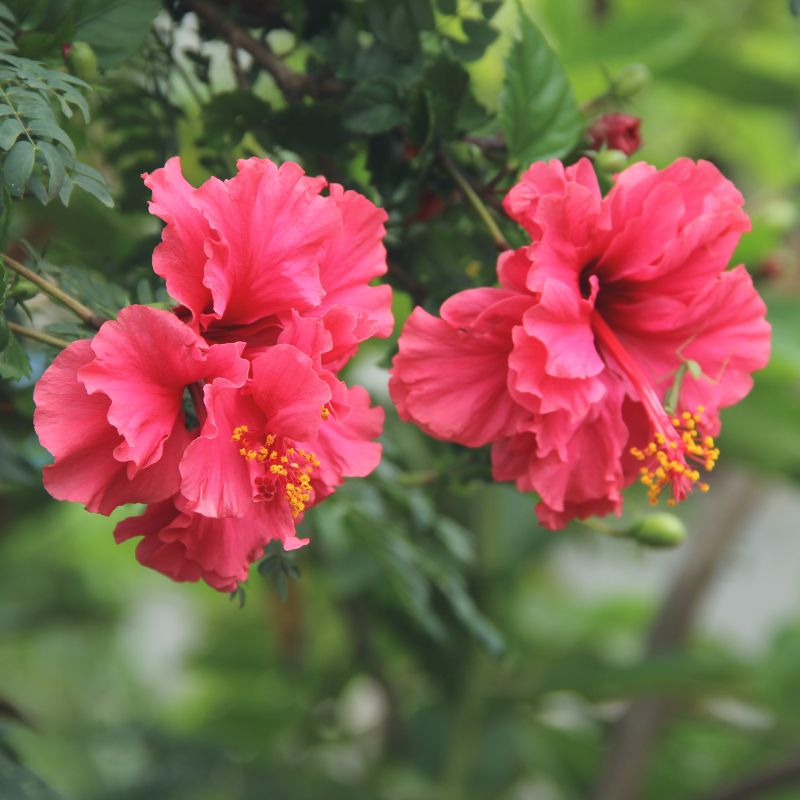 Commonly known as Tree Hollyhock. They add a tropical vibe to any garden and produce stunning flowers over several months from late summer. It's a deciduous shrub with a relatively upright habit, and can be planted in a mixed border to help prolong the season of interest well into autumn.
These are some of the best summer flowers to grow in your garden. They will provide you with colour, fragrance, beauty, and wildlife for months, however, if you would like some help with your sunny garden, my ready-made garden design kits are available…
READY-MADE GARDEN DESIGN KITS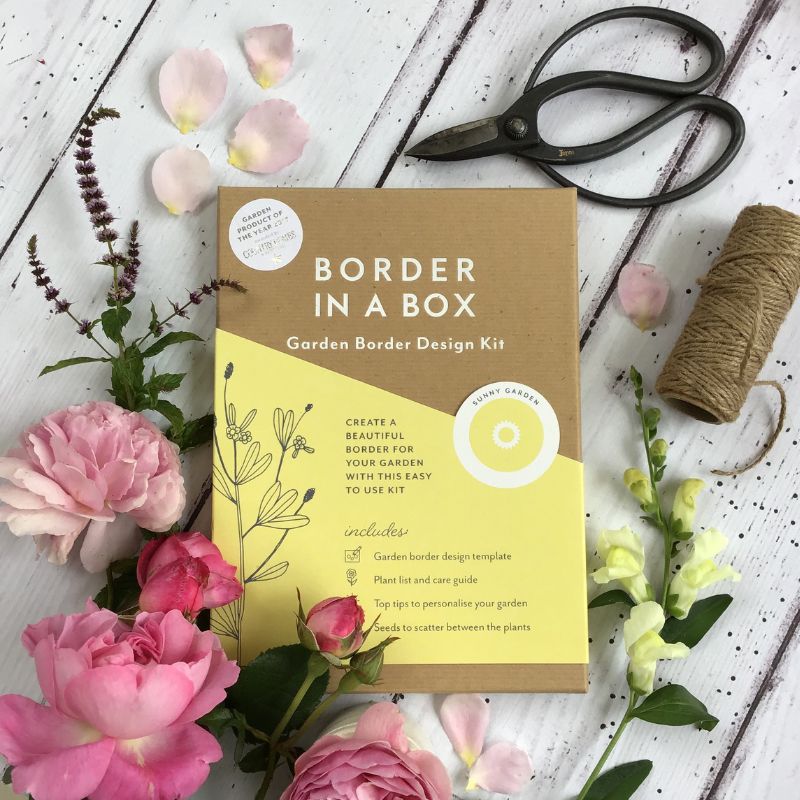 If you would like some help with your planting plans, my ready-made kits have been created for you to easily and quickly plant a professionally designed border using my Sunny Design Kit.
I have created a traditional planting scheme with cottage garden style planting – excluding roses, but includes shrubs and perennial flowers in a harmonious colour scheme.
The border measures 3m x 1m, but can easily be adapted to fit any size or shape of border.
All designs contain a mixture of perennials (plants that die back in the winter and return in the spring) and evergreen plants. The plans have taller plants at the back of the border, with shorter plants at the front of the border which provides a tiered effect. The taller plants will grow to around 1m in height but can be pruned to the required height and shape.
CONTENTS:
Garden design (fully labelled) to know what plant goes where
Plant list – containing simple and clear information about each plant in the design including plant care and flowering periods
Tips and ideas to personalise and help you create your gorgeous garden.
2x Packet of seeds to scatter between the plants for added colour from spring through to autumn.
Mood board with photos of each plant so you can see how pretty they look together.
2 x wooden plant labels
PLEASE NOTE: DOES NOT INCLUDE PLANTS
WHY BUY A READY-MADE GARDEN BORDER?
If you have no clue about plants or what goes well together, these kits will help you easily create the WOW factor in your garden. You will be the envy of all your friends with a fabulous garden! No green fingered expertise required – it's all worked out for you, saving you oodles of time and stress.
The shopping list enables you to buy the plants online or from your local garden centre easily without having to read lots of tiny plant labels with unpronounceable botanical names.
I've chosen plants that are simple to look after too and will provide enjoyment for many years to come.
Link to shop for more information: https://borderinabox.com/product/sunny-garden-border-design-kit/