Gardening Gifts for Easter
This gardening gift selection is suitable for all ages, abilities and occasions. So lets welcome Springtime and get outdoors to make the most of our gardens, balconies and pots. If you're looking for chocolate-free gifts for all the family, here is a small selection with more available from my online shop www.borderinabox.com/shop.
Kids Activity Box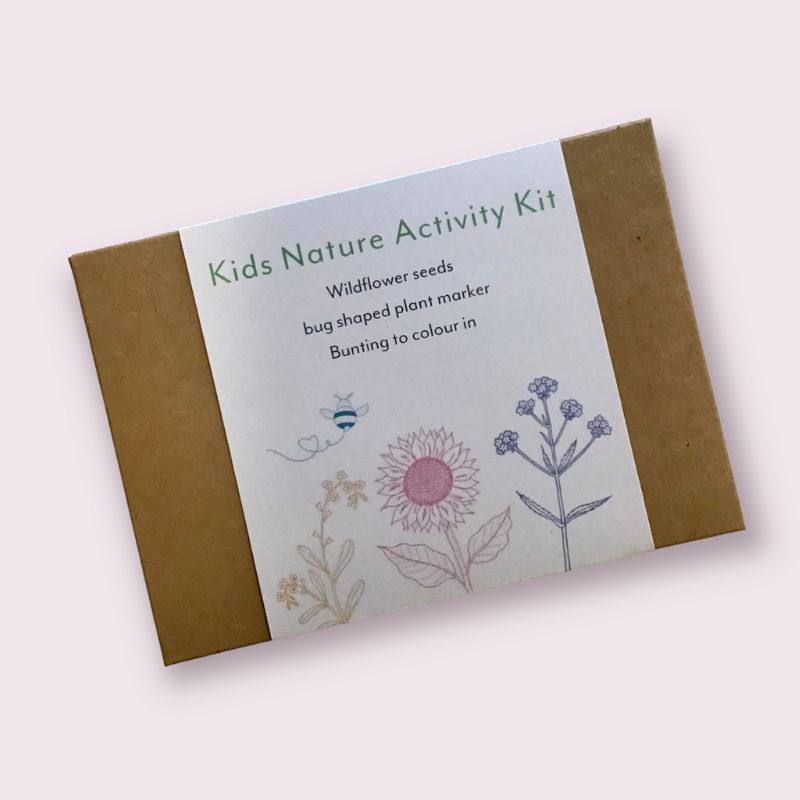 This cute gift will encourage your children to grow their own wildflowers from seed and also includes bunting to colour in. The bunting is made from FSC card, so can only be used indoors.
Includes:
1 x packet of Wildflower seeds to sow and grow (if you prefer sunflowers (as per the header photo let me know)
1 x wooden plant marker with a bug shape to paint or colour in
Bunting – 10 flags each with an illustration of a flower or bug to colour in.
Twine to hang the bunting.
The bunting can be personalised with the child's name – up to 10 letters. More flags can be purchased if required.
Link for more information: https://borderinabox.com/product/childrens-nature-activity-box/
Grow Your Own Food Starter Kit for Kids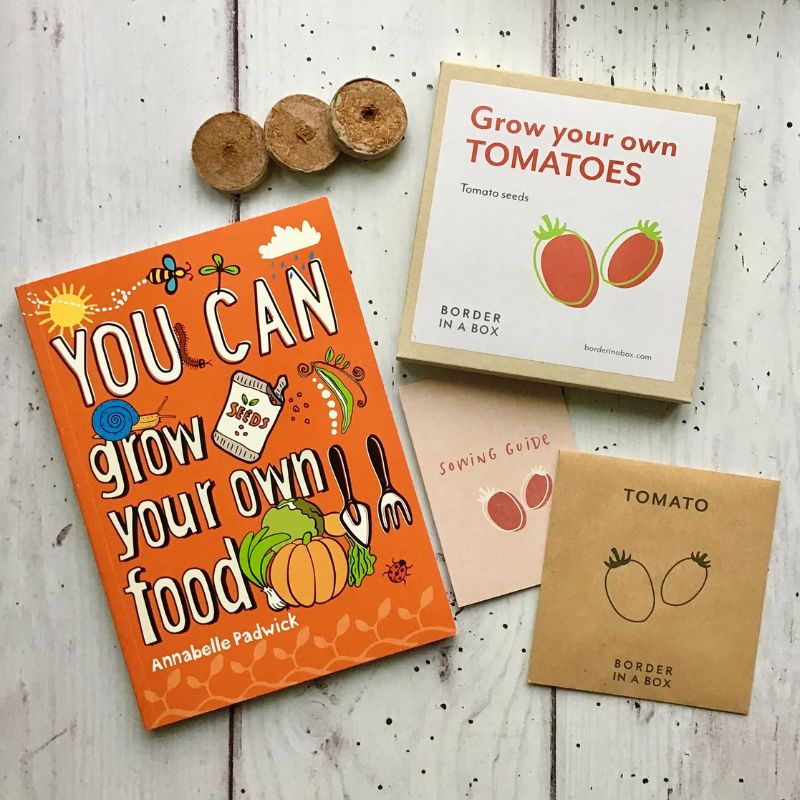 If you want your kids to learn in a fun and practical way, this starter kit is perfect. The fully illustrated book is well written and easy to read. I've included a tomato seed kit to get them started.
Includes:
1 x Grow Your Own Food book, 96 pages, and is packed with fun gardening activities which is guaranteed to get their hands dirty! Written by Annabelle Padwick
1 x Grow Your Own Tomatoes starter pack of seeds, soil disks and instructions. Tomato variety – 'Gardeners Delight' which are small and juicy!
Link for more information: https://borderinabox.com/product/grow-your-own-food-kids-kit/
New Home & first time gardeners
If you've moved in to your new home there are plenty of gifts to choose from, including packs of annual flower seeds or a ready-made garden design kit and my new book and journal to help with all the basics when starting a new garden.
Creating Your Garden Book & Journal
This 82 page book covers all the basic information in an easy to read and understand format. It helps boost your confidence to create a beautiful garden from scratch without the overwhelm.
There's a monthly journal for you to make notes about your garden as you go along . Each month there's a list of seeds you can sow and reminders of jobs to do, plus a gardening related quote. Its all beautifully illustrated and photographed.
Link for more information – https://borderinabox.com/product/how-to-get-started-book/
Ready-made garden design kits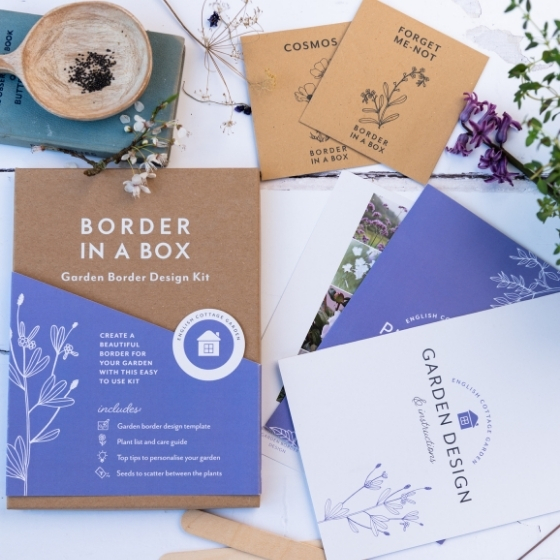 There are eight ready-made garden design kits to choose from. Each one is created for a different environment eg: sunny or shady.
Each design measures 3m x 1m. Though you can easily adapt them to fit small spaces or raised beds – or use multiple boxes for a large and cohesive garden.
Here's what you'll get:
A garden border design template of what to plant where
A mood board showing how the plants look together
A plant list with photos, flowering times and general care
Advice on how to prepare the border for your new plants
Top tips on how to add further interest to your border
Two packets of seeds to scatter in between plants which will flower from spring to autumn
All borders include a mixture of evergreen and perennial plants so once it's planted, it will provide years of enjoyment.
Its good to include annual flowers as they are great for pollinators as well as giving some colour to the garden borders and pots.
Link for more information: https://borderinabox.com/shop-readymade-garden-design-kits/
Jewel Garden for Bees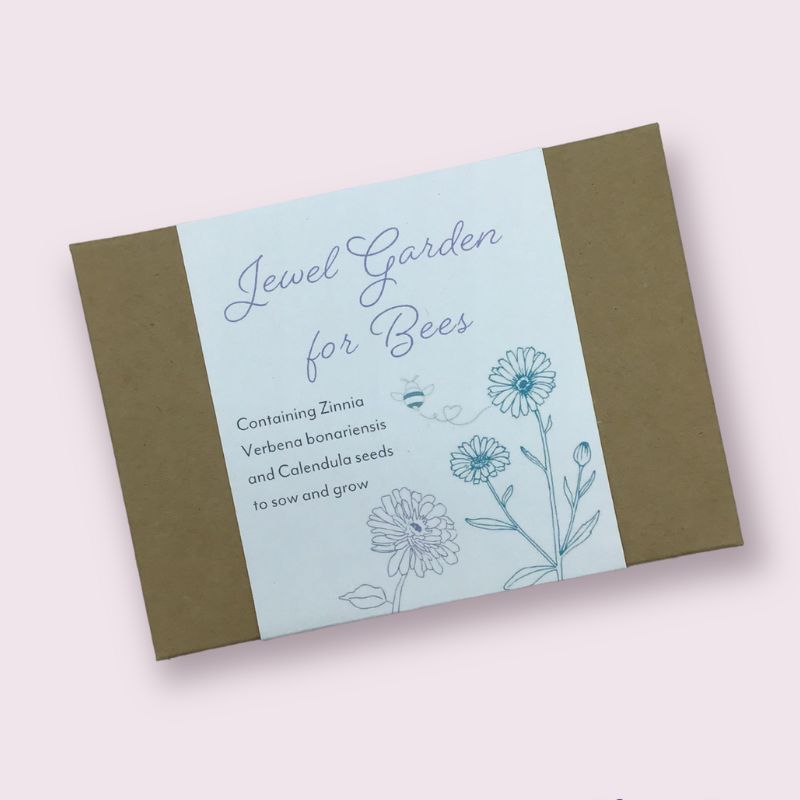 This includes three packets of seeds – Verbena bonariensis, Zinnias and Calendula. It will certainly brighten up any garden and will support the butterflies and bees. Includes a mini planting plan.
Link for more information – https://borderinabox.com/product/jewel-garden-bees-pollinators/
If you prefer an all white colour garden, then choose the Grow Your Own Bouquet which includes 3 packets of white flowering seeds with matching luxury note cards. Includes Cosmos, Larkspur and Ammi majus which all make gorgeous cut flowers.
Link for more information – https://borderinabox.com/product/grow-your-own-bouquet/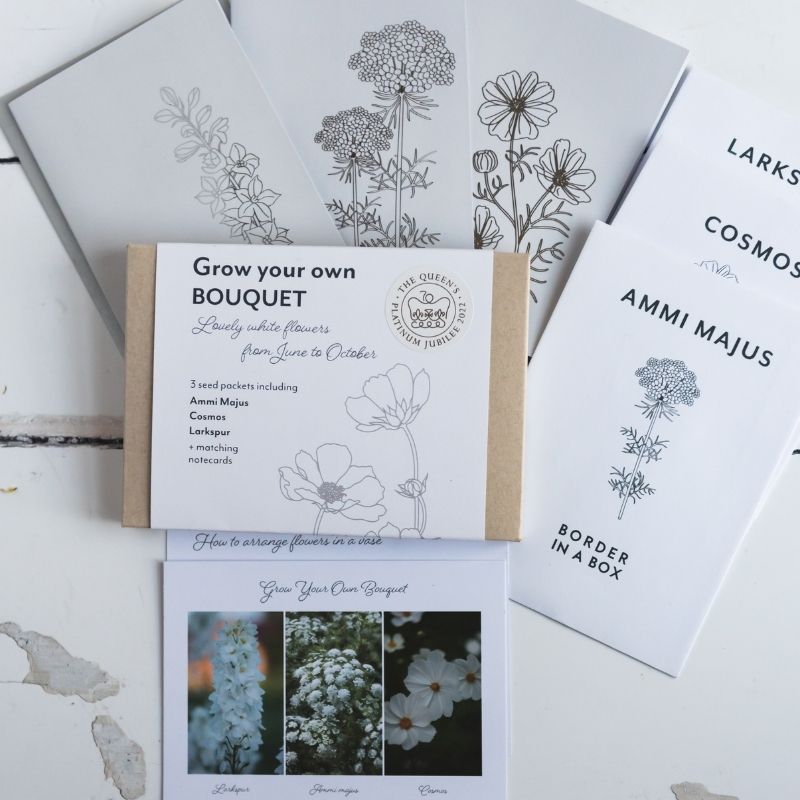 And if you want a cottage garden, this seed kit is for you! It contains five packets of seeds – Foxgloves, Cosmos, dwarf Lupins, Forget-me-Nots and Verbena bonariensis. Plus mini planting plan and wooden plant markers.
Link for more information: https://borderinabox.com/product/grow-your-own-cottage-garden/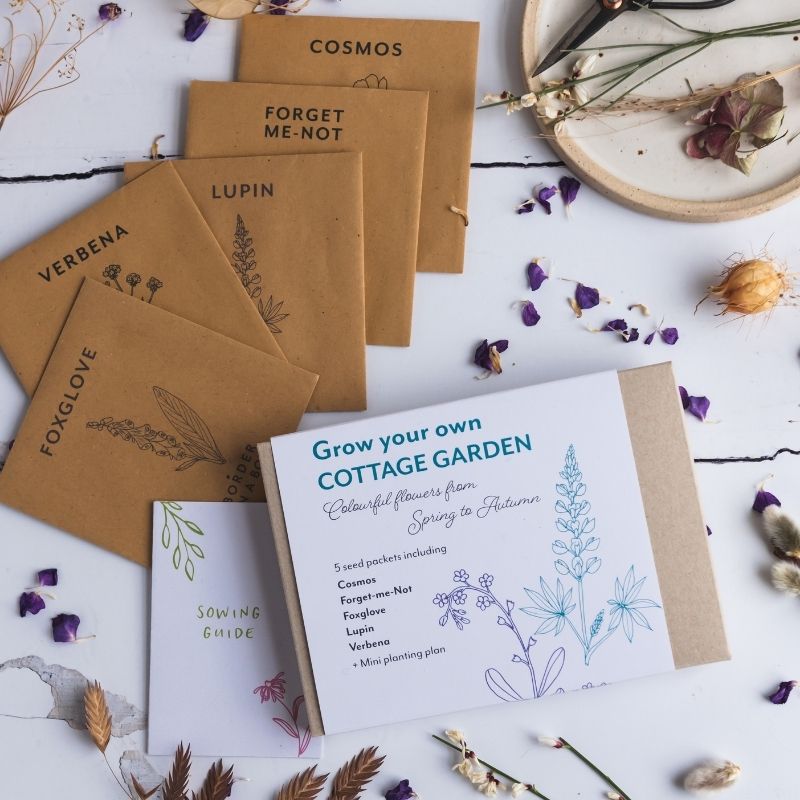 If you're looking to send some well wishes, this Wellbeing seed kit is a thoughtful gift to pop in the post to someone who needs a bit of TLC. It contains three packets of seeds – Lavender, Calendula and Mint along with recipes to make Lavender shortbread, Calendula balm (great to soothe skin) and a Mint mocktail. Plus an A6 size lined notebook. Nurturing seeds is great for mindfulness and having the recipe card it gives the recipient something to make after growing their plants.
For more information click this link – https://borderinabox.com/product/wellbeing-seed-gift-box-recipe/
Love Birds
If friends and family are a long way away, then send your sentiments with these heart-felt gifts. There's also a range of cards to choose from too which I can write for you and post direct to the recipient if you wish.
Sending Love & Sunshine
A small gift box containing two packets of seeds – Sunflower (a short bushy variety) and Love in a Mist with matching coasters. Letterbox friendly too.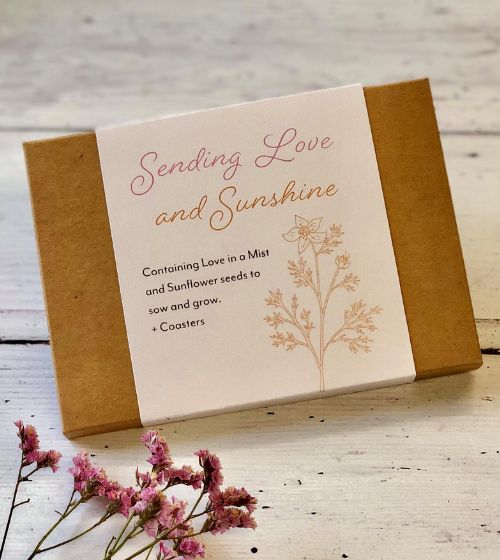 Some Bunny Loves You Gift Box
This A5 size gift box (not shown) contains a heart-shaped metal bird feeder, which is suitable for fatballs or fruit and hangs in a tree. Along with a packet of bunny-tail grass – which has the softest seed heads that looks just like a bunny tail. Plus 'Some Bunny Loves You' gift card and matching pink envelope.
Link for more information: https://borderinabox.com/product/valentines-card-bunny-love-bird-seeds/
There are plenty of gifts to choose from and you can add gardening gloves, mini tool-kits, bird seed cakes/feeders, eco-pot makers, veg seeds etc – if you need assistance, just ask!