It's a series of readymade professionally designed garden border template kits to enable anyone who is new to gardening or time poor the confidence to buy the right plants and know where to put them to achieve a beautiful border easily and in less than a day.
What's in the Box?
In every box you will receive the following: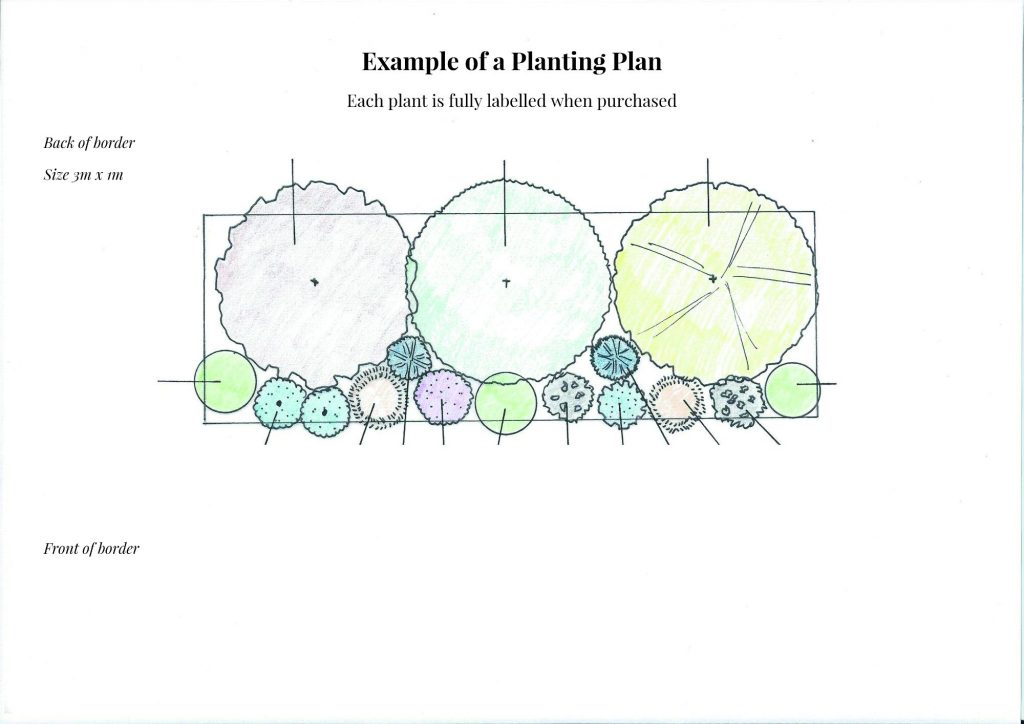 A fully labelled garden border design template – so you know what to plant where. Each design measures 3m x 1m but can easily be adapted to fit your space
A plant list – detailing every plant in the design including a photo and flowering times
Two packet of seeds to scatter in-between plants which will flower from spring to autumn
Top-tips on how to add further interest to your border
Which Box should I choose?
There's a choice of 8 boxes – Cottage, Sunny, Shady, Contemporary, Evergreen, Butterflies & Bees, Wellbeing and Clay Soil. All borders have been designed to include year round colour, texture and heights to give interest. The borders can be replicated around the garden which gives a cohesive look and is easy on the eye.
Butterflies & Bees
A lovely gift and helps our butterflies and bees too with flowers all year long to support our winter bees. Suitable for a normal loam soil in a sunny or part sunny border.  All plants have been approved by the RHS as suitable for pollinators.
---
English Cottage Garden Border
This pretty border contains traditional favourites and is suitable for a sunny or part sunny border with a normal loam soil.
---
Sunny Garden Border
This border could easily be combined with the Cottage Garden version and is suitable for a sunny or part shade border with a normal loam soil.
---
Evergreen
This border is predominantly evergreen which means the plants keep their leaves all year round and is suitable for a sunny or part shade border with a normal loam soil.
---
Shady
This lovely collection of plants is suitable for a shady or part shady border, but not deep shade ie under a dense tree with a normal loam soil.
---
Contemporary
This is great for the front garden and can be planted in pots/containers as well as in the border. Suitable for sunny or part shade borders.
---
Clay
Perfect for a clay or loam/normal soil, and will thrive in part shade. I've designed this border so if you get fed up with digging in clay, you could create a raised bed and the plants in this design can be used in there too!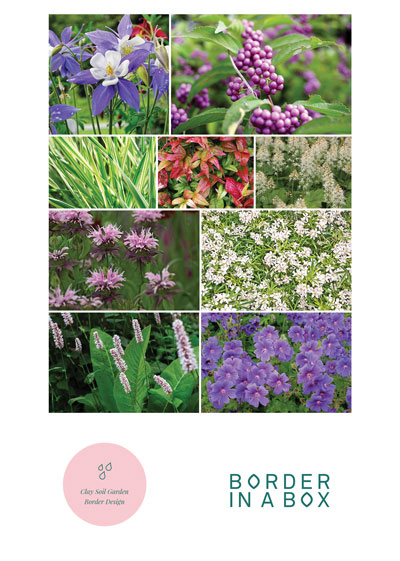 ---
---
Client testimonials
Client in Worcestershire

I first made contact with Nikki after reading her monthly article in the Pershore Times. I was looking for advice on how to improve the borders in my cottage garden. Nikki came to view the garden and listened to my thoughts on how i'd like the garden to look. Nikki then went away and came up with planting suggestions and when I'd agreed she arranged to purchase them and place them in the appropriate locations in the borders. The result has been great and really looking forward to seeing the borders evolve over the spring period. Very happy with Nikki's approach and would thoroughly recommend her for anyone looking to improve their garden.

Tony, Worcestershire
---
Client from Amazon

My Border in a Box has just arrived and it looks fab. For a novice gardener like myself, it couldn't be more clearly laid out. The plan shows exactly which plants to plant and where to plant them i.e. back of border etc. The plant list gives a clear overview of each plant explaining the variety, the flowering time and the plant care, together with a picture of it in bloom. The packaging is beautiful and would make a wonderful gift for someone. I can't wait to get started.

Helen, Worcestershire
---
Client from Amazon

This lady purchased a Shady Border in a Box – she said
"Wow, Nikki – what a great product. I have already submitted a review to Amazon.co.uk" and went on to say…
"My husband and I found it a very easy and satisfying experience to have the list of plants, which took away all the guess work, and made it so much more fun knowing it was all going to look great in the end. We are really thrilled that for a minimal outlay we have such a lovely design, so thanks so much!"

Leanne, Switzerland
---
Online purchase

" I ordered a border in a box design from the website with was delivered very quickly. The content in the box was very good and clear to understand, but I wasn't too sure about one of the plants in the design. I actually was going to send it back, but Nikki did a fantastic job in showing me different varieties and alternatives, and how this could work for my border. Absolutely brilliant! Next time I need help with a border I know who to contact"

Hans, Norfolk