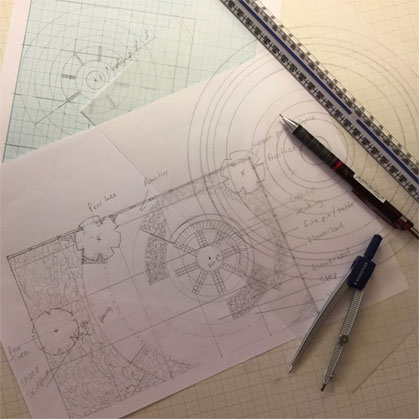 If you're looking for a garden border designed just for you, then I'd be
delighted to help you achieve your dream garden and fill it with beautiful
plants for year round colour and interest.
The process is simple and starts with an initial discussion by email
(or phone if you prefer), to talk through your ideas and how I can help.
As part of our consultation I will need to know the dimensions of your
plot along with a few photos, soil type and how much light, as this
effects the types of plants that can grow in your garden.
From here, I will create a mood-board which outlines the types of plants
I will use in your design and once you're happy with this, I will create the
design, which details what plant goes where. I will also produce a plant list
that includes a photo and flowering times of each plant used in the design.
This list can also be used as a shopping list to enable you to buy
your plants on-line or at your local garden centre.
The designs will be emailed to you along with a quick start guide on how to prepare the
border prior to planting. The information could be given to your gardener or landscaper
if you didn't want to do it yourself.
How much does it cost?
It costs £195 for up to 10 metre border – if your border is larger, then please contact me directly for a quotation at [email protected]
What's included?
Initial consultation to define requirements
Mood-board which is a visual representation of the look and feel of the proposed plan
Border design – a plan of what goes where
Plant list – details of each plan in the design which includes a photo and flowering times
Quick start guide to preparing the border prior to planting to ensure the plants have the best start in their new home
How long does it take?
It takes around 7 days to create the design and plant list, so you need to plan in advance to ensure the information is created in time and it will take less than a day to buy and plant your border.
---
Case Study
Here is a lovely case study of how I helped a client from London. As you can see from their photo, they had had it landscaped, but wanted to add some plants to soften the edges. Here's my clients testimonial:
I recently had my garden landscaped with patio areas, grass and borders. Being a non gardener I had no idea at all what to put in my borders. I had a look on line and found Border in a Box. I decided to go for a bespoke service whereby you give Nikki your border sizes, soil type, sun or shady garden and the type of plants you may like. Nikki emailed me wonderful suggestions for my border plus suggestions to improve the overall look of my garden (which was not part of the service). Nikki really listened to my brief. My final border design was emailed to me which is simple and easy to follow. I also got a fact sheet with a thorough description of the plants, maintenance, when they flower etc. I honestly cannot say enough good things about this company. Great service, great communication, and excellent value for money. I am so excited to get planting! Thank you Nikki