It's August and the summer holidays are here, it's a time when we can be more sociable and have friends round for a barbeque and a drink. The weather is usually warmer and there's still daylight to enable us to sit outside in our gardens in the evening and enjoy it all.
So what's looking good right now? Here are some ideas on how to zhoozh up the garden and give it a simple mini-makeover:
I often get asked what plants are ideal for the summer/autumnal borders once all the spring flowers have finished. I advise the quickest way to brighten up the patio is to create pretty pots – you can buy them ready planted from your local garden centre, but why not have a go yourself and tailor them to your colour scheme and style.  If you have some gaps in your borders, the following plants are in flower at the moment and create colour for any garden style:
Penstemon
They're fabulous perennials (dies back during the winter and re-grow in the spring) as they can flower from early summer to mid-autumn and have a range of gorgeous colours and they're so easy to take care of too.  They grow from 15cm to 1m in height, depending on the variety and they prefer a sunny spot, but can tolerate part shade. You can grow them from seed or you can take cuttings to create free plants. I love them!
This is the Czar variety used in my show garden at BBC Gardeners' World Live 2021 – it has a purple flower with a white throat – so pretty and look fabulous planted in swathes!
Cosmos
I love Cosmos – such an easy annual flower to grow and it's why I include them in all my garden design kits. There are lots of colours to choose from too so it will fit in with any colour scheme. They will flower from summer until first frosts, as long as you dead-head them regularly. Use them as cut flowers and Ikebana styling here with lime green Alchemilla mollis and poppy seed heads…
Crocosmia
'Lucifer' variety has vibrant red flowers on arching stems, which look wonderful in a jewel-coloured border. They grow to around 1m tall and can be grown from corms or purchased in pots from the nursery. They are clump forming, so will need to be dug up every few years and divided – fabulous extra plants for free! Other varieties are available in shades of yellow and orange coloured flowers. Even when the they have stopped flowering, I love the green berries which are great for flower arranging.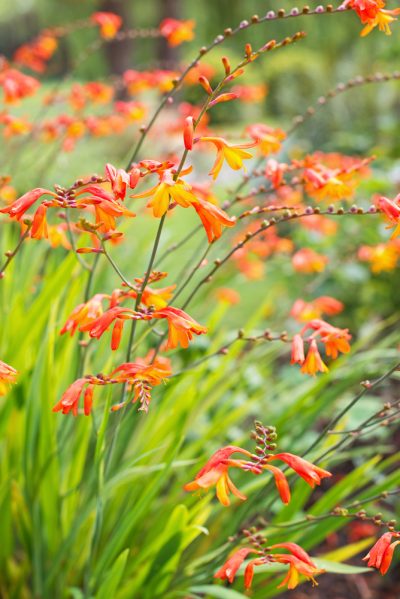 Agapanthus
There are many varieties available mainly with beautiful shades of blue flowers, but you can also get white and purple flowers too. They look stunning in pots with their strappy green leaves and intense blue flowers, which grow to around 1m tall, in a sunny spot in well drained, nutritious soil. Remember to keep them well watered especially in the hot weather.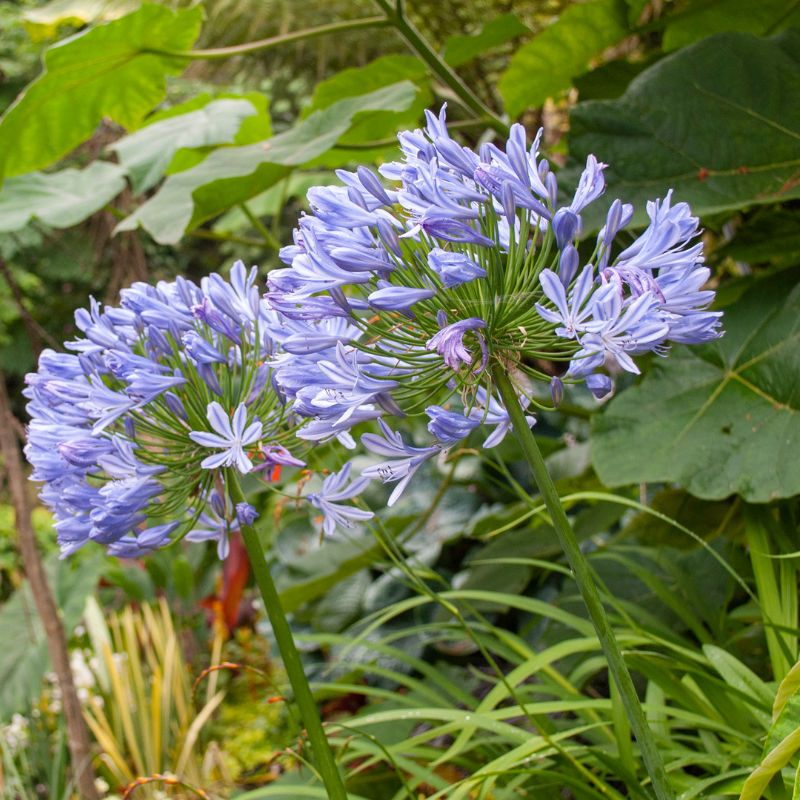 Echinacea
Loved by bees! Commonly known as cone flowers. They grow in most soils (apart from clay) in a sunny or part sunny spot to around 1m tall. They come in different colours too and I used the bright orange colour in my show garden at BBC Gardeners' World Live. It was the most photographed plant on the garden!
Perovskia 'Blue Spire'
commonly known as Russian sage. Its a deciduous sub-shrub that grows to around 1.2m tall. It has silvery-white stems bearing deeply-divided, aromatic greyish leaves. With really pretty but small violet-blue flowers. They prefer full sun and well drained soil.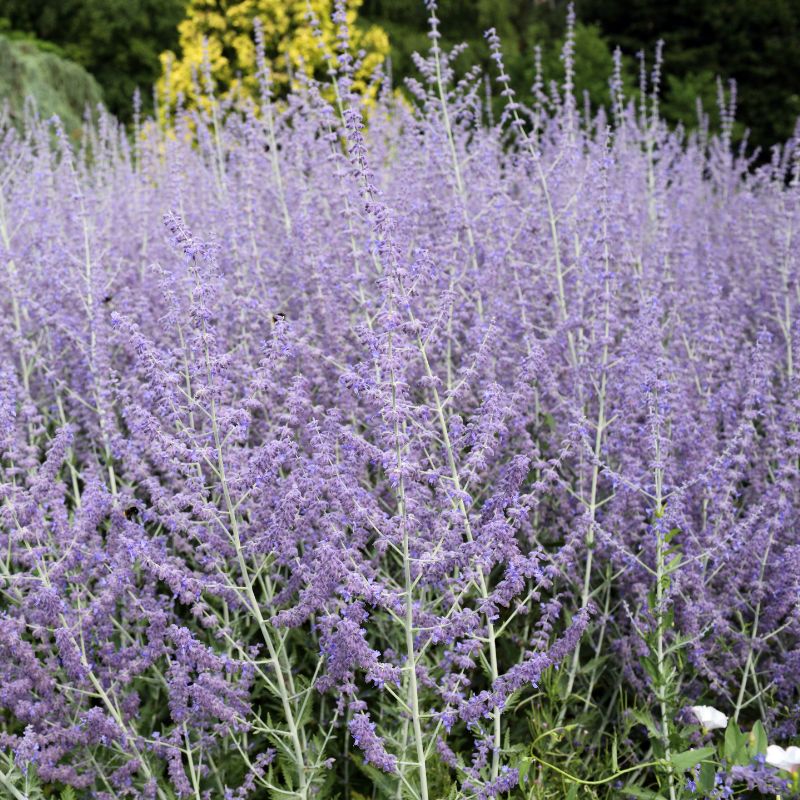 Top Tip:
Further ideas to help you create a wow factor in the garden is add some cushions in the same colour as your flowers – you can see this created beautifully in this RHS Chelsea show garden, the yellow cushions pick up the zesty coloured lupins. It provides a lovely coordinated style and you can create this easily regardless of the size of your garden.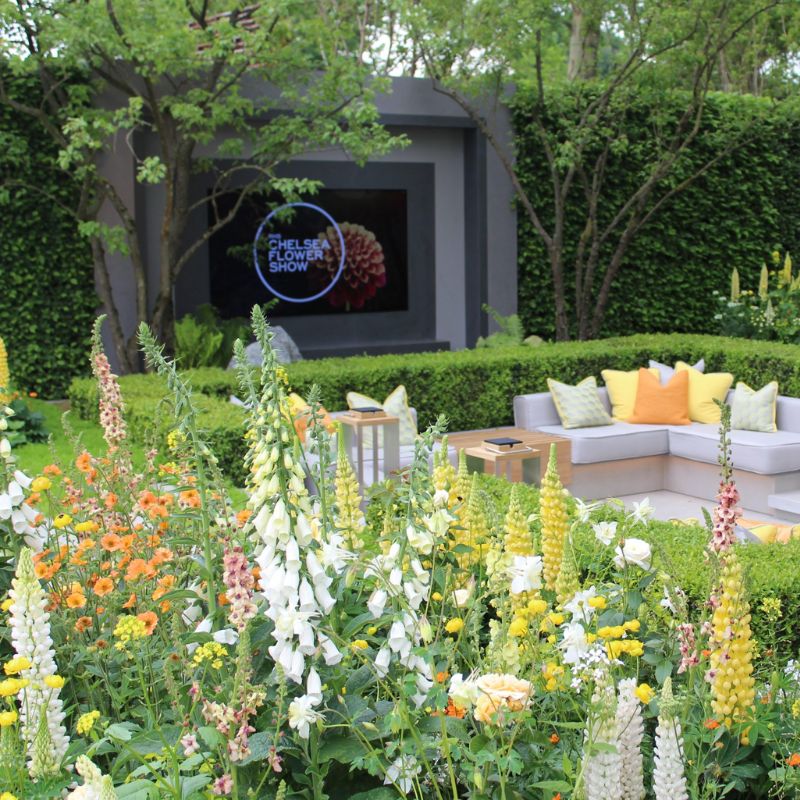 Join the Garden Lovers Club and receive regular updates on all things gardening – tips, ideas, plants, products and garden design. Scroll down and click the 'Join now' button. Its free to join and you can unsubscribe at any time.