Valentine's Day Gift Inspo for Nature Lovers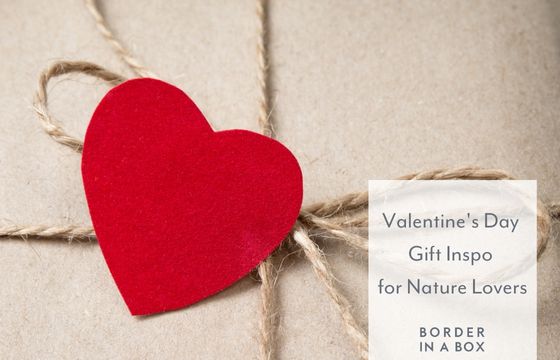 Valentine's Day gift inspiration for nature lovers is here! Whether you're celebrating with your other half, best friends or simply want to show someone special just how much you care and appreciate them, these gifts are cute and practical too and will be a welcome surprise through the post.
All gifts include free delivery which can be upgraded to Next Day delivery at the checkout.
Sow In Love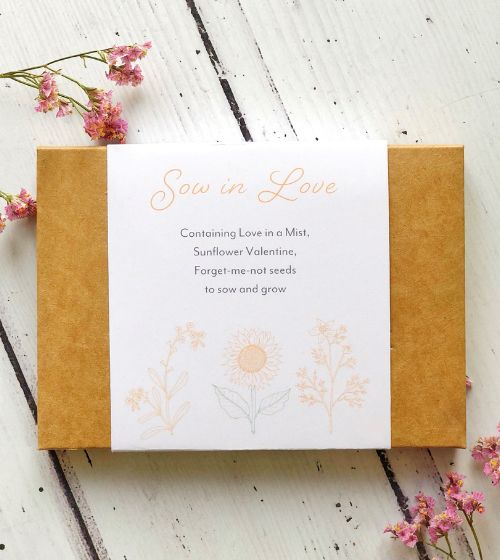 This A6 size gift box contains three packets of seeds – Sunflower 'Valentine', Love in a Mist (Nigella) and Forget-me-Not seeds which are so pretty when they're in flower.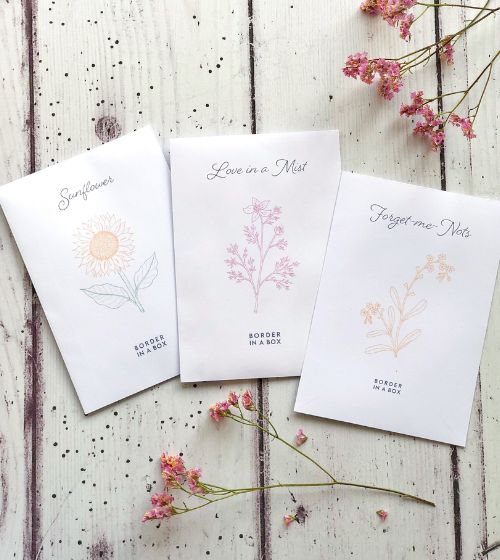 Sunflower Valentine – Easy to grow for cut flowers. Winner of an RHS Award of Garden Merit for reliability and good performance. Sow March-May. Flowers from June to October. Grows to around 150cm tall. Seeds in the seed packet are not edible, but once grown the seeds can be harvested and eaten, or why not leave them for the birds!
Love in a Mist – That's their common name, but are called Nigella. Beautiful blue flowers – sow March to May or August to October (to flower the following year). Will flower from May to September the same year as sowing. May self seed. Grows to around 45cm tall.
Forget-Me-Nots – Tiny blue flowers that bloom each spring – sow them with some tulips for a beautiful container display. Sow directly in the ground from May to July, which will flower the following year from April to June. Grows to around 15cm tall.
All seeds are supplied by Mr Fothergills, who are one of the largest seed merchants in the UK. All are foil packets inside the A6 size FSC envelope.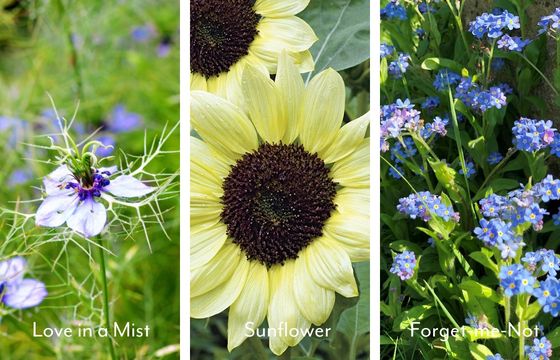 Here's the link to buy – https://borderinabox.com/product/sow-love-letterbox-gift/
Sending Love and Sunshine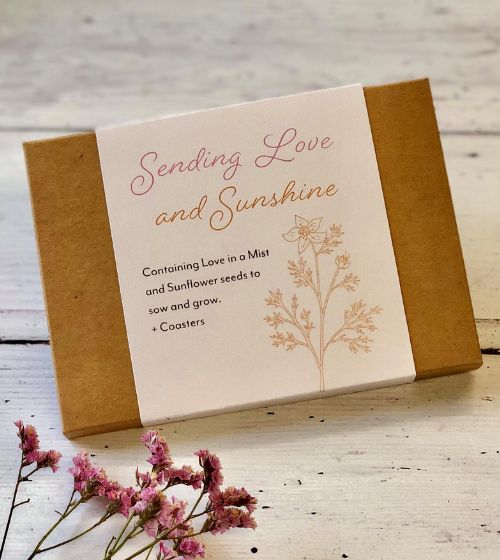 This gift includes two packets of seeds – Sunflower 'Valentine' and Love in a Mist (as in the previous gift), but it also includes two coasters to match the seed packet. The coasters are made from aluminium (a polyethylene core, surrounded by aluminium sheet either side). This super-sturdy material is around 3mm thick. They measure 100mm x 100mm square size and are shatter-proof and water-resistant. Which means they should last for a very long time!
Here's the link to buy – https://borderinabox.com/product/love-sunshine-letterbox-gift/
Heart Shaped Bird Feeders
There are two varieties to choose from – a metal version, which you can add fruit or fat-balls to (I'll include a recipe card to make fatballs which are simple!) or there is a compressed seed version. If you can't decide which one you prefer, choose both and I'll include a beautiful packet of wildflower seeds too, which are perfect for pollinators!
This metal bird feeder is made by Burgon and Ball, it's powder coated steel, with a leather strap to hang it from a tree or bird feeding station. The spike in the middle is to add a fatball or fruit, such as an apple. Again, it will last for a very long time!
Link for more information – https://borderinabox.com/product/bird-feeder-heart-shape/
Alternatively, a compressed seed version is so cute – there are three designs to choose from too. A flower, house and heart shape. These are a chunky 3cm deep, (which means they are classed as small parcel by Royal Mail) and come with a ribbon to hang it from a tree or feeding station. Don't worry if bits of seeds chip off, as the ground feeding birds will also love them.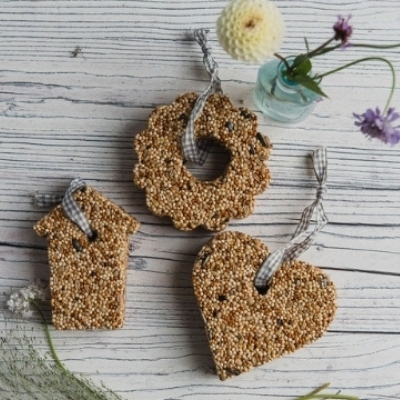 Link for more information: https://borderinabox.com/product/bird-seed-cake-feed/
Cards
If you would like me to post your gift along with a card anonymously, I can do that for you. You can buy the card on it's own or you can buy it with a packet of seeds. There are three cards to choose from that are suitable for Valentines, Galentines or Palentine's…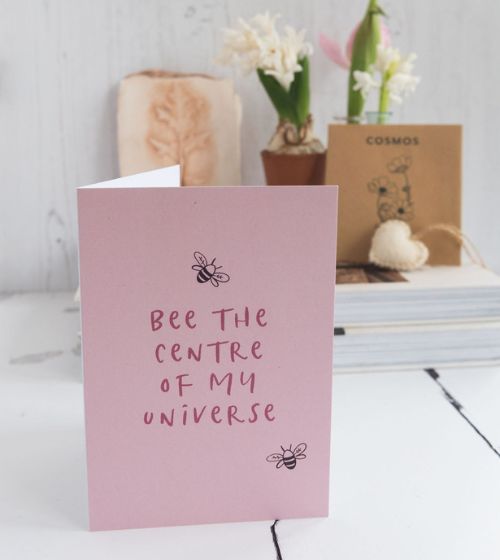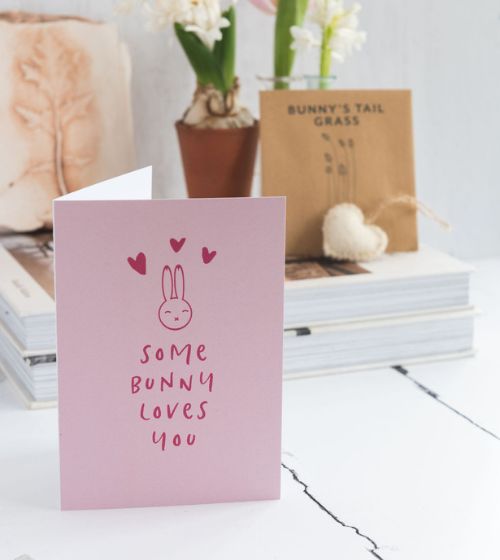 I can also create gift boxes just for you to include any items from my online gift shop, however, I have already made one to include a card, metal bird feeder and a packet of seeds (you can choose which variety you would like) plus a rigid A5 size gift box with tissue wrap. Click this link to go to the shop for more information – https://borderinabox.com/product/bee-card-cosmos-seed-bird-feeder-gift-box/
There are lots more ideas in the Valentines shop – here's the link https://borderinabox.com/valentines-day/ feel free to have a mooch, and if you need any help, just ask! Send a message to hello@borderinabox.com and I'll get back to you.