Perennials for Pots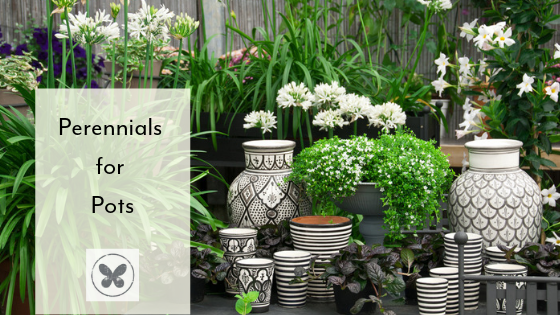 Perennials for pots? Spring and summer are traditional times to create containers full of seasonal bedding (annuals) to add colour to the garden, however, by using perennials, it can add more texture and interest.
What is the difference between an annual and a perennial?
An annual is grown from seed, blooms, produces seeds, and then dies all in one year. Whereas perennials will last several years – it usually dies back over the winter and regrows each spring.
By planting perennials in pots, you can add structure and height along with lots of texture with different shaped and coloured leaves.
Pots are ideal to fill in gaps in the garden borders and if you're living in temporary accommodation it is one way to create a beautiful garden that can move with you.
Other advantages of using pots are taking care over winter – they can be moved into the greenhouse, porch or closer to the house for protection. Also you can use different soil which will enable you to grow any plant you choose.
When it comes to planting perennials in containers, it is better to choose a bigger pot due to having larger root systems than annuals, so they require more space to grow well.  It's also ideal to have pots in odd numbers and different heights which creates further interest and are easier on the eye.
What perennials look good in pots?
Choose plants that have interesting leaves and flowers for long periods – here are three plants that will create a lovely display together:
Heuchera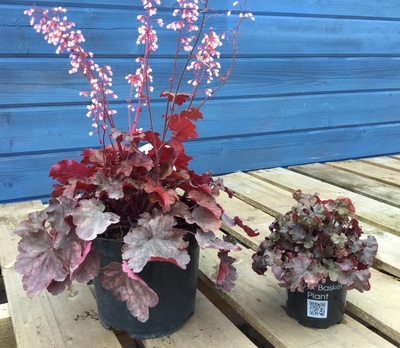 I love these plants due to the colour range of the foliage, the long thin stalks with tiny flowers on top and they simply look great in any garden. They like full sun and part shade and are mound forming so are ideal for the front of a border, or in a pot, clumped with other pots. Variety 'Plum Pudding' has striking dark purple foliage with a dusting of silver. *Top-Tip* buy immature plants to make your budget go further – here is an example of a 2L pot compared to a 9cm pot, the juvenile Heuchera will soon mature to the size of the 2L pot.
Penstemon
Another favourite – especially the 'Pensham ' series. These were developed by Edward Wilson, who sadly died in 2009, but his legacy of Penstemons lives on through Hayloft Plants in Pensham (a local company to me).  An ideal variety to go with the Heuchera is Penstemon 'Pensham Plum Jerkum' which flowers from July to October, with tall flower spikes of dark purple with white throats, which are very striking. The photo is of a variety called Czar.
Artemisia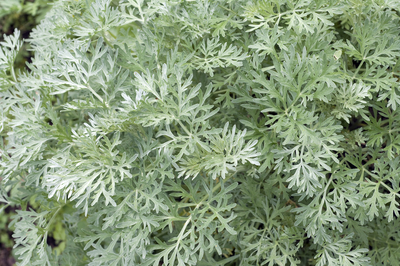 The third pot for an attractive contrast to the Penstemon & Heuchera is Artemesia 'Powis Castle' with its aromatic, silvery coloured fern like leaves. It's also semi evergreen so it will remain over winter, but will lose a few leaves. It grows to around 70cm tall and prefers full sun. It will flower in August with small insignificant yellow flowers, which look great with purple.
Other perennials you could use are Salvia's such as the 'Caradonna' variety with dark square stems; Helleborus for spring flowering, and Lavender for it's amazing scent.