March is the month for the Marie Curie charity Great Daffodil Appeal – it's such an important appeal as more funding is needed – over 90,000 people in the UK die in poverty each year and it shouldn't be that way. It's a shocking and sad statistic.
So go yellow in March and help Marie Curie Nurses provide care and compassion to someone at the end of life. In addition to making a donation, we can help spread the word by filling our gardens, balconies, patio pots and window boxes with cheery yellow flowers and plants to help raise awareness of their work.
Yellow is such a cheery colour, and it certainly lifts our spirits, but by adding a few complementary coloured plants, such as purple, to the yellow daffodils, it will make them shine even brighter. Here's a few ideas of plants to use in your spring pots and borders.
Hellebore
Regardless of your size of garden it's always good to plant a tree and there's one for every plot! This Acacia is a beauty – the bright yellow pom-pom flowers in spring are stunning and a proper bobby-dazzler!
Acacia Mimosa Gaulois 
Although it's classed as a shrub, it can grow to around 8m tall over 10–20-year timeframe. It prefers a well-drained soil in a sheltered location in full sun and suits urban gardens or milder southwest localities, but may need winter protection elsewhere. The leaves are really pretty too, with silvery-grey, fern-like foliage.
Euonymus japonicus 'Aureopictus'
This is an evergreen shrub and is perfect for adding to winter wreaths and flower arranging. Although they can grow quite big – around 2.5m x 2m, it can be clipped into size and shape to suit any garden. I find it an easy plant to look after. It will grow in full sun or partial shade in any soil too.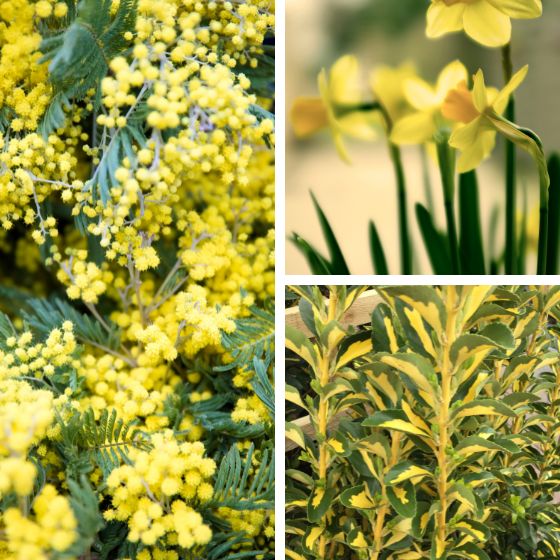 Acacia & Euonymous
Hebe rhubarb and custard
Are loved by bees! This is a bushy, evergreen shrub which grows to about 60cm. The stems are dark purple and the small, oval leaves are grey-green with an irregular cream to yellow margin and flushed with pink, especially in cold weather. It has small, purple flowers in mid- to late summer. Grows in any soil in full sun or partial shade and may need winter protection in severe weather.
wallflower 'Sugar Rush Purple Bicolour' F1.
These are great for containers with tulips as they grow to around 30cm tall and are fragrant too. Once they've finished flowering you can move them into the border where they will flower again at the end of summer. They prefer full sun or partial shade in well-drained, neutral to alkaline soil. Once they start to flower, regular deadheading will help extend the flowering season.
If there are gaps in your border fill them with daffodil bulbs (you can buy them "in the green" from a garden centre) and winter flowering pansies and violas – these purple and yellow beauties will coordinate brilliantly with your daffodils and wallflowers.
Here's a mini planting plan for your garden – plant the hellebores and wallflowers in groups/swathes to fill the area available. However, if you prefer to plant in pots, use odd numbers and sizes.
If you would like to donate to the Marie Curie charity you can contact their website www.mariecurie.org.uk and their helpline number is 0800 090 2309.
Please note Border in a Box is not affiliated in any way with this charity – I'm simply "doing my bit" to help raise awareness and support.