How I make Border in a Box Eco-Friendly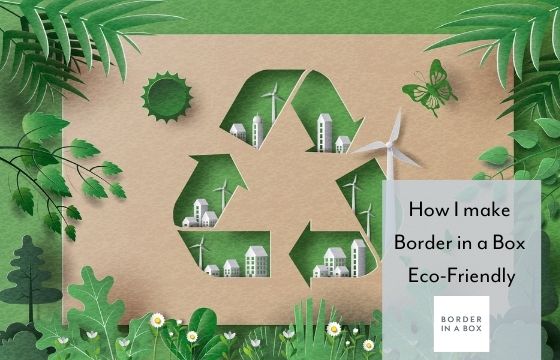 I don't know about you but I find the whole eco/sustainable terminology very confusing and misleading at times – I think we all do our best to put everything into the recycling bin each week, but I felt it's important to share my green business credentials with you and why I don't use 'fillers' in my gift boxes. The majority of my gifts are made from card and paper which I'll discuss here. Please bear in mind, I'm not an expert by any means, but this is my understanding from the research I have done.
Gift Boxes
When I first set up my business, I used tins as I thought they would be useful and could keep all sorts of gardening bits and bobs in such as seed packets. However, feedback from customers at the time, preferred a cardboard box as the perception was it was more 'eco friendly'. Since this time, I have sourced a manufacturer in the UK (in Cornwall) who make the majority of my boxes to my specific size. They are licensed by the FSC (Forestry Stewardship Council), but sadly this doesn't mean I can add the FSC logo to my boxes as I didn't manufacture the boxes.
From my understanding, the FSC logo is the management of the forest which creates 'virgin' paper and card. However, recycled paper and card is the better option as it uses less carbon in the process, but it can only be recycled so many times before the fibres become too short to use.
If you would like to learn more about the recycling of paper, have a read of this environmental article written by one of my packaging suppliers – its an easy read and very informative.
Information on Recycling Paper & Card
You may have noticed; I use boxes that simply contain the gift as I don't believe in creating inserts in boxes to pad out the gift. I appreciate it's important to make the gift look beautiful and well thought out but by keeping it simple means, I'm not selling 'air' or paying for the transportation of it.
Brochures, Seed Envelopes & Gift Cards
All of my brochures, seed envelopes and gift cards are printed on either FSC or recycled uncoated paper in the UK. I never use coated paper as it contains plastic. Even the greetings cards in the 'Grow Your Own Bouquet' gift box which have silver foiled illustrations can be recycled as the foil can be removed in the recycling process.
 Stickers & Tissue Paper
Again, these are all paper based, plastic free options. The kraft tissue paper is unbleached and can be easily recycled. Although the 'new puppy' gift box contains shredded paper to fill the void and stop the soap from moving inside the box. This is also recycled and recyclable.
Glassine envelopes – these are great. It's a smooth and glossy paper that is air, water, and grease resistant. It's eco-friendly too as you can put it in the recycling bin. I'll probably be using more of this paper in the future.
Postal Envelopes & Boxes
All of my postal packaging has been manufactured using either FSC or recycled paper. Unfortunately I cant get away from the adhesive strips but I'm sure in time this will be resolved and a new way of sealing will become available. I use paper sticky tape to seal boxes, along with paper sticky address labels. The sheets of waxy type paper they are attached to is also recycled.
Printing
My office printer is a HP Eco printer that uses much less ink than a normal printer or laserjet. The print quality is good for printing delivery notes and address labels but is unsuitable for my brochures and documents. I work with a local printing company to print everything else.
The printing company I work with only uses vegetable oil-based inks and holds the ISO 14001 environmental standard certification, ensuring quality and a perfectly eco-safe product has been used to produce all my work.
In a nutshell Border in a Box:
Buy from UK suppliers to reduce airmiles
Print on uncoated paper (either recycled or FSC approved) using vegetable oil based inks
Re-use packaging from items sent to me (so you may have bubble wrapped items from time to time, so please reuse them too)
 So whilst there's room for improvement, I can assure you everything I create and post has been assessed for its eco-credentials. It's a work in progress.