There's a space on your patio/garden for some plants, so you think about a quick trip to the local garden centre to buy some. You walk in and are met by a myriad of plants and pots. I know that feeling – so here are my top tips to help you choose the best pots for your garden.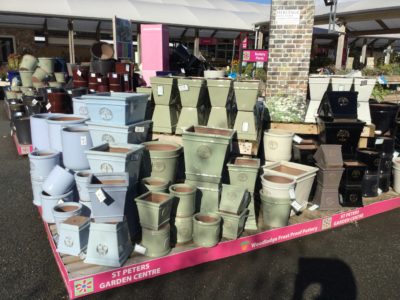 Choosing the right pot for your garden can make a big difference in the health and wellbeing of your plants. There are many factors to consider, such as the size, shape, material, colour, and style of the pot, as well as the needs of the plant and the location of the pot.
Size:
The size of the pot is an important consideration – the right pot for the right plant! A pot that is too small could restrict the root growth and cause the plant to dry out faster. A good rule of thumb is to choose a pot that is at least 4cm wider than the diameter of your plant's root mass, and if you're expecting your plant to grow quickly, use a pot up to 20cm wider.
If you need to include several plants in one pot, make sure it is wide enough and has enough depth to accommodate the plants needs. Summer plants will need more space compared to a winter pot, as plants grow slowly during the colder months so you can pack more into one pot to make it look fuller.
Also, you might simply want to create a focal point such as this large glazed brown pot which compliments the paving and planting beautifully.
However, a single auricular will only need a 9cm terracotta pot, which you can create a theatre with.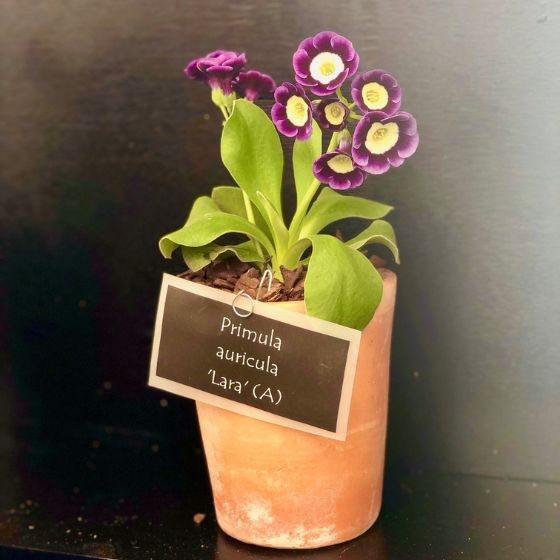 If you're considering vertical gardening, getting the right pot and fixings are essential as you don't want the plants to fall off the wall and injure someone. Here's a contemporary and country style example.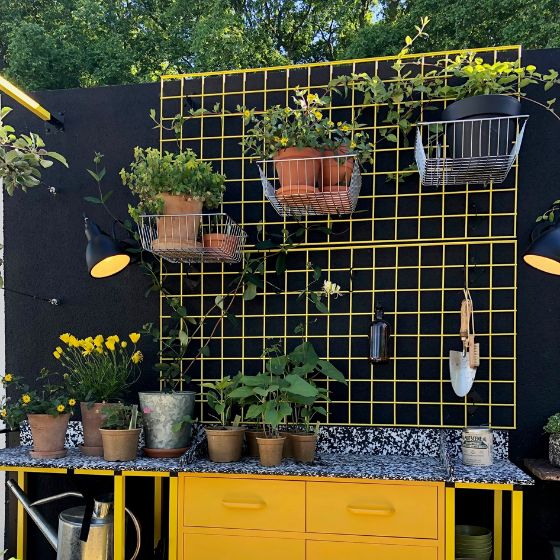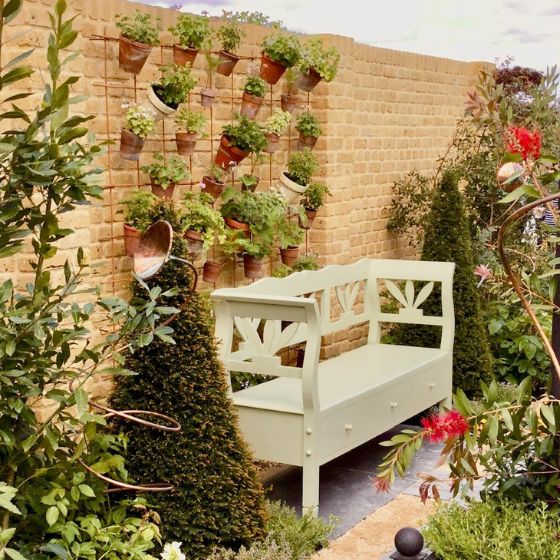 Drainage:
The pot should have drainage holes at the bottom to allow excess water to drain out. This will prevent waterlogging and root rot, which can kill your plant. If the pot doesn't have drainage holes, you can drill some yourself and place a layer of gravel or broken pottery at the bottom of the pot to aid drainage too.
I would also add some pot feet as this also aids drainage.
Material:
The material of the pot affects its weight, durability, insulation, and appearance. Some common materials are:
Plastic: Which are lightweight and come in many colours and shapes. They are good for indoor plants or plants that need to be moved around frequently. However, plastic pots can fade, crack, or break over time, especially when exposed to sunlight or frost.
I used recycled containers from Elho for my Chelsea show garden and they're fantastic – they had invisible castors so they could be easily moved. They've been in my garden all winter and look as good as new. I would highly recommend them.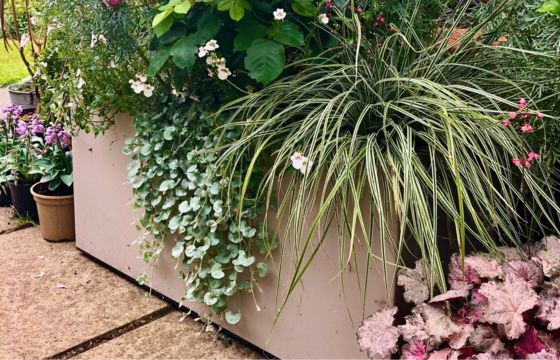 Terracotta: If you want a classic and natural look, these are ideal. They are porous and breathable, which allows air and water to circulate through the soil and roots. They are good for plants that prefer dry or well-drained soil, such as succulents, cacti, herbs, and Mediterranean plants. However, if you don't line them with a waterproof product, the pots can dry out quickly, which means you may have to water the plants more frequently. Make sure you buy a frost-resistant pot otherwise they may crack or chip easily.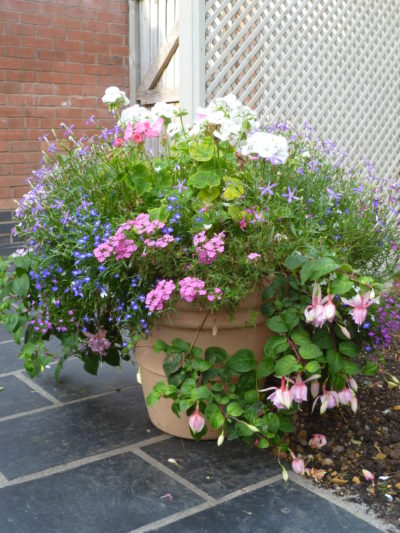 I can recommend a visit to https://www.whichfordpottery.com/ in the Cotswolds – they produce flowerpots which are all handmade – I used them in my BBC Gardeners' World garden. They're heavy, but will last a lifetime. They will also make to order too – so you can get a personalised pot for your plot!
Stone and concrete: Stone and concrete pots are heavy, sturdy, and long-lasting. They can withstand harsh weather conditions and provide good insulation for the soil and roots. They are good for large plants or plants that need stability, such as trees, shrubs, or perennials. However, stone and concrete pots can be expensive, difficult to move, so you may want to use a plastic pot inside to enable you to change the plants according to the season.
Here I've used a mixture of terracotta and stone pots which are large enough to accommodate some shrubs along with some summer flowers.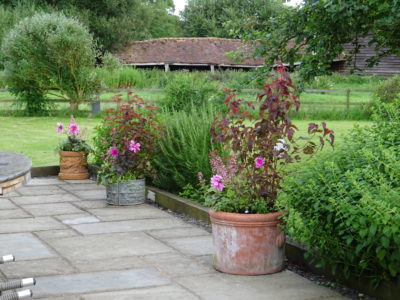 Wood: Wood pots are natural and give a rustic vibe. The downside is wood pots can be heavy, and rot or decay over time, especially if they are not treated with a preservative or paint.
This is a wooden planter made for my Chelsea show garden by https://taylormadeplanters.co.uk/ from a traditional timber which I painted with Cuprinol Garden Shades paint in urban slate. I planted a silver birch tree, and underplanted with hostas and ferns.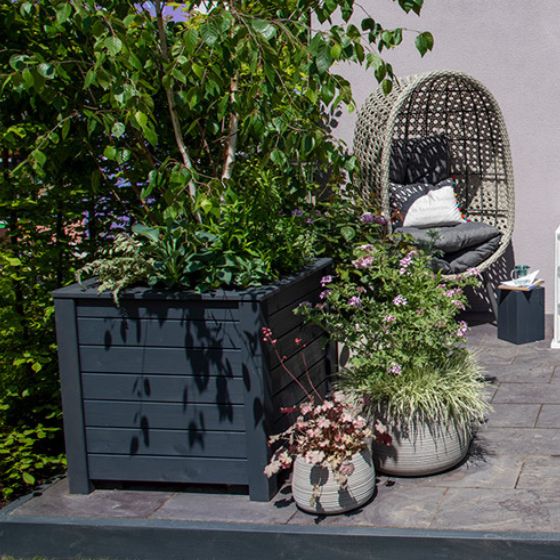 Fibreclay pots are made from a mixture of clay and other natural materials, such as fibre, resin, and sand. They can be a cost-effective alternative to traditional stone pots.
The advantages are they are lightweight and easy to handle, which is helpful if the pot needs to be moved around from time to time. They have a natural and rustic look that can blend well with any garden style. They are usually frost-resistant and can withstand harsh weather. The downside is they can crack or chip easily if they are dropped or knocked over.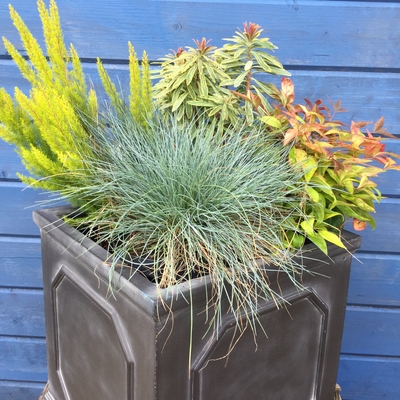 Colour:
The colour of the pot can affect the mood and atmosphere of your garden. You can choose a colour that complements or contrasts with your plants or your surroundings.
Bright colours can add vibrancy and energy to your garden. They can also draw attention to your plants or create focal points. Bright colours work well with tropical plants or plants with colourful flowers.
Pastel colours create a soft and soothing effect in your garden. They can also enhance the beauty and delicacy of your plants or create a harmonious look. Pastel colours work well with cottage garden plants or plants with subtle flowers.
Neutral colours: Neutral colours such as white, black, grey, or brown can create a simple and elegant look in your garden. They can also balance out the colours of your plants or create a background for them to stand out. Neutral colours work well with modern garden plants or plants with foliage interest.
Here's an example of a winter container using a ceramic pot, textured body, with a contrasting trim. This could be used for any time of year, but here I've used a pittosporum with a variegated leaf (which picks up the white of the pot) along with a hellebore, variegated ivy and then a gaultheria with red berries to add a bit of colour, but it could be easily planted without it, especially if you want a winter white theme.
When planting your containers remember the mantra – thriller, filler and spiller!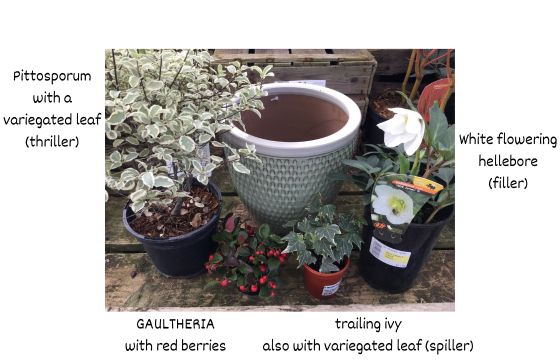 Style:
The style of the pot can reflect your personality and taste in gardening. You can choose a style that matches or contrasts with your garden theme or design.
Classic: Classic pots have simple shapes and designs that are timeless and versatile. They can suit any garden style or plant type. Classic pots include urns and bowls.
Contemporary pots have sleek shapes and designs that are modern and minimalist, such as cubes, cones and spheres.
Rustic pots have rough shapes and designs that are natural and organic. Pot shapes include baskets, barrels and buckets.
Here's an example of the same pittosporum plant but in different pots and backgrounds, just so you can see the difference it makes and with a bit of planning, you can get the right plant in the right pot!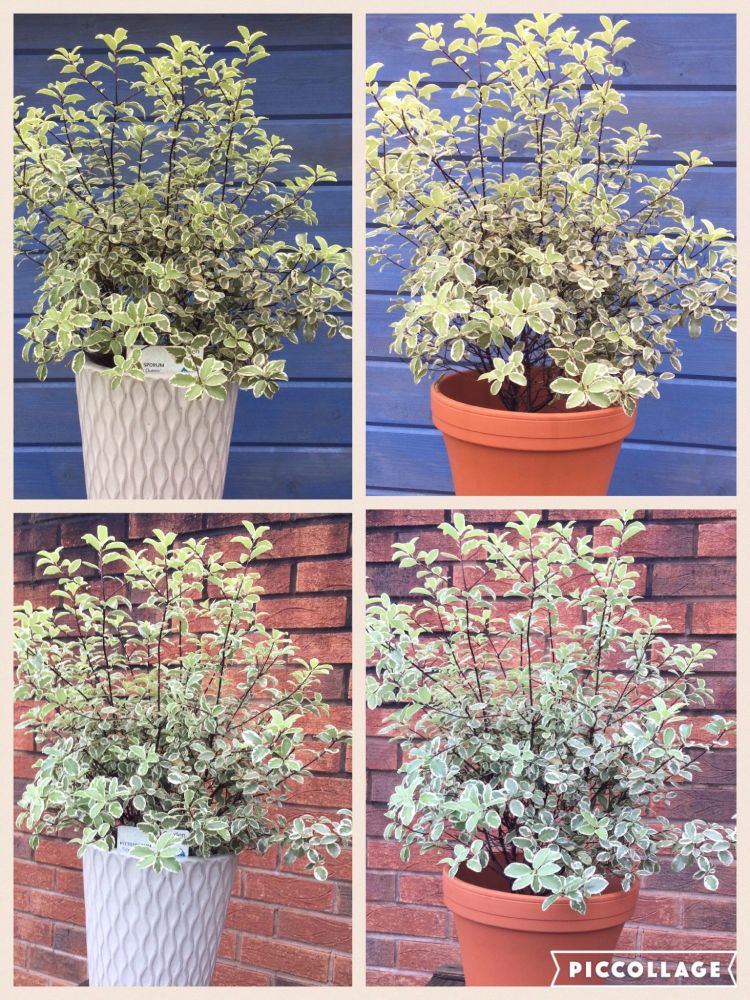 Hopefully that has helped clarify your thoughts about what you need from your garden pots – it can be so overwhelming with the choice of plants and pots for your space, but if you need assistance, just ask!