Home Styling at Christmas with Country Homes & Interiors Magazine
Home styling at Christmas with Country Homes & Interiors Magazine at Stonor Park.
I exhibited at the Country Homes & Interiors magazine Christmas Fair last weekend in Henley on Thames and I absolutely loved it – I won their award for Garden Product of the year 2017. I was fortunate to meet Holly and Andrea from the magazine who shared the design inspiration for this year's room set, which I will let you in on.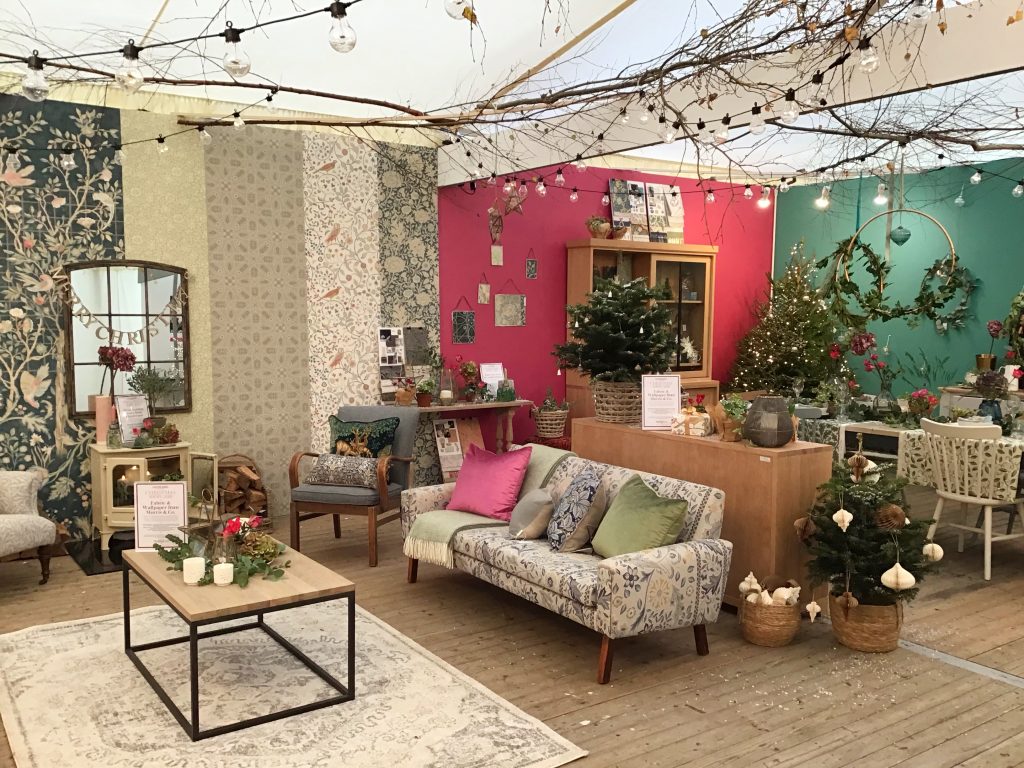 There's usually extra visitors in our homes this time of year, so to make everyone feel welcome, it's lovely to add accessories and festive decorations for some cosiness and style to your living rooms. Their overall theme was fresh botanicals, heritage prints and frosted greens – all very appropriate for Border in a Box styling.
Country Homes & Interiors Christmas Fair 2019 – mood board by Nikki Hollier
The main room set had a cosy real fire by Charnwood with comfy armchairs and tactile throws. A large mirror adorns the wall above the fire with natural decorations of oversized branches and trailing ivy decorated with baubles and fir cones.
Top tip – update your room with velvet cushions, which are super tactile and are more cost effective than buying new sofas and chairs
The theme was carried through to the dining room and I loved the small Christmas trees in wicker baskets, simply decorated with paper honeycomb baubles and white lights. There were several of them – one on the sideboard and one on the floor in addition to the main Christmas tree.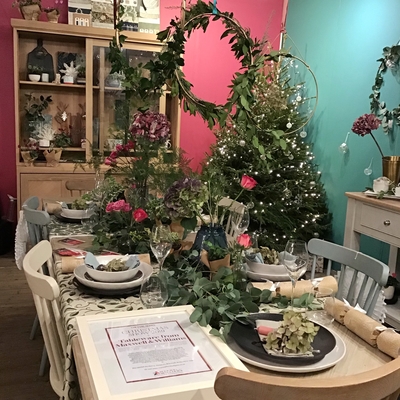 Photo of main table and hanging hula-hoops
The main table included botanical print runners, more foliage, with accents of berry baubles. This was replicated on the coffee table using eucalyptus (which smells fabulous) and brass and glass ornaments. The tableware was by Maxwell & Williams with simple white platters and bowls shown off with charcoal coloured plates and stemless glasses.
Above the table there were hanging brass coloured hula-hoops with green foliage wrapped around them and hung using velvet ribbon. These could also be used as door welcome wreaths too.
Top tip – use metallic washi tape to decorate terracotta flowerpots and fill with sprigs of foliage and/or fir cones and place on shelves and sideboards in groups of odd numbers.
The main wall had a montage of William Morris wallpaper. William Morris was a British textile designer, associated with the British Arts and Crafts Movement. He was a major contributor to the revival of traditional British textile arts and methods of production in the 1800's. If you do an internet search you will see his amazing designs.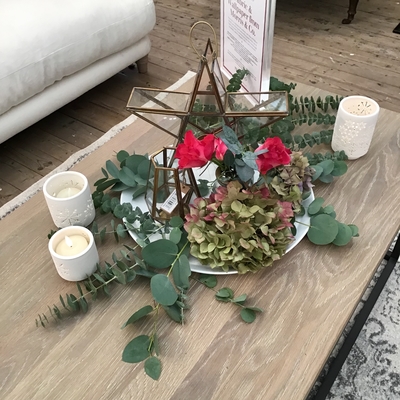 Coffee table decorated to match the dining table
Stonor Park – The House
In the main house at Stonor Park, the doorway had a striking entrance with square planters either side of the door which contained lots of greenery including mistletoe, trailing ivy and multi-coloured twigs to give some height and drama!
Once inside the door, the bannister surrounding the stairs was also decorated with sprays of greenery with clear glass baubles containing tealights hanging with multi-coloured ribbon. This idea would also work well on a mantelshelf – although it needs to be out of the way of the fire.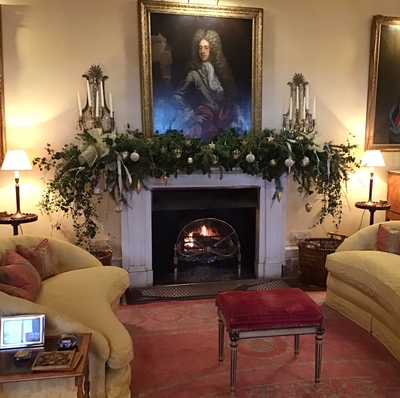 The hallway led onto the room where the floor-to-ceiling Christmas tree was – WOW – I wasn't expecting it. It was absolutely beautiful and decorated in a traditional and simple way.
Onwards to the Dining Room where Country Homes & Interiors had styled the table with a modern twist. Lots of natural seedheads and grasses grouped in vases placed on wooden slices with navy and charcoal coloured baubles hanging from twisted willow branches.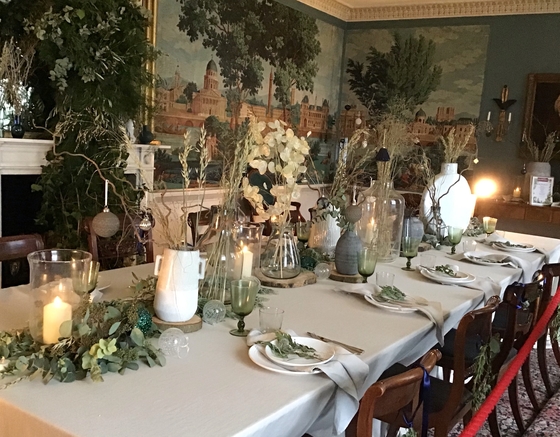 The table was lit with hurricane vases and large candles and tealights which created a lovely glow along the linen tablecloth. The eucalyptus and echinops (commonly known as globe thistles) dried flowerheads weaved amongst the vases which added further texture and colour.
As you can see it's all natural and easy to re-create in your own home. If you don't have foliage from your own garden, it can be easily purchased in either fresh or dried bunches from your local florist. Hopefully that has inspired you to create beautiful focal points throughout your home this wintertime.
Join my Garden Lovers Club for ideas and inspiration for your home and garden.