During the winter months, Helleborus which are commonly known as the Christmas Rose, are a useful and striking addition to any border due to their evergreen leaves and pretty flowers.  They are perennials and are simple to grow.  They flower from December to spring, so are ideal for adding to Christmas containers with some seasonal bulbs and evergreen shrubs such as Pittosporum.
Flowers are predominantly white or cream but they also come in shades of pink, green and dark red, so will fit in with most gardens and are ideal for a woodland setting in dappled shade.  They grow to around 30-50cm, so make excellent front of border plants.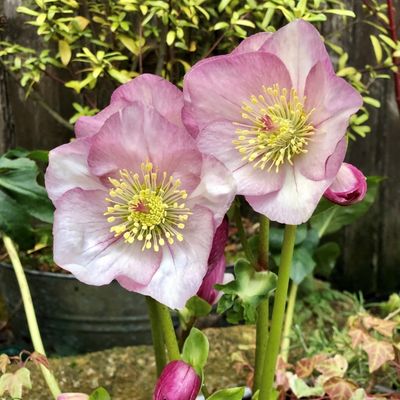 If you want a plant that requires little maintenance, then Helleborus are ideal as they really can be left to their own devices and will self-seed too. As they grow, they will create lovely clumps over time. At this point you can divide the clump and create lots of free plants.
Hellebores are fairly tough plants and should survive being divided at all times except when the weather is bad over the winter and/or when they are in full bloom. This means most Hellebores can all be divided in mid to late spring, and if you are not sure what type of Hellebore you have, divide it after flowering later in the spring.
Some people remove the leaves to show off the flowers and new foliage – it's a personal choice as there is no wrong or right way. However, they can be prone to black spot, so by removing the leaves, it can help the health of the plant. Obviously don't remove all the leaves, as they are required for photosynthesis.
When choosing a Helleborus I recommend a single flower variety as bees love them (they are an excellent winter food source) and are unable to access the double flowering type.
Problems with Hellebores – Black Leaf Spot
Hellebores are fairly trouble free but they can suffer from leaf blotch which is a common fungal problem. This means the leaves get marked with grey or brown/black marks. The simple solution is to cut off the leaf, or as many leaves as are infected. If the infection is severe cut off all the leaves, the plant should survive.  The plant does not seem to suffer from having many leaves removed and they're replaced by new ones in the spring. Do not put the leaves in the compost bin as this could spread the fungal infection.
Bear in mind also that Hellebores are a poisonous plant, (humans and pets) and ingestation of root or leaves can cause stomach upsets and for some people it is also a skin irritant.
If you would like a planting plan to help you create year round colour in your garden, use the Evergreen garden design kit.  If you combine it with the seasonal bulbs from the free list and you will have a beautiful garden with year round interest and colour.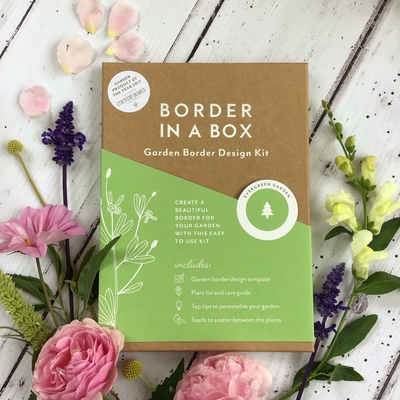 Here's the link for more information on the Evergreen Border Design Kit – https://borderinabox.com/product/ready-made-evergreen-garden-border-design-kit/