Growing Herbs for Health.
With the spring equinox it means there's more daylight hours than darkness so our gardens will start to come to life quickly now. Perfect timing for everyone whilst we self-isolate. This month, I thought it would share my top five herbs to help with health and wellbeing and how to dry them to make teas and balms.
Calendula officinalis
These are gorgeous orange daisy type flowers and will grow in sun or part sunny gardens and are loved by bees. They'll flower from June to October and are happy in any poor or fertile free draining soil (but not clay soil) and grow to around 50cm tall. You can grow them easily from seed too – just follow the instructions on the packet. The flower petals are edible and have a peppery flavour, which can be added to food. Or you could dry them and use in salves. To dry them – harvest them after mid-day when it's dry and cut the flower head off. Bring them indoors (do not wash them) and place them on an old sheet or paper towel (depending on how many you have. Leave to dry in a dark, well-ventilated space for approximately 4 weeks. Then store them in an airtight jar. These can be used to infuse oil to make balms and lotions. The oil of Calendula officinalis is used as an anti-inflammatory and a remedy for healing wounds and skin complaints, plus many other uses. It's best to seek advice from a trained herbalist to help with any specific conditions.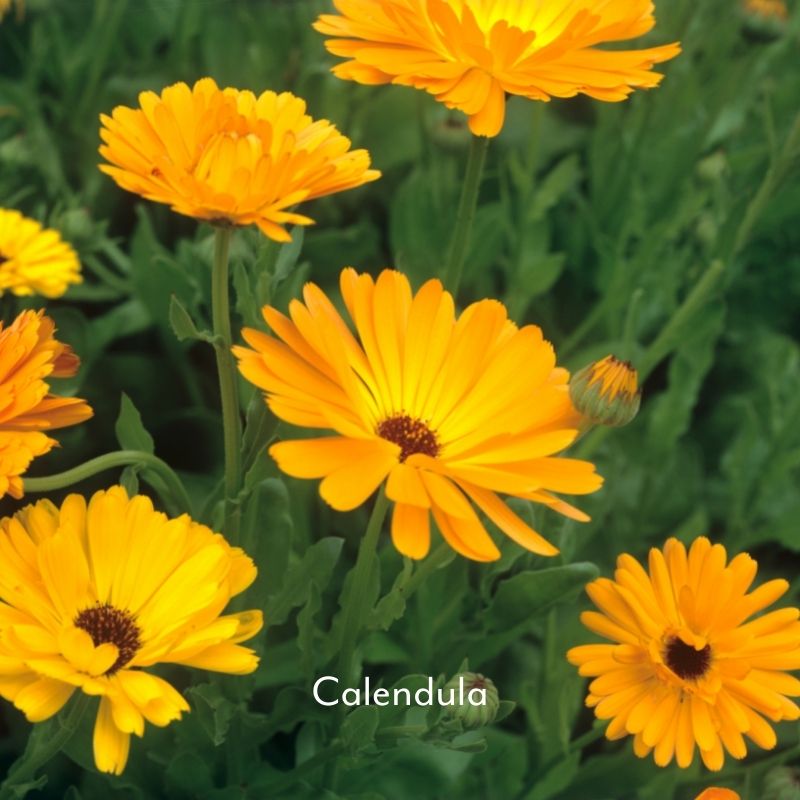 Chamaemelum nobile – commonly known as Camomile
An aromatic plant with finely dissected leaves and daisy-like flowerheads with white petals and yellow centres. Traditionally used to help with stress and calm the nerves – chamomile tea before bedtime is very soothing. These are mat forming plants, that loves the sun or part shade, happy in all soils except clay and will grow to around 50cm tall. Flowers from June to August. To dry them – pick the flowers when in full bloom, ie when the white petals are still in place. Remove any bugs. Make sure it's a warm dry day. Leave in a dry dark space for approximately 4 weeks then place in an airtight glass jar. Can be mixed with Lemon Balm to make your own tea infusions.
Melissa officinalis – commonly known as Lemon Balm
Amazing lemon-scented, light green leaves which grows to around 1.5m tall. Loves full sun or part shade and will grow in any well drained soil. They flower in June with spikes of tiny, pale-yellow flowers, which fade to white or lilac. Loved by bees and the leaves can be used in salads and soups. Pure lemon balm essential oil is valued for its properties in aromatherapy where its considered to be uplifting and calming. Ideal in herbal teas too.
Ocimum basilicum – commonly known as Basil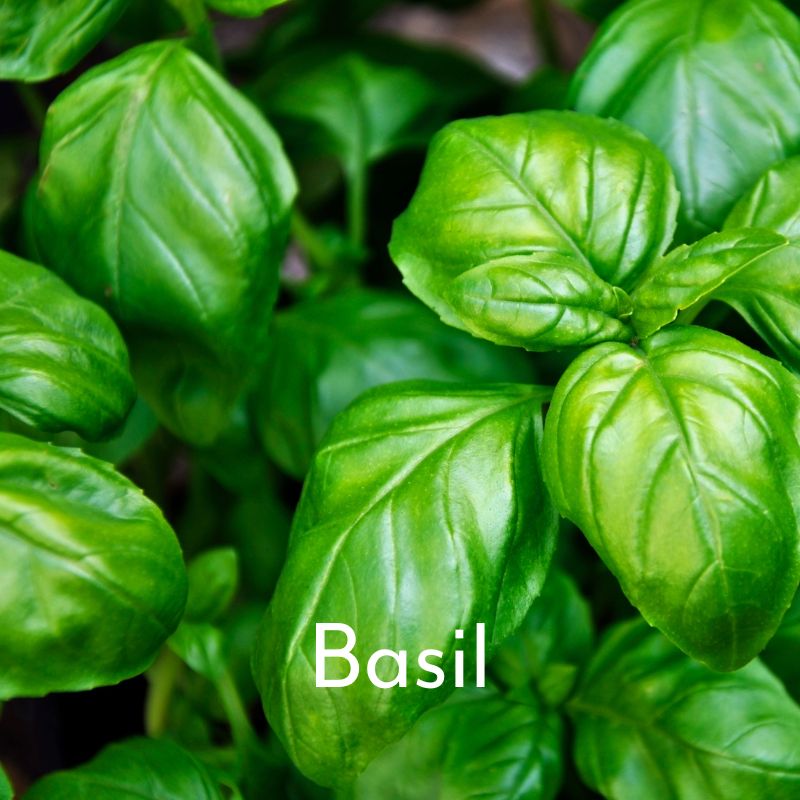 Most people know this herb from having it with their tomato soup, pesto or pizza. It can be easily grown from seed on a windowsill or container in full sun. Using normal loam compost. Depending on the variety (there are plenty to choose from) they can grow to around 50cm tall. If you want to dry basil so you have herbs all year round, follow the previous instructions for Chamaemelum. The best time to pick basil is just before flowering. If you want to dry the herb quicker, you can do it using the oven too.
Oven-dry method
Wash the leaves and dry using a paper towel
Place leaves (no stems) on a baking tray, one layer, and not touching/overlapping each other
Oven temperature should be on the lowest setting possible
Cook for 20 minutes (or until they are crisp and break easily) then leave in the oven overnight
Put them in a sealed container such as a glass herb jar
Basil has many medicinal benefits and is generally beneficial to health, for example it is renowned for helping digestion and bug bites. However, it can also thin your blood if eaten in large amounts.
Thymus vulgaris – common name Thyme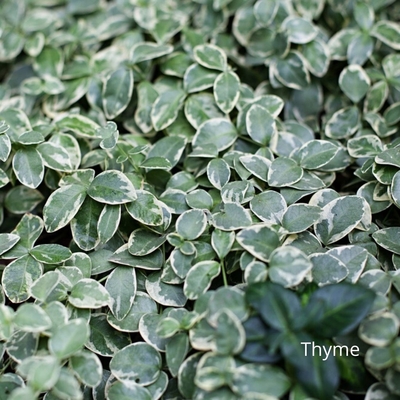 Thyme is a bushy dwarf shrub with small ovate, aromatic, dark grey-green leaves with small white or pink flowers in early summer. Its evergreen so ideal for a cottage garden as well as an herb garden. It prefers full sun and will grow in all soils except clay to around 40cm tall, so best suited to the front of a border or a pot on the patio. Another herb that is easy to grow from seed. Thyme can be turned into essential oils which is traditionally used as an antiseptic and an insect repellent. Thymol (the compound in Thyme) is a common meat preservative, and olive farmers often combine thymol into the oil that preserves olives in the Mediterranean. With all herbal medicines, it is best to seek the advice and guidance of a professional.
Gifts to send through the post:
Both gift boxes are available to buy from the online shop and sent direct to the recipient with a card.