Five Festive Flowers for Christmas Gifting
If you love plants (who doesn't!) then festive flowers at Christmas always makes a thoughtful gift regardless of whether we are giving or receiving.
Here's my top five favourite festive flowers for gifting.
Poinsettia:
This is a popular Christmas houseplant that is known for its bright red and green foliage. It is a great gift for anyone who loves plants and is perfect for adding a festive touch to any home. Poinsettias are available in a range of sizes and colours.
They are sensitive souls and will drop their leaves after a few days if they're in a cold draughty place, so make sure you place them in a sunny / part sunny, warm, and draught free spot. They like 15-21 degrees preferably. If it's placed on or near a windowsill, remove it from a windowsill overnight and make sure the leaves aren't touching the glass during the day as its likely to be too cold for it.
Water them when the soil is dry to the touch, but not parched! They don't like over or under watering so check them each day.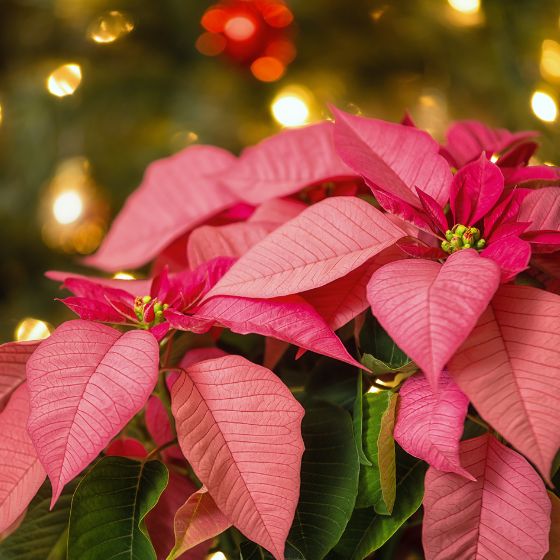 Christmas Cactus:
This is another popular Christmas plant as they're really easy to look after – so if the recipient is a renowned house plant killer, this is the plant for them!
As you can see from the photo, they have beautiful pink flowers but there are many colours to choose from. Christmas cacti are easy to care for and require bright, indirect light. They should be watered when the soil is dry to the touch, so if you forget to water them, they are likely to survive without any problems.
Amaryllis:
This is a flower with the WOW factor! You can grow them in the autumn (around October) in time for flowering at Christmas, or there are many kits available that include the bulb and pots. Or a waxed bulb that has been decorated also makes an attractive gift.
They have large, trumpet-shaped flowers in a range of colours, including red, pink, and white. They can become top heavy and may need some support – one option is to grow them in a vase so the sides are protected.  Simply fill the base of the vase with washed decorative gravel, fill with water half way up the gravel and place the bulb on top. Make sure the base of the bulb isn't sitting in water at any time.
I purchased this bulb from a nursery at the Malvern Autumn Show – it's huge! and it grew into a proper Christmas red flower – absolutely stunning.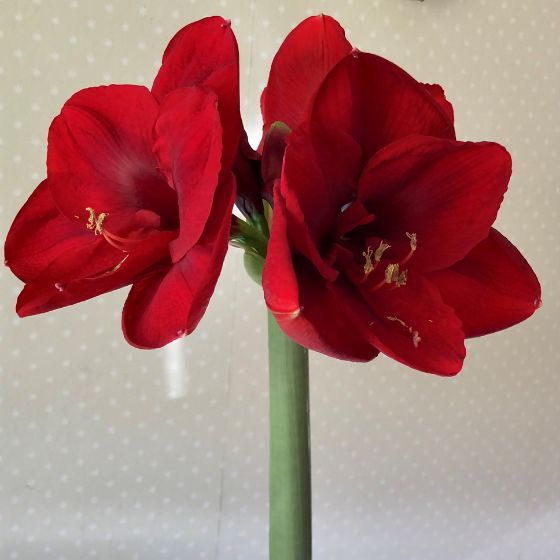 Cyclamen:
This is a beautiful flowering plant that is perfect for Christmas – I especially love the marbled leaves. It produces delicate, butterfly-shaped flowers in a range of jewel colours, including pink, purple and red. However, there are now plenty of pastel colours to choose from such as Cyclamen 'Petit Moulin' and 'Origami' with bi-coloured flowers.
This ruffled variety is a houseplant and not suitable for outdoor in your garden borders.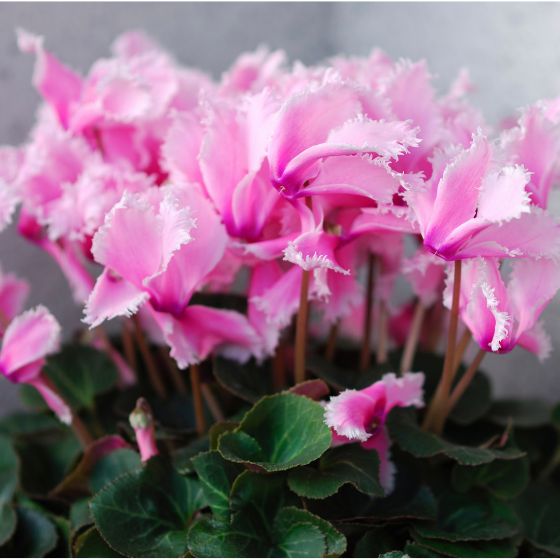 Holly:
A traditional Christmas plant that is known for its bright red berries and glossy green leaves which are loved by birds such as Fieldfares and pigeons. Small trees make a lovely gift, and look great in tablescapes as part of the arrangement.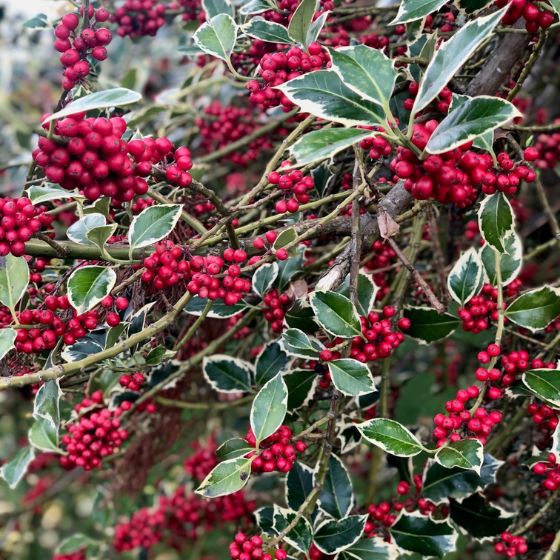 This table arrangement could be made into a festive version for an unheated porch by adding fairy lights and lanterns with coordinating pillar candles along with holly trees in pots.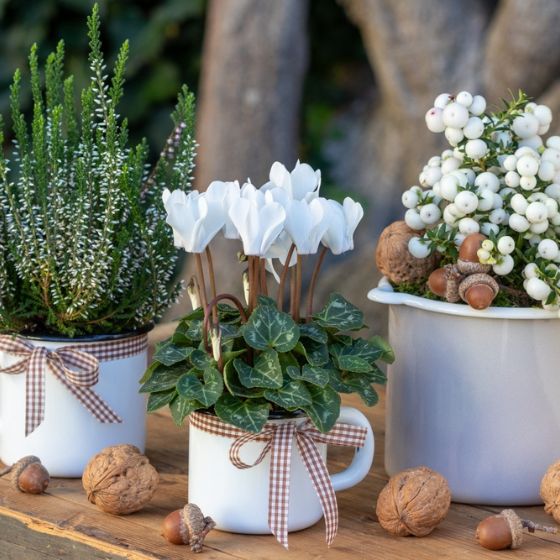 Rosemary:
You might think this is an odd one to have on the list as it's plain greeny-grey foliage at Christmastime, however It can be trimmed into the shape of a mini Christmas tree which you can decorate with mini baubles to turn it into a great gift.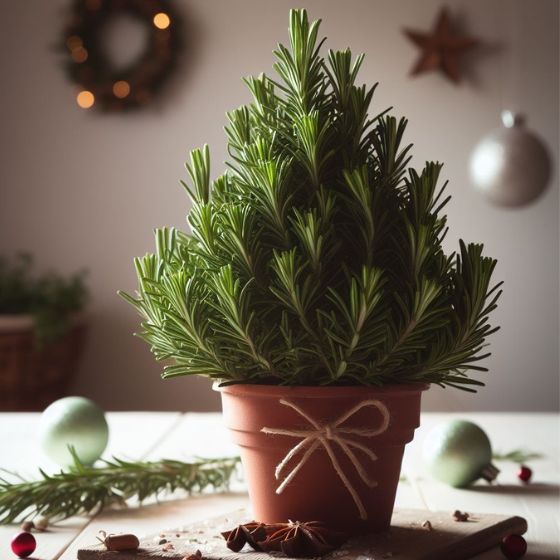 This is a fragrant herb that is evergreen which makes it a perfect plant for Christmas decorations – I love to include it in my festive door wreaths.
After the festive season you can plant it outside in your borders.  Rosemary originates from the Mediterranean which means it prefers a sunny spot and should be watered when the soil is dry to the touch.
I find them robust in the garden and leave them to do their thing, the only downside is they attract a beetle commonly known as the Rosemary Beetle. They eat the foliage and flowers of various aromatic plants in addition to rosemary – lavender, sage, thyme and some other related plants. They are harmless but you may want to remove them to protect any prize plants
Rosemary is such a versatile plant and has many benefits for our health and wellbeing. It contains antioxidants and anti-inflammatory compounds, which are thought to help boost the immune system and improve blood circulation.
To make rosemary tea, start by boiling water and adding fresh or dried rosemary in a mug. Steep for 5-10 minutes, then strain (remove the leaves) and enjoy with some honey and/or lemon to taste.
How do you gift wrap a plant?
Plants can be tricky to wrap, so if you're buying from a florist they will help by adding a festive paper wrap and bow. But if you're doing it yourself, there are some simple and effective ways to present them. It also depends on how big the plant pot is, as a small pot is usually easier to handle.
Add a gorgeous basket, which looks so much nicer than a plain plastic pot the plant has been grown in.
Festive decorations such as baubles, or pine cones for a natural ornament alternative. Wrap some florist wire around the base of the cone so you can attach them to the plant. I also use twigs from a contorted willow and spray paint them gold or silver and poke them into the compost. You could also hang miniature baubles from these branches too.
Fabric – if you prefer something rustic, use burlap/hessian. I find this tricky as I feel I need as many hands as an octopus to hold the pleats in place whilst I wrap the ribbon around the pot to hold it in place. However once the bow is done, how about adding a small Tillandsia as a flourish? These air plants don't need any water, and with their flowing curly leaves they look really cute.
If you have a tiny pot to wrap, you could use a Christmas sock to stretch around the pot. Cut the foot section off and use a glue gun to fold the raw edges over and neaten it.
Some plants come with a nice pot, so to keep it simple, add a big bow and gift card to coordinate and personalise it. Bow's are going to be the in-thing in 2024!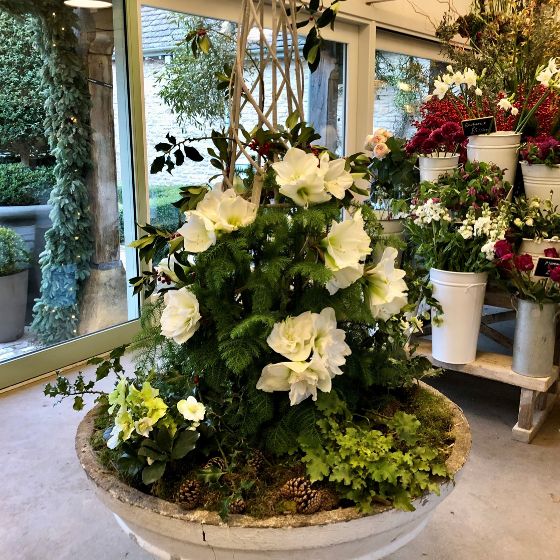 This white amaryllis centrepiece was amazing – unfortunately my photo doesn't do it justice, but it was stunning. The florist used a large pot with a central obelisk that they've attached the amaryllis to and covered it with trimmed fir tree branches. Around the base they've used white hellebores with fir cones and a heucherella.
This basket contains a beautiful festive arrangement of miniature red roses, rosemary, cyclamen, pine cones and moss.