Create a Christmas-ready Garden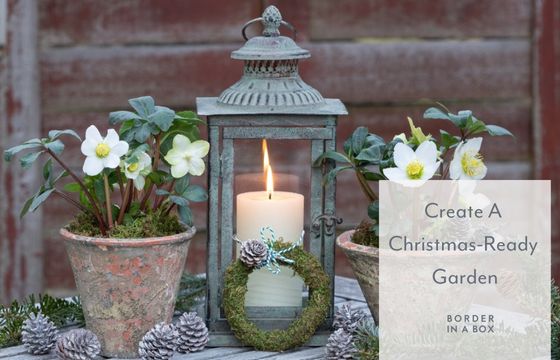 Create a Christmas-ready garden – Decorating the home and garden for Christmas is always joyful. So here are some festive ideas to decorate the patio, front garden and balcony to welcome your friends and family.
The most obvious place to start is with a real fir tree – there are plenty of varieties to choose from and a ready-potted one makes it easier to manoeuvre. Make sure there is plenty of drainage, keep it watered (but not over watered) and place it somewhere free from frost and can't blow over.
photo by lights4fun.co.uk
Decorations can be inspired and support nature such as adding dried fruit and fatballs as decorations so the birds can enjoy a feast. Collect pine cones from your walk and fill them with the fatball recipe and hang from the tree using twine.
Fatball Recipe
INGREDIENTS
Suet or lard (can be vegan suet, but not turkey, butter or oil)
Bird seed containing sunflower hearts, oats, millet and Peanuts (unsalted, grounded, not whole)
Dried fruit such as cranberries
INSTRUCTIONS
Use one part lard to two parts dried ingredients.
Melt the lard/suet in a pan.
Add the dried ingredients and mix well.
Leave to cool.
Once the fat has solidified, fork it over and using your hands make the ball shapes.
Place on a tray or plate and place in the fridge to ensure they are completely solid before adding to your bird feeders.
Alternatively there are readymade seed cakes in our shop in the shape of hearts, flowers or house. Simply hang from the tree using the ribbon provided. These make lovely Christmas gifts too and the birds love them!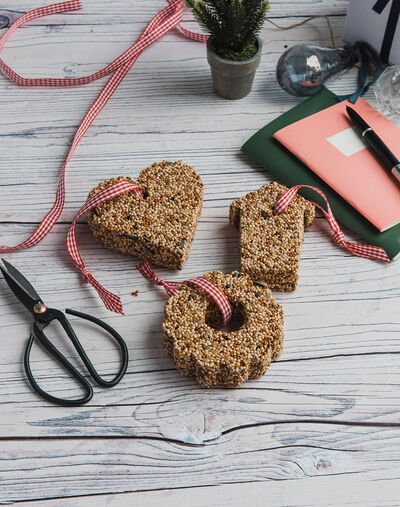 If you want to make some orange slices to make decorations, they are really simple to make…
Ingredients
Oranges

A tea towel

A metal cooling rack

A baking tray
Instructions
Slice oranges into 1-2cm thick slices

Pat dry with a clean tea towel

Place them on a metal cooling rack over a baking tray so that air can circulate around them easily and they don't burn or stick.

Pop them into the oven on a low temperature of 120°C for about three hours.

Turn them over every half hour or so. It is really important to keep checking them, the thinner they are the quicker they will dry – you don't want burnt oranges!

Your oranges are ready when they are dry to the touch – they will still be a little bit sticky. The longer you dry them for the longer they will last
You can make wreathes by threading them with twine, add in some cinnamon sticks and hang from the tree branches.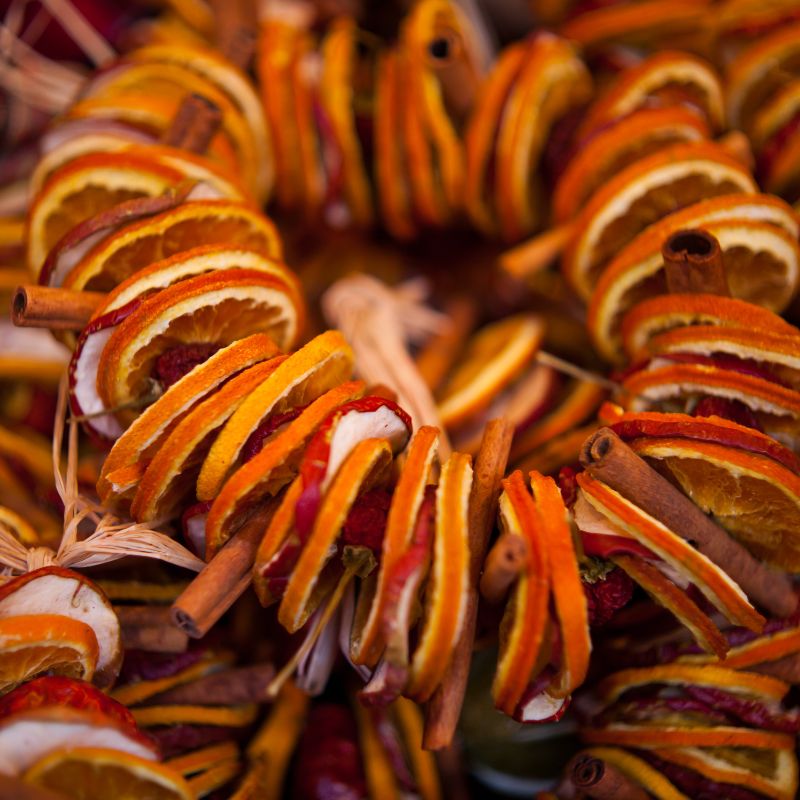 Lighting
Lighting always adds to the atmosphere and there are plenty of battery operated and solar power options available now. Hang them on the tree, or along fences and rooflines to add an extra bit of sparkle. Another option is candles, use the battery operated ones if you're going to leave them outside or unattended – they look very real these days and can be displayed in beautiful lanterns like in the header photo.
Tablescaping
Patio tablescaping – this is where you can add loads of colour and texture to your table. Use seasonal plants such as Skimmia Japonica with its big red berries. Hellebores planted in individual pots, add in some trailing ivy, dot pinecones around and add an eye-catching focal point such as a large lantern and candle. If you prefer something more natural, keep it simple with similar toned pots (like in the photo below) fill with mini fir trees (available from all garden centres and nurseries) and add simple decorations to make it feel festive.
Add height using stems of contorted willow, or red stemmed cornus (I add these to wreaths too, for a bit of movement) – simply by sticking in to pots. These can also be decorated – use baubles, pine cones, or clip-on mini vases which are ideal for single stems of flowers. Just let your imagination flow!
Door Wreaths
Door wreaths are very traditional and can be easily made from items found in your garden. Dried hydrangea flower heads, decorative twigs such as contorted willow, eucalyptus, pine cones, nuts and seedheads. Make the wreath yourself from willow (or any long and thin branches that can be twisted into shape). Use gorgeous co-ordinated velvet ribbon to hang it up on your door or walls.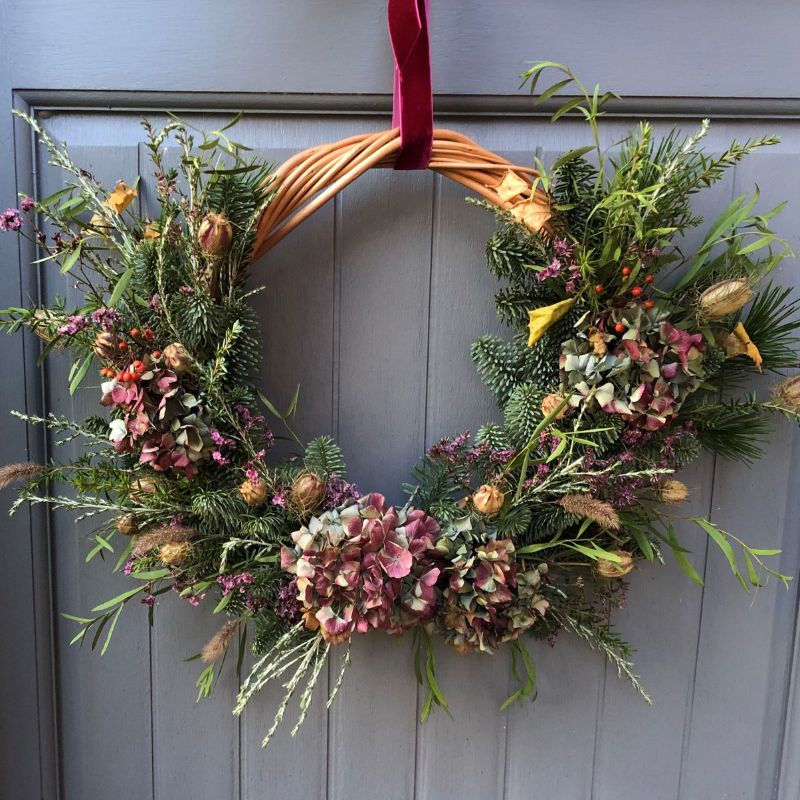 If you would prefer something a bit more fun and a break from the norm, how about creating a Christmas pudding shaped wreath from dried flowers? This one by The Letter Loft   www.theletterloft.co.uk is fabulous don't you think? (obviously this isn't suitable for outside).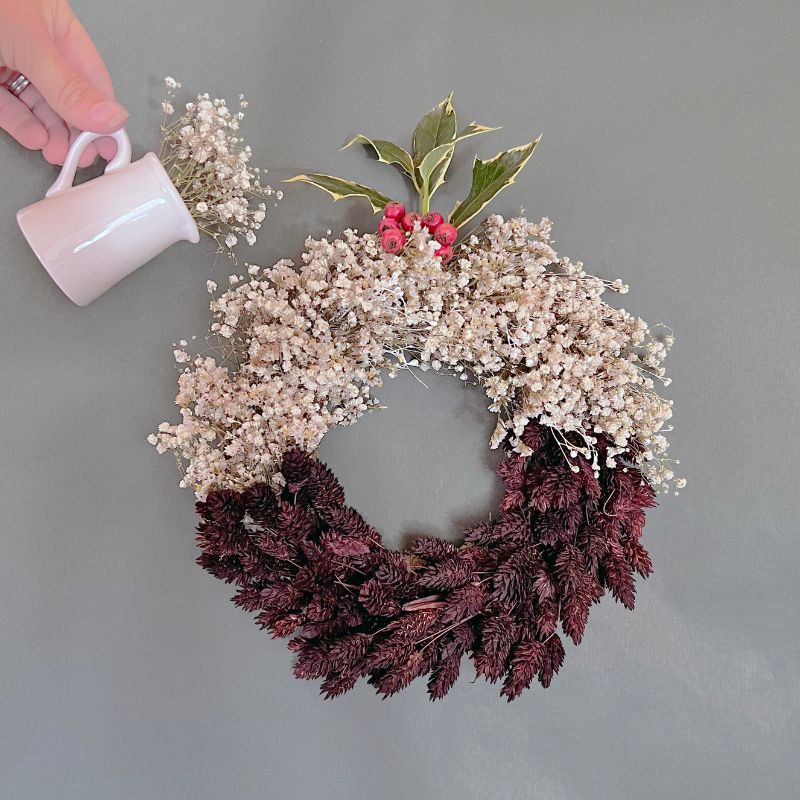 Hopefully I've given you a few ideas to make your outside space festive – lots of foraging and imagination can really make a difference and can accommodate different budgets too. I'd love to see your makes, so send a photo and I'll add them to my weekly newsletter to inspire other Garden Lovers Club members.