If you've been given a cacti or succulents houseplant as a gift and now wondering what to do with it, here are some top tips and advice by my friend and expert, Ian Thwaites who is the Chairman of the British Cactus and Succulent Society.
The common linking characteristic of cacti and succulents is the ability to store water in the leaves or stems enabling them to survive in arid habitats. All cacti are succulents, yet cacti are defined by the presence of areoles (specialised sites where spines form) whereas succulents have none.
Succulents – the camels of the plant world
In magazines they look amazing all crammed in a pot or terrarium together, but this really isn't the ideal growing conditions for them. This may encourage insect infestations and/or mould. It also creates too much competition for water and food – therefore it's best to repot them into their own pot and put them in a sunny windowsill.
The most common type of succulent house plant is the Crassula ovarta, commonly known as the Money tree, Friendship tree or Jade tree as you often see them in Chinese restaurants.
Crassula ovarta
This is a bushy evergreen shrub that grows slowly to 2m (it will take 5-10 years to reach this height). It has rounded fleshy dark green leaves sometimes edged with red, and flat clusters of small starry white or light pink flowers in late summer.
These plants are simple to propagate, and it will get children hooked onto growing their own plants. Simply pick off a leaf, tell them to leave it by their bedside so they can chat to it when they get up every morning. After a few weeks the leaf will sprout some roots, so pop it into some soil (from the garden will be fine) and gently cover the roots with the soil and firm it in and then leave it on the windowsill and after a few more weeks it will start to grow.
Echeveria elegans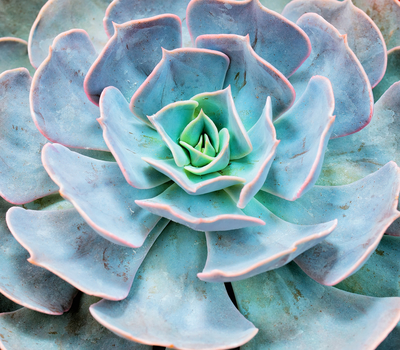 Otherwise known as the Mexican gem. The elegans variety is a perennial and forms a clump of evergreen rosettes of spoon-shaped, whitish-green leaves and has lantern-shaped pink flowers, tipped with yellow, in late winter and spring.
These look great in a pot for the patio table as they only grow to around 10cm tall. They also don't need much attention so if you go on holiday for a few weeks, you don't need to worry about watering them.
Succulent care:
All succulents like a well-drained soil/compost. Its best to add a third/half grit (or perlite) to the compost to make sure the soil is open and well drained.
They prefer a sunny windowsill but some of them are happy outside in the summer months. Generally, they like warm sunny spots.
Feed them regularly during their growing season with a high potash feed such as Tomorite. Use half strength and feed regularly during the growing season. Do NOT use Miracle Grow.
The compost should be allowed to dry out slightly between waterings, rather than keeping it constantly moist. Succulents hate having their roots in water, so don't leave them in a dish or tray of water. Ideally use tepid rainwater for watering. The minerals in tap water builds up in the soil and can cause deposits on the leaves of succulents.
Best time to re-pot them is in the spring.
Cacti
All cacti originate from the Americas – so all the ones you see in Europe come from the Americas.
Christmas cactus
This plant is named because it flowers around Christmas time, so they make a pretty gift. These cacti originate from Brazil, so they also like a hot dry climate.
Once it has finished flowering, give it a water with half strength feed (such as Tomorite) and then give it a dry rest for 2-3 months. In the spring place it in a hanging basket and hang in a tree in your garden. Remember to water occasionally with food. It loves dappled sunshine under the tree. Make sure you bring it back into the house before the frosts start. Then water and feed it again and keep the compost moist.
If the flower buds drop off, this is due to the plant drying out, so simply water and feed it again. Keep it in a cool place when in flower as this will intensify the colour.
If you want a flowering cactus, buy a globular version as the columnar varieties need to grow to a certain height before flowering.
Repotting:
Like all plants, they need to be repotted, especially when they have outgrown their pots. You can use leather gloves to protect your hands from the spikes. Or alternatively you can use lumps of polystyrene by adding them to the spines which makes them much easier to handle. Simply repot to the next size up in a free-draining compost and then place gravel around the top.
Gravel is needed for various reasons, firstly aesthetics as it looks much nicer. Secondly, it protects the neck of the plant from damp soil and thirdly, it stops the white spines discolouring.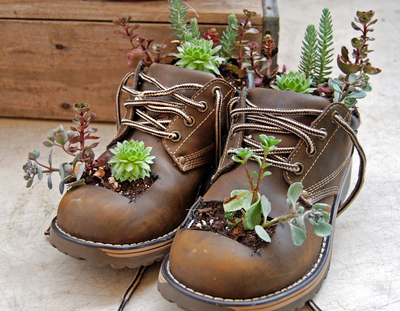 Great use of worn out old gardening boots!
Biography:
Ian Thwaites is the Chairman of the British Cactus and Succulent Society (www.bcss.org.uk) and they have over 70 branches around the country. 

The principal objectives of the BCSS are to promote the study, conservation, propagation and cultivation of cacti and other succulent plants.

Ian has grown plants all his life and in particular Cacti and succulents. Ian is also a professional plant and garden photographer.  You can contact him via his web site www.ianthwaites.com.  Ian is a committee member of the Garden Media Guild.