A beginner's guide to garden bulbs & how to create year-round colour
Spring bulbs are some of my favourite flowers. However, bulbs aren't just for spring; they are great at providing colour and interest all year round. There are lots to choose from so here's my guide on which bulbs to buy and taking care of them.
Bulbs are generally robust, which makes them easy to grow, however they prefer a well-drained soil so if you do have water-logged garden during the winter, make sure you add plenty of horticultural grit and farmyard manure to the soil before planting.
Buying bulbs
I always recommend buying from a reputable retailer or grower as the bulbs will be the best quality and therefore have stronger blooms.  Make sure the bulbs are firm to the touch and not mouldy as they are unlikely to develop. Try and buy them early in the season as they will be better quality too.
How many you need depends on where you are planting them – they are usually sold in packs, which are usually enough for a container, but if you're planting in a border it's likely you will need more packs to create a display.
Taking care of garden bulbs
Once planted, it's unlikely you will get any problems but if you get yellow leaves, it could be down to a virus in the bulb, so it's best to dig them up and remove them from your garden – don't put them on the compost heap either as you could be transmitting the virus that way.
Sometimes, you may find that your bulbs don't flower in their second year. This is rare but could be down to the bulbs being planted in poorly drained soil. Other possible reasons include:
Location – they could be in too much shade
Lack of food/nutrients during growing season
The removal of leaves too quickly after flowering – they need to be able to create food to develop the flower for the following year.
Planting bulbs
As a general rule of thumb, bulbs need to be planted at a depth of 3 x the size of the bulb (you can measure this against your trowel).
As a rough guide if you're using bulbs that grow to around 45cm tall then plant 10-15 bulbs per square meter.  If you're using bulbs that grow to around 20cm tall, then plant 20-40 bulbs per square metre and this will provide you with a beautiful display.
You may have heard of the 'lasagne' method of planting, which is where you plant a pot in layers of different bulbs which enables you to have either succession planting, and/or different heights of flowers, ie the tallest in the middle which decrease in height to the edge of the pot. These can look stunning.
When creating this style, plant the larger, later flowering bulbs towards the bottom so that the small, early flowering varieties can flower first early in the season, and as they die off the next lot comes through to continue the display.
Styling your garden with bulbs
Starting with the basics – bulbs can be planted in containers, window boxes, or straight into your borders
If you're planting in pots, strategically place them either side of your front door to frame it or a view.  Think about the style of the container you are using, the colours of the flowers and add some trailing plants such as ivy and maybe an evergreen shrub for year round interest.
If you're planting straight into your borders, weave bold drifts of flowers to create impact.
Here are three ideas of bulbs you can use
Nerine bowdenii
These are great at the end of the summer when lots of flowers start to fade; these really stand out with their gorgeous pink flowers which bloom from September to November.  They grow to around 45cm tall and 25cm wide, and like a well-drained soil in full sun. They need planting in the spring; however, you will be able to buy them in pots from the garden centre this time of year.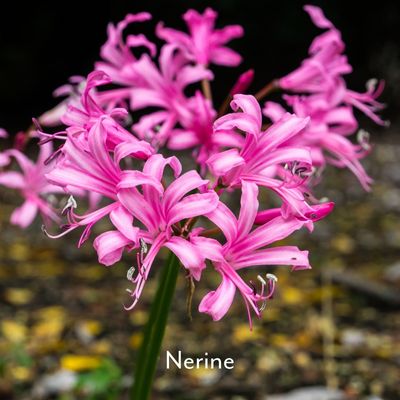 Cyclamen hederifolium
These are great for the front of a border as they are tiny and measure height and spread 12cm x 15cm. There are different varieties available and some are great for naturalising under a deciduous tree. Make sure you buy the outdoor version. Their leaves have a beautiful marble pattern and I love them.
Cyclamen flower from October to November and usually flower before the leaves appear.
Tulipa 'Black Parrot'
If you want to add some drama to your borders add the Parrot style Tulipa's to create the WOW factor. These black coloured versions would look amazing with some silver leafed plants such as Artemesia. They do come in other colours such as white, blue and a really striking red/orange called Tulipa 'Rasta Parrot'.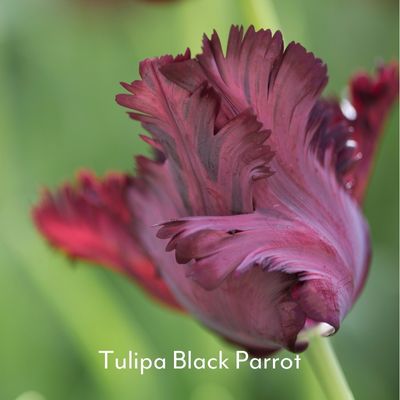 I've created a bulb list which features three bulbs for each season, which you can download for free when you join my Garden Lovers Club. To join, click on the button below and add your email address.