If you are looking for an inspiring day out for your gardening passion, you should visit the BBC Gardeners World Live show at the NEC, Birmingham. This event is on from 15 to 18 June 2023 and will feature a variety of attractions and activities for all levels of gardeners.
You will be able to see stunning show gardens and beautiful borders, designed by professional and amateur gardeners. You will also be able to shop for plants, tools, accessories and more in the floral marquee, the plant village, the house plant market and other stalls. You will also get access to the BBC Good Food Show Summer, where you can enjoy delicious food and drink from top chefs and producers.
One of the highlights of the event is the BBC Gardeners World Live Theatre, where you can watch your favourite gardening experts live on stage. You can get tips and advice from Monty Don, Carol Klein, Adam Frost, Joe Swift and many more. You can also join walks and tours led by experts and learn more about specific topics such as wildlife gardening, edible gardening or container gardening.
Another new feature of the event is the House Plant Hub created by fellow designer Kate Mason, where you can discover how to grow and care for your indoor plants. You can also drop in at the Let's Talk Plants stage, where you can ask questions and get answers from plant specialists.
Obviously I love the Beautiful Borders and Show Gardens so I always make a beeline to see them. I was seriously impressed by the standard of design and creativity. So here's a selection of the gardens that I loved…
Show Gardens
Paul Stone Gardens – Garden Fit for a King – Gold
This beautiful and show-stopping garden celebrates King Charles III's passion for gardening and his concern for the environment. Lots of ideas to take home, such as composting, comfrey plant feed and a wildflower meadow. The interior was equally stunning and I could have happily lived there too. Absolutely gorgeous!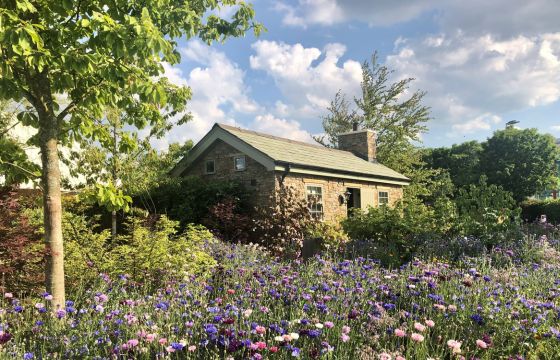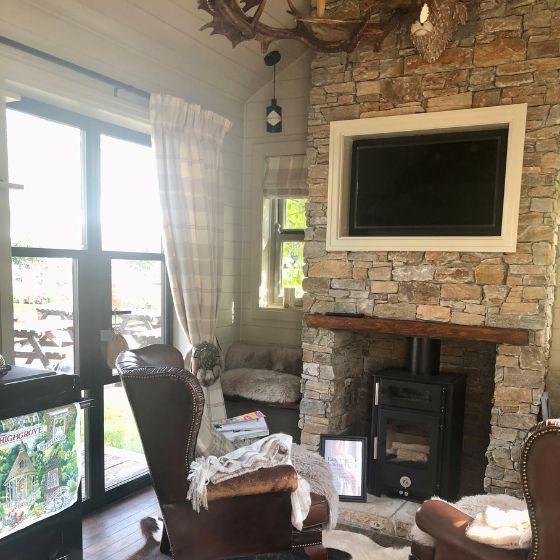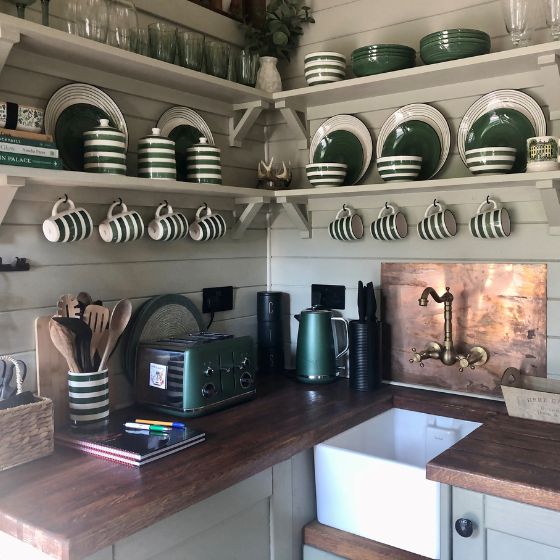 The Newson Health Menopause Garden – Ruth Gwynn Associates – Platinum & Best Show Garden
Going through the menopause myself, this garden really resonated with me – it was another beautiful garden and full of ideas to take home that will support not just the person going through the menopause but their partners too as it affects them also!  The garden included a yoga space, growing your own food for wellbeing, and the outdoors bath for relaxing in was gorgeous. Planting included wildflowers and another stunning Cornus Kousa around the bath. It was a really hot day and I would have loved to dip my toes in the water to cool down!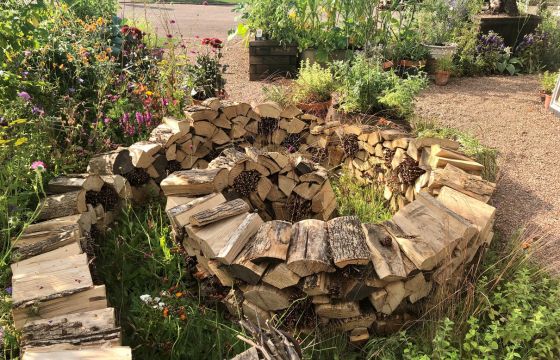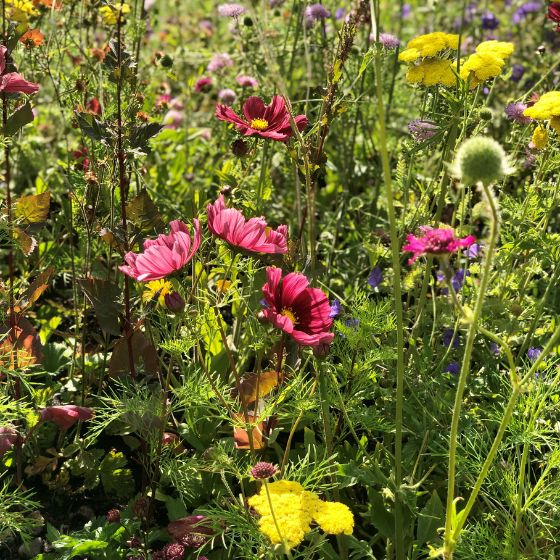 Liz Earle Beauty Co.'s Botanical Show Garden – Lucy Bravington. Best Construction Garden
This is the garden I wanted to take home, it was one of my favourites, but I found it difficult to photograph, which means you must visit the show and go and see it for yourself!
It has a modern English country garden feel to it with the stunning white peonies. Designed and planted symmetrically to create a calm, zen "garden room" and includes perennial plants that showcase the botanicals included in many of Liz Earles' beauty products. The polished oversized 'pebbles', the water rill and ammonite sculpture by Lucy Unwin Sculptures, all added to the beauty of the garden.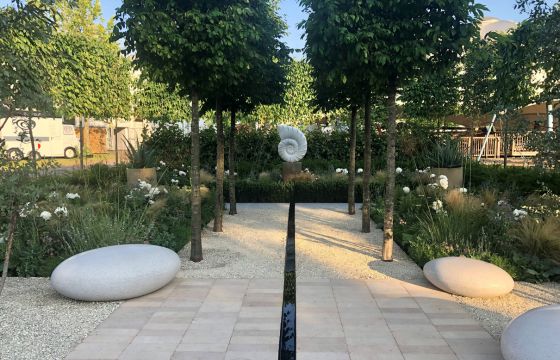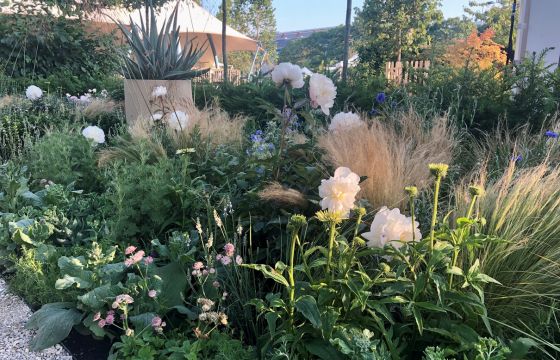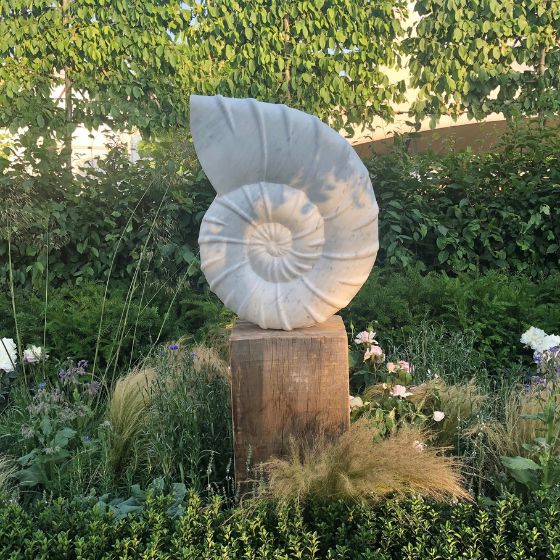 Beautiful Borders
This category is fabulous, its full to the brim of planting ideas to take home – I've created two so far, so a third one might be completed next year – time will tell! The theme this year is 'my garden escape' and there were two gardens that really stood out for me…
Keep Off The Grass – James Fenneberg
I had a lovely conversation with James and his passion for the design using Agave's was really inspiring. He told me the Agave's are pollinated by bats, so he created a small cave in the volcanic rock to accommodate the bats (forgot to ask if he had any residents!). He wanted to raise awareness about the climate change impact on our gardens and show a drought tolerant garden is achievable and beautiful.
…And Breathe – Claire Morrell
And the second Beautiful Border I loved was this one by Claire Morrell (I think she won Best Border), my photo doesn't do it justice as it was a mass of white frothy floral loveliness. Stunning!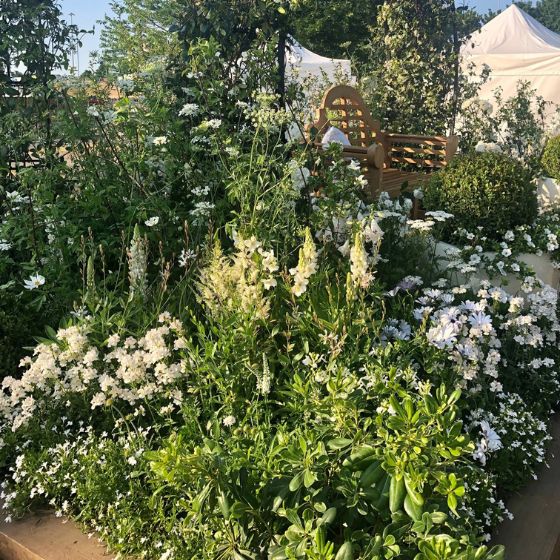 There really were some fabulous gardens and exhibits and I hope you get to visit the show – you'd be mad to miss it as they say! For more information check out the event website https://www.bbcgardenersworldlive.com/ Tickets are still available. Enjoy!
If you would like assistance with creating your own 'Beautiful Border' check out my ready-made design kits available from my online shop – https://borderinabox.com/shop-readymade-garden-design-kits/