BBC Gardeners' World Live 2022 roundup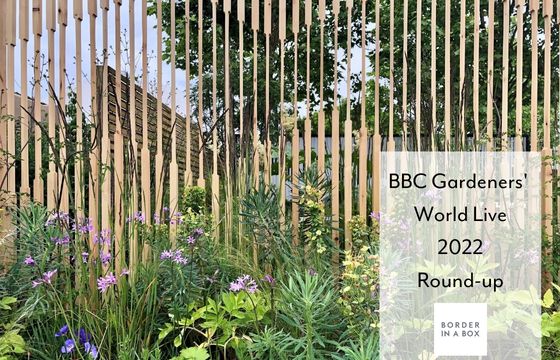 This is the centenary year of the BBC and an homage to the iconic shows such as Only Fools & Horses have been created along with 'practically plastic free' garden to encourage recycling, sustainability and being mindful of what we are doing in our gardens.
It's also Gardeners' World Live 30th anniversary too, even though it's a lovely celebration, sadly one person was missing and that was the iconic Peter Seabrook.  The exhibit about him was very moving – from the Sweet Peas named after him to his wellies and hat on display. Such a wonderful tribute.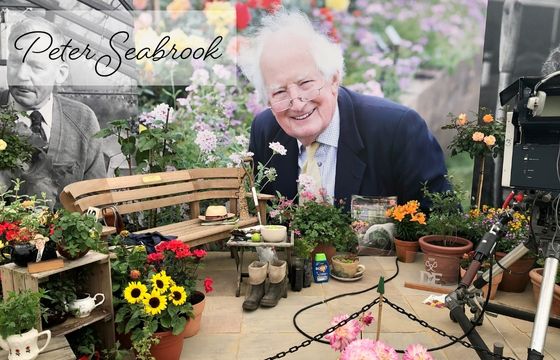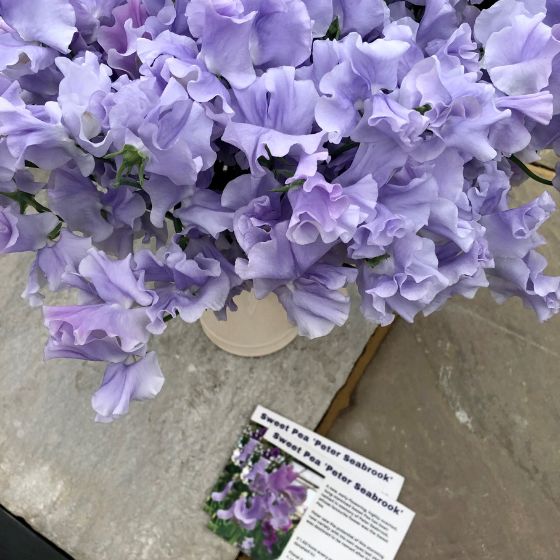 I only met him once – and that was last year at GWL. It was late in the day, and I was watering my garden when he was looking round at all the Beautiful Borders, we shook hands as I instantly recognised him, we had a lovely chat and he told me my garden was beautiful and should do really well. I thought he was just being kind, but when I got home and told mum she said my garden must be good if Peter says so as he doesn't give out compliments lightly. It absolutely made my day!
We can all do our bit with regards to looking after nature and it was a strong theme running through the show. If you're buying plants with plastic pots, you can nip to Posipot in the floral marquee who'll replace it with a cardboard version and Ocean Plastics recycle your plastic pot for free! Brilliant idea!
Other trends to look out for are:
Grow Your Own – especially in small spaces. We can do it and we can make a difference in a small way. If we all made small actions, then collectively they add up.
Gardening organically. Check out Chris Collins 'Gold' winning show garden called "Garden Organic's Small Space – Big Ideas Garden" which has loads of ideas on how to look after your soil. Along with a demonstration area where you can learn more. We all need healthy soil to grow and nourish ourselves and nature.
Sustainability – garden designer Pip Probert of Outer Spaces hits the nail on the head with her garden titled "Practically Plastic Free". Horticulture uses so much plastic, such as plant pots, compost bags, packaging in general and a whole myriad of items too numerous to list. So, her garden is built using a range of materials that avoid plastics to demonstrate what can be achieved by reducing the use of them in our everyday, gardening life. It certainly made me think how I can reduce and reuse more in my own garden.
The twelve show gardens all demonstrate that good garden design can be achievable for everyone and they're relatable – we've all seen those gardens with huge price tags that simply aren't practical or budget friendly for many homeowners. So, it was great to see gardens that could be recreated back at home that are achievable, brilliant and stylish.
The Beautiful Border section is full of take-home ideas to help you squeeze the most into your garden.  You'll find inspiration in abundance. I love this section as you can get up close to see the wonderful planting combinations and beautiful colour palettes.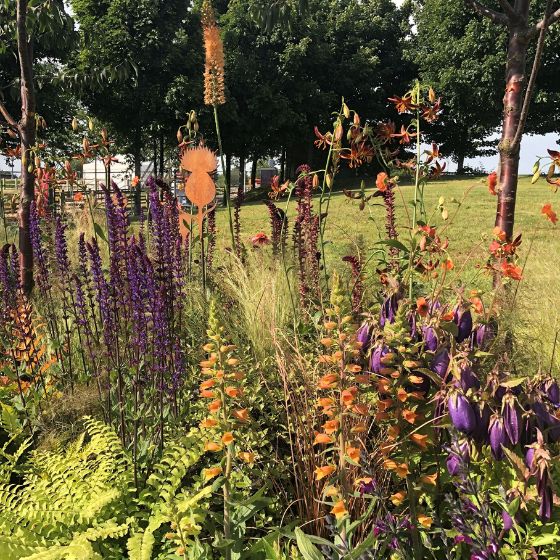 Beautiful Border – by Jordan Weston, the Bearded Botanist
I loved this burnt orange and purple combo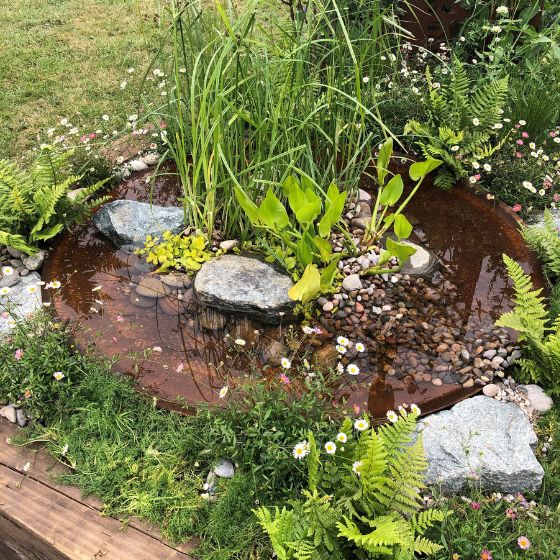 Beautiful Border – wildlife water feature in the garden by David Magor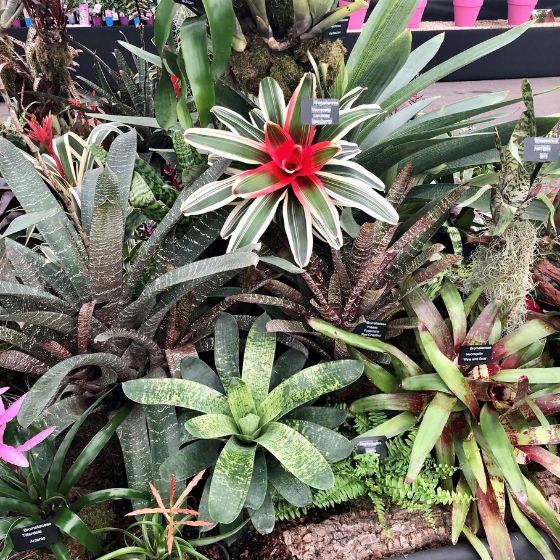 Bromeliad display in the floral marquee (apologies to the nursery for not writing your name down)
a relatively new version of Campanula called Caroline. So pretty – a great perennial for any sunny or part sunny border
(in the floral marquee)
Frances Tophill's first show garden reflected her values on upcycling, reusing and sustainability with lots of edible plants too. The garden won a Platinum award and Best Show garden and will be going to a new home at Foleshill Community Centre after the show.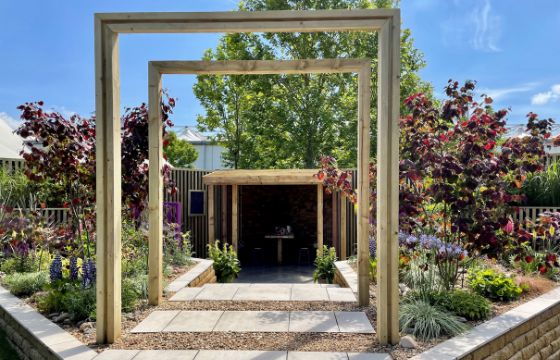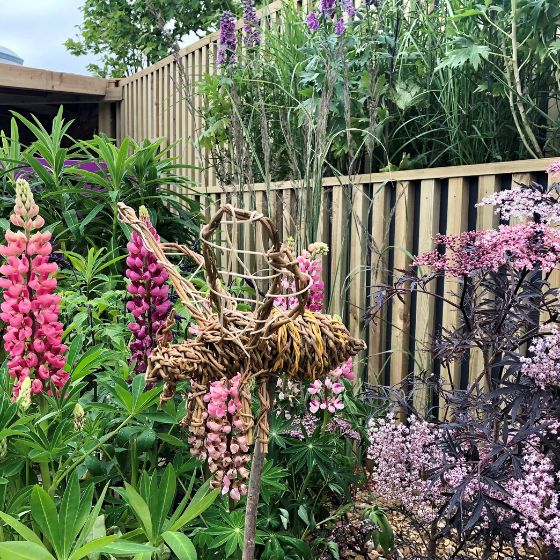 A simple idea for any border or container garden is adding in small sculptures like this wicker bee on Pip Proberts garden, or the cor-ten steel thistles on Jordan Westons garden shown above. Which adds height to the border all year round.
The final garden I'm going to talk about is the 'Memories of Mountains – a Garden Retreat' by Jonathan King and built by my friends at Big Fish Landscapes (who built my garden at RHS Chelsea Flower Show a few weeks previous). It definitely felt calm and relaxed and a beautiful garden to do yoga in.
I loved the show and all the gardens, borders and floral marquee – so much to see and ideas to easily implement at home. I'll be writing about more of them over the coming months so please join my Garden Lovers Club for free and receive tips, ideas and inspiration for your garden. Simply click the joining button below and add your email address – you can unsubscribe any time!