Autumnal Asters – how to add colour to your garden borders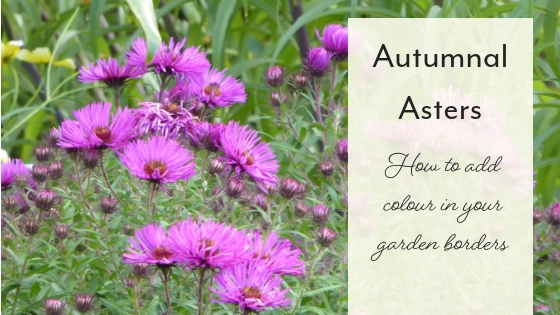 Autumnal Asters are great for adding colour to your garden borders – here's a few ideas for you…
If your borders are lacking colour right now, then pop along to the Picton Garden at Colwall, Worcestershire for some inspiration and you will see some stunning Aster's, commonly known as Michaelmas Daisies which are a vibrant edition for any garden. Their botanical name is Symphyotrichum.
I met with owner Helen Picton to find out more about the home of the Plant Heritage National Collection of autumn flowering Asters.  The Picton Garden & Old Court Nursery has been a family business since 1906 and they specialise in breeding and growing Michaelmas Daisies.
There are over 400 varieties to choose from and the peak flowering season is September and October, with Michaelmas day falling on the 29th September. They vary in colours from the palest blues to striking pinks – no matter which one you choose they will all look fabulous especially if you combine them with other plants such as grasses and Rudbeckia.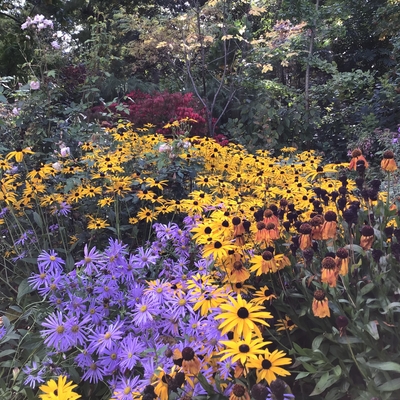 There is lots of inspiration to take away with you such as this combination of Verbena bonariensis with Aster x frikartii 'Wunder von Staffa'. This would be great if you have a narrow border as the verbena will give the height and this aster is shorter, so will create interest at a lower level.  Add in some spring flowering bulbs too, and you will have a simple sunny border that flowers from spring through to the autumn.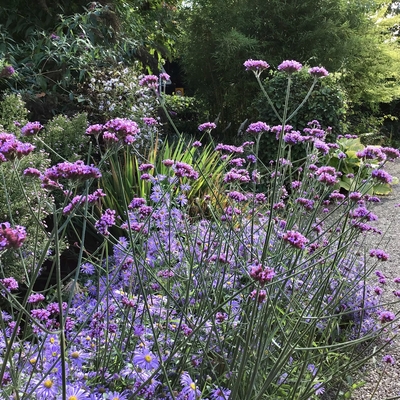 Other favourites of Helens' are:
New England Quinton Menzies aster
Aster Novae-angliae 'Quinton Menzies'
It has large deep purple-pink flowers with strong woody stems that need little or no staking, it's mildew resistant and flowers from late September and grows to around 140 cm.
Rosy Veil aster
Symphyotrichum ericoides'Rosy Veil'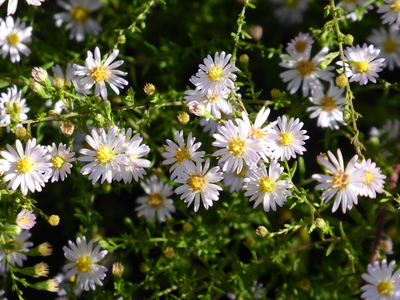 This aster has fine foliage which is smothered in tiny pale purple-pink daisies from late September. I love it and it grows to around 100 cm tall.
Helen Picton aster
Symphyotrichum novae-angliae 'Helen Picton'
This plant was raised by Helen's dad who named it after her.  It has large, rich violet-purple flowers from September into October and grows to around 120 cm tall.
Asters can grow in most soils in a sunny or part sunny border.
If you would like to visit, the garden is open from August until mid-October including many days for the National Gardens Scheme, so check their website to make sure it's open. Website: http://www.autumnasters.co.uk/