Five things to consider when designing a patio
Designing a patio
When I'm designing a garden, a patio is usually top of the list of 'needs' as everyone wants to be able to sit somewhere comfy in the garden. But then comes a whole list of decisions on what materials to use, where to place it and budget.
So here's my simple guide on things to consider when planning your patio.
Position
The size of your garden might dictate this decision for you, but if you're lucky enough to have a choice, then you may want a couple of areas to sit – one for shade and one for sun. Take in to consideration any views to enjoy or privacy from neighbours. Alternatively you could create a gazebo around your patio with a moveable fabric canopy to protect you from the rain or extreme sunshine.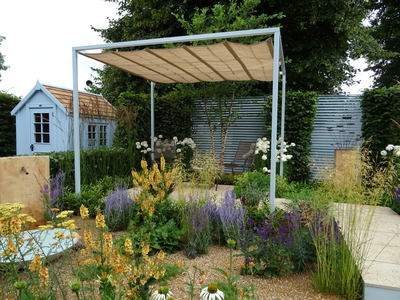 Size
What is the patio going to be used for? Tea for two, family get-togethers and how about an outdoor kitchen?  Bear in mind you will need approximately 1m space around your furniture to allow the pulling out of chairs from the table comfortably.
Style
A patio is usually an extension of the interior, so flow from one to the other ideally should be seamless. There are lots of materials and colours to choose from so your style of home needs to be considered so it creates an cohesive look. The planting can soften any edges and create the 'vibe' you desire whether that is modern, tropical or cottage style.
There are many ways to create the desired garden patio such as the size of the slabs/paving stones. You could use different sizes or several kinds of products such as this example by Digby Stone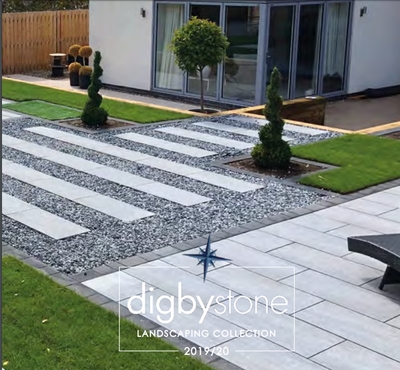 Materials
There is so much choice which can be overwhelming. The most popular choices are gravel/chippings, natural stone, porcelain, decking (composite or natural wood), slate, concrete or brick – but there are many more options. Then you probably want to think about the style and finish – such as using a mixture of materials to create additional interest and texture. Although gravel is usually the cheapest product to use, it's difficult to place chairs and tables comfortably on (and tricky to walk on in heels!). So to keep costs to a minimum, you could create the centre of the patio with paving with gravel around the edge which also adds texture and colour interest.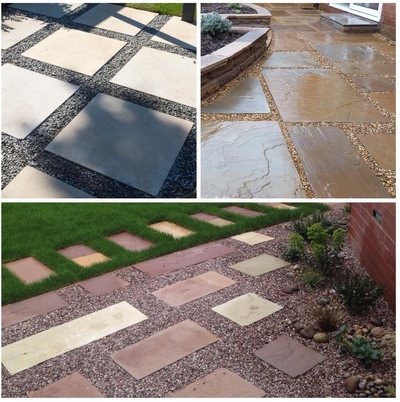 Budget
That depends on the size and materials you decide to use. This is where working with a garden designer can add value to your project and help define a beautiful space for you to relax in within your budget. Done well, it can add value and/or sale-ability of your home.
This photo is a beautiful example of a dining area and relaxed seating area all coordinated using different sized paving and materials. It is functional and easy on the eye which is created by using muted colours.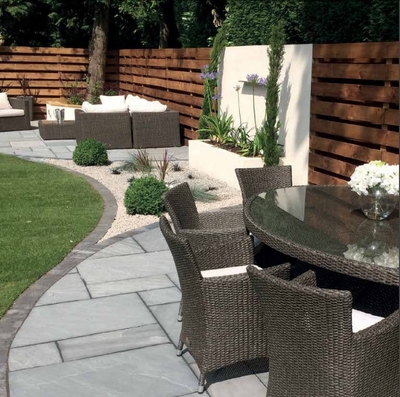 Next steps…
One of the most expensive parts of the project is the labour, so to keep costs down; you could do it yourself, and also use rectilinear products. This means there is less cutting and wastage of materials to create your patio.  Also if the garden is on a slope it can add further costs as you may need to remove some soil plus you will need to consider what drainage and levels are needed, so working with an experienced landscaper can reduce hassle for you and give a professional finish.
Thinking about the bigger picture and planning your garden before starting the project will save money (and stress) in the long run. Gather images of gardens and paving ideas beforehand so you can understand what kind of styles you prefer.  I use magazines and online images to create a mood board, which helps to clarify my thoughts.
Once you have an idea and have whittled it down to a couple of products, ask for some samples (which may need to be paid for) and see how they look in your garden.
My friends at Digby Stone have created a patio planner, which is a really useful tool to help you visualise your garden along with a pricing tool and also the aggregates required to complete the project. Their website has some really useful ideas on laying patterns, maintenance and how-to guides. https://www.digbystone.com