Unusual gifts for your 'Someone Special'
Here's my fabulous Christmas gift guide with loads of ideas and inspiration of unusual gifts for your 'someone special'.  There's something for even the trickiest of people – homewares, jewellery, beauty, gardening items and workshops to learn new skills. I've even included some festive decorations.  So get comfy with your favourite tipple and a mince pie and get shopping with some brilliant businesses.  I've made it easy by including a link to their website too, so have a mooch and enjoy meeting my amazing fellow business owners.
Gardening Gift
1. Border in a Box – garden design kits
These kits enable anyone to create a gorgeous garden, easily and in less than a day. There's a choice of 8 designs to choose from and each one contains a planting plan showing you what plant goes where. I've added a beautiful bird feeder and 'grow your own Christmas tree' to create a lovely gardening festive hamper. These cost £28 including ribbon, tag and delivery and are available from https://bit.ly/2FdsS5L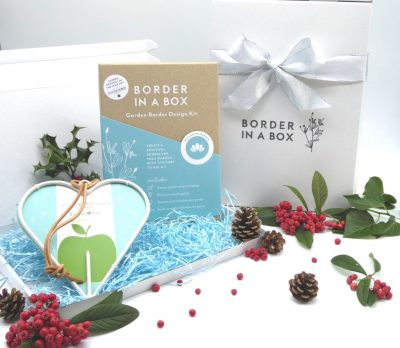 2. Briers – Gardening Gloves
I love these pretty Allium designed gardening gloves for ladies. Any gardener loves a beautiful pair of gloves and these are absolutely fabulous.  The palm is made from polyurethane and microfibre, so they protect your hands from damp whilst remaining flexible and comfortable. Briers are a family run British company based in Somerset and produce gloves & gardening products for men, women and children. These gloves cost £14.99 https://bit.ly/2Qu9VwW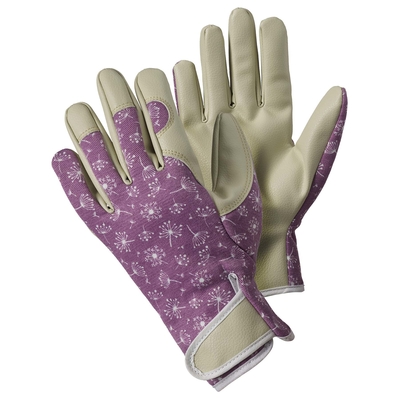 3. Gardens 2 You – bird feeder
Eye-catching and decorative hanging bird feeder complete with peanuts and seed to feed our feathered friends. Made from weather resistant solid cast iron in a traditionally rustic theme, this feeder is an ideal gift set. It includes seeds and peanuts and costs £21.95 https://bit.ly/2z0mZn0
4. Hayloft – butterfly house
Bees, Butterflies & Ladybird Collection – This collection comprises of one butterfly habitat and food and one ladybird tower with food attractant. These habitats will provide food and shelter all year round for these beneficial insects. The collection costs £39 https://bit.ly/2Duhelo – add a Border in a Box Butterflies & Bees garden border to provide flowers and food which makes a very practical and beautiful gift.
5. boxwild – Ultimate Bird Lover Hamper
Boxwild is a company creating bird gifts with their bird seed blends and feeders. Their Ultimate Bird Lover Hamper is their luxury gift box which contains a huge range of feeders, seed blends and other goodies which is a perfect gift for bird lovers and twitchers of every age! With every box they give a donation to wildlife charities too. The ultimate hamper costs £55 and available to buy here https://bit.ly/2QCE9xP
Beauty Products
I use these gorgeous products every day – the soap smells amazing and the B-Balm fixes all sorts of every-day skin issues. All of them are natural too. Perfect for any skin.
6. Little Soap Company
To celebrate Little Soap Company's 10 year anniversary they have launched a brand new fragrance and range in Grapefruit and Orange. It's made, as always, with only pure essential oil, no synthetics. This is a totally unisex fragrance, and features both organic shampoo and conditioner, shower gel, hand and body lotion, bubble bath and of course, liquid handsoap. The perfect Christmas gift, lovingly created in The Cotswolds and available to buy here https://bit.ly/2DaZg6o
7. Beeutiful – skincare so natural you could eat it!
A limited edition pretty gift box tied with festive ribbon, filled with products to help skin fight the effects of winter weather. It includes:
A special 30ml Frankincense Body Butter – an all over pamper perfect for dry skin.
A 15ml B-balm – this magic balm has been known to solve a host of problem skin issues.
A 15ml Honey lip balm – Make dry chapped lips a thing of the past this winter
It costs £10 and is available from https://bit.ly/2ASLAvq
Jewellery
Jewellery always makes a wonderful gift and these are lovingly created by some talented ladies
8. The Butterfly & Toadstool – Lavender Terrarium Star Bottle Necklace
The tiny glass, star bottle pendant comes filled with real dried Scottish Lavender, all grown and picked on the west coast of Scotland. All of the natural pendant fillings used are hand-picked and sourced carefully and ethically with the countryside in mind. These lovely flower pendants come in a variety of different fillings and each have matching accessories to make gorgeous jewellery sets. From £12 https://etsy.me/2bTFFqO
9. Gemz by Emz – Faith, Hope, Love necklace
"And now these three remain: faith, hope and love. But the greatest of these is love."- 1 Corinthians 13:13
This beautiful necklace represents Emz's favourite verse from the Bible and is engraved with the words "Faith" "Hope" and "Love". This necklace is made from 925 sterling silver and is available to buy in three chain lengths: 16, 18 or 24 inch. Price is from £34.99 and includes free UK Postage. https://bit.ly/2JPOIL8
Homewares
Decorating our homes for Christmas makes it feel warm and welcoming and the following items make lovely gifts to ourselves as well as loved ones.
10. Garden Trading – candle holder
Beautifully crafted in 100% Recycled Glass the Wells Windlight is the perfect table centrepiece. The unique bulb like shape is scalloped at the base making it suited to be filled with sand and a large pillar candle. The decorative wirework handle and frame adds that simple finishing touch. Costs £35 and available from https://bit.ly/2DuvhHG
11. Cuddlebed – Pug beanbag
I love this cute pink Pug beanbag lounger chair which is lovingly handmade using a mixed cotton fabric. It is absolutely perfect for any child's room to snuggle into and relax. It also provides full body pressure for children with extra needs. Cuddlebed was started by Chrissie after her son struggled sleeping and needed a 'sensory bed'. It's an amazing story so check out her website and shop here https://bit.ly/2zKibBA
12. The Archers At The Larches – alpaca sculpture
How cute are these felted animal sculptures? They are from The Archers At The Larches , a British farmer, who breeds alpaca's and sheep. They create innovative home and garden products which are all derived from their animals.  These fluffy animals are made from premium alpaca fleece and cost from £15. https://bit.ly/2RJ0l9K
13. Laura Jayne Fisk – animal art
How about some art for the garden? These would look lovely in any garden room. They are made from weatherproof aluminium composite which means they can be hung both inside and out. A wonderful and unique piece of art to adorn your favourite space.  Available in the following sizes: 1ft, 2ft and 3ft square pieces. Prices start from just £50 https://bit.ly/2RQtIaf
14. Georgie St Clair – personalised art
Personalised pictures designed by Georgie St Clair are very special – In the language of flowers, every month is represented by a flower which holds a special meaning of its own. December is represented by Holly meaning fertility, good fortune and merriment. In sizes A5, A4 and A3 and can be purchased ready-framed or unframed. From £20 https://bit.ly/2OBj8By
Christmas Decorations
With so many lovely decorations to choose from, why not get something extra special for your tree this year with these fabulous baubles?
15. Betsy Benn – constellation ornament
Betsy Benn's constellation themed Christmas ornaments take inspiration from the night skies, with beautifully engraved constellations on their corresponding animal shapes. This very special decoration features the constellation of Lupus the Wolf. Strung with white satin ribbon, it's a gorgeous natural addition to any tree. Made in Cheltenham from responsibly sourced cherry wood. They cost £9 each and available from https://bit.ly/2Pjf12o. Betsy produces some beautiful pictures and cushions which can be personalised to make it even more special.
16. Eweniverse – puntastic baubles
If you love puns, then you will love Eweniverse products – they always make me smile! Craig has created these wonderful tree decorations! These aren't baubles, they are "Baaables" set of 3 puntastic acrylic sheep to brighten up your tree this year. They cost £12 and available online here https://etsy.me/2QunvAb
Workshops
Sometimes it's nicer to have a day out with our friends and family and learning a craft is such a lovely thing to do together.
17. Three Little Pigs – craft workshops
Three Little Pigs host a variety of interesting and creative craft-based workshops in Worcestershire. If you have ever fancied the idea of learning a new skill in a fun, informal environment or simply want to treat yourself or a friend to a great day out then a place on a workshop may be the perfect gift this Christmas. From £65 https://bit.ly/2Fbclzh
18. Jamie Hubbard – woodworking
Join Jamie at his studio in The Ruskin Glass Centre, Stourbridge, West Midlands, for a workshop to learn or develop your wood working skills. Whether it's brushing up from what you learned at school or if you're more experienced, Jamie will tailor the day to suit your skills. More information is available here https://bit.ly/2AV96Ic
19. Sam Morris cow art workshop.
If you would love to paint a cow, then join Sam Morris for her one day workshop learning how to do it.  All materials are included and you can take your cow home with you. Check out her website for her list of UK tour dates. A full day's tuition costs £85 https://bit.ly/2SSqfZQ
I hope I've inspired and encouraged you to buy gifts from my amazing network of friends – I know they will all be very grateful for your patronage and I hope you have a fabulous festive season!