Theo Paphitis is celebrating the 10th anniversary of #SBS – a network of like-minded people who run small businesses. We are all proud to be part of the 3000 winners.
The annual event took place at the ICC in Birmingham on Friday 28th February. Everyone I spoke to and the social media posts I read afterwards all said the same thing -WOW what an amazing day, so much information was shared to grow our businesses and how inspiring all the presenters were.
So if you're thinking 'what is all this #SBS malarkey and why is it trending on twitter' then read on and I'll tell you about why I love it and how you can get to next year's event.
Firstly the event is FREE, no charge to attend – please don't think it's a chance for Theo to sell his products to us, and get a sausage roll and luke warm cup of tea thrown in. NO! This is one of the best organised and useful events I've been to (and I've been to loads over the years) – its sponsored by Ryman, DHL, Robert Dyas, HP, Square, Western Union, Autumn Fair, iLaw and Nat West. Which means its professional and the presenters are world class.
Who did I meet?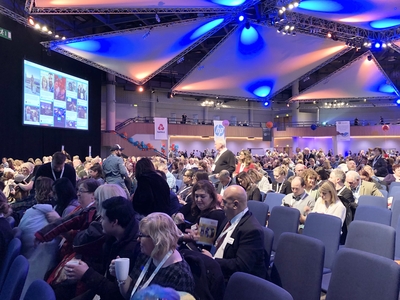 The SBS Winners starting to take their seats first thing!
As this is my third event, I made a point of booking an appointment with the buyers at Robert Dyas as in the past they have been instrumental with providing advice on my product and retail in general. I was in IT for 20 years before designing and creating my business, so retail is all new to me and any insight and support is very welcome.
I showed them my new products which were about to launch on Not On The High Street and gained useful feedback. Such as the forthcoming legislation that my gardening snips would fall into (that I was completely unaware of) and I also gained advice on Christmas gifting, packaging and additional improvements. A great way to start my day.
I intended to go and join the 'speed networking' sessions for social media, ecommerce and marketing, where you can meet Theo's team to get advice, but I kept bumping into people I knew and it was so nice chatting with them and catching up on their progress since we last saw each other. So I ran out of time.
There is so much to do in addition to networking, such as getting a new headshot photo (always useful) taken. Meeting the sponsors who were so helpful and as a sole trader you don't always get the time to discuss everyday topics such as printing (thanks HP!).
The Main Event
What an agenda! First up it was an introduction by Kypros Kyprianou, the CEO of Theo Paphitis Retail Group who introduced Theo on stage.
Amazing stats:
#SBS has been supporting small businesses for 10 years
Over 400,000 #SBS applications
A network of over 3000 #SBS winners
Which equates to less than 1% of entries will win
75% are female owned businesses
23% started a business aged 45+
6% were under 19 when they started
52% are sole traders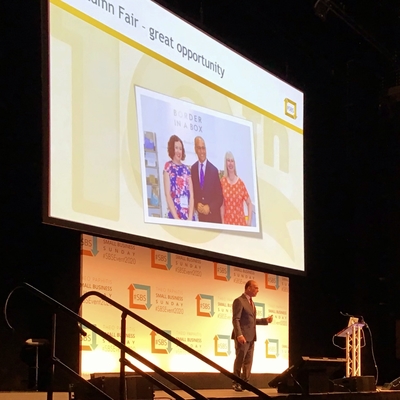 Google Digital Garage – Priya Chauhan
This presentation was designed to help us become more visible on Google and enable our customers to find us easily. This session was packed with nuggets of information and my 'To-do' list has grown considerably.
Free digital online course – https://learndigital.withgoogle.com/digitalgarage
Look at trends for your industry and see what the world/UK are searching for – https://trends.google.com/trends/?geo=GB
Create a business listing for free – Google My Business Account and create a Business Profile which lets you easily connect with customers across Google Search and Maps. If you work from home, you can click a button that says 'don't show my address' – keeping 'workers from home' safe online! https://www.google.com/business/?ppsrc=GPDA2
Use Keyword search planner – this helps with potential customers trying to find you by adding those search terms to your website and content. Use short and long tail keywords. This can also help with paid ads and marketing.
Also keep information up to date, add in photos, virtual tours, respond to reviews (good and bad), show you care and show your personality.
Phew what an epic presentation. I loved it when Priya talked about when she moved into her new home and had no clue what to do with the garden. I hear you Priya, that happened to me and that's why I started my business to help everyone achieve a gorgeous garden easily. No green fingered expertise required with my kits as I've done it all for you!
NatWest – Darren Pirie
This presentation was going to be an interesting one for me because I applied to their accelerator program when I first started Border in a Box. I got chatting to one of their advisers who works with Darren, at one of their social events. The 'mentor' kept saying over and over that he 'didn't get it' and advised me to go and find another job/business as this was never going to work.
I don't remember his exact words but I will never forget how I felt.
If I had followed his advice I would have missed out on some amazing opportunities such as #SBS, the WINN award for innovation (with £12k prize package), creating a show garden border at BBC Gardeners' World Live at the NEC and winning Platinum, Best Border and being featured on TV by Mark Lane. Plus, many more, too long to list. Border in a Box is celebrating it's third birthday this month.
So if you want to apply to join their free program here's the link – there are many #SBS winners who rave about their hub – https://www.business.natwest.com/business/business-services/entrepreneur-accelerator.html
MIND – Faye McGuiness
We all have the right to thrive at work.
Mental health can happen to anyone, and there is still a stigma and fear of what people think about us.
1 in 4 people experience mental health problems
The cost to the economy is £42-45Bn a year
On average, for every £1 spent on supporting their staff's mental health, employers get £5 back on their investment in reduced absenteeism and staff turnover
You can read more about Deloittes research here – https://www2.deloitte.com/uk/en/pages/press-releases/articles/poor-mental-health-costs-uk-employers-up-to-pound-45-billion-a-year.html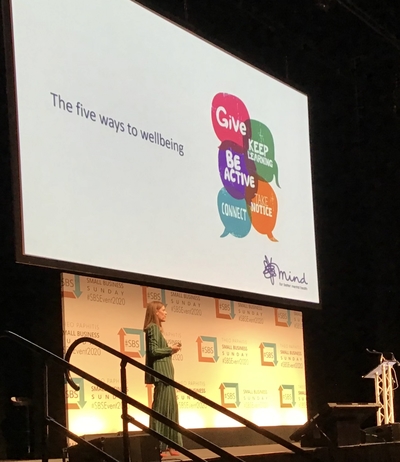 Faye went onto say its important to create wellness action plans for ourselves as sole traders and our team members. So, to support our wellbeing we need to do two of these five things each week to improve our mindset.
Give
Keep learning
Be active
Take notice
Connect
LinkedIn – Charlotte Davies
I've been using LinkedIn for many years and used it to connect with clients and help with networking when I worked in IT. I love using it but when I became a garden designer all my contacts were in IT and I thought they wouldn't want to hear about my new career. How wrong I was – I've had so many people message me and ask how I changed career and how much they love the respite from endless chat about IT and hear about gardens instead.
I definitely need to update my company page, which I've left hanging and simply focused on my personal page. I was also surprised to hear that we scroll 96 metres of content every day, which is more than the height of Big Ben. Which means it's so important to create content that people are interested in.
Charlotte's Tips:
Build your company story / show your brand
Post great content regularly
Create a content strategy
Don't write spammy messages selling your business/services on the first connection
Fireside Chat – Theo Paphitis & Sara Davies

What an inspirational afternoon.
If you don't know who Sara Davies MBE is, she's a British entrepreneur and the founder and owner of Crafter's Companion, a company she started while a student at the University of York – she was 19. She joined Dragons Den in April 2019 as the youngest Dragon.
Sara's parents were business owners, they own a hardware shop. There were no plans for her to take over the store, so she went to York University and gained a first-class honours degree.
Whilst at university Sara joined a small crafting company as her placement. She spotted a niche in the market to make envelopes to match crafters cards rather than using bog standard manila or white cards.
Sara went to her Dad (an engineer by trade) and between them they created the Enveloper. Sara was still at university when she set up her business and was turning over £500k by the time she finished her course.
The Enveloper was sold on TV shopping channel, Ideal World. Sara recounted the story of her investment in stock for the first show and how the purchase order was reduced from the original agreed amount and how that left her in a deficit. However, Sara sold all 8000 products, so all was well.
From a young age Sara was inspired by her parents, their hard work and family values. Sara wanted this for her family and have a career that was flexible around her family. Sara is now married with two children aged 3 & 6.
The harder she worked the more confident she became. She told us that she was at an event for an award and was one of 8 people shortlisted. She was the only woman and had a northern accent and was in the crafting industry, so she thought she had no chance. Obviously she won, and it was a sweet success.
Sara's top tips for us
DON'T REDUCE YOUR PRICE – If you're selling a service, do a little bit for free so the client can understand/see the return on investment.
If you want to sell on TV shopping channels but struggling to get noticed, create your own infomercial. Talk about why they need your product in their lives rather than lead with price.
Work hard
Be you
Don't talk gender – she's in business rather than a 'businesswoman'
Focus on the positives and not beat yourself up over things not done
What an inspirational lady.
If you want to be part of next years #SBS event all you need to do is:
Follow @TheoPaphitis and @RymanStationery on Twitter.
Tweet about your business directed to @TheoPaphitis, adding the hashtag #SBS.
Tweet on a Sunday between 5.00-7.30 PM.
Having a website increases your chances of being noticed.
It helps to know the names behind the business. #SBS is for small businesses. The personal touch is liked.
Just tweet once in each weekly time slot.
See you there next year and claim your fabulous goody bag – the notebooks are brilliant!
THANK YOU THEO!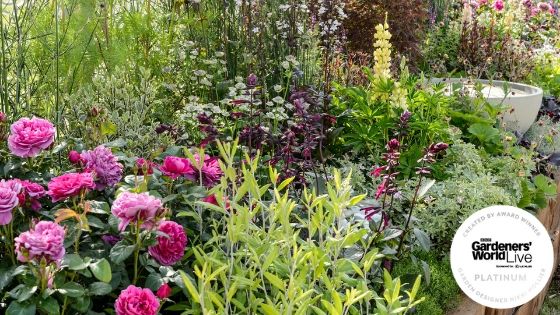 Platinum & Best Border show garden at BBC Gardeners' World Live 2018 by Border in a Box