RHS Malvern Spring Festival 2019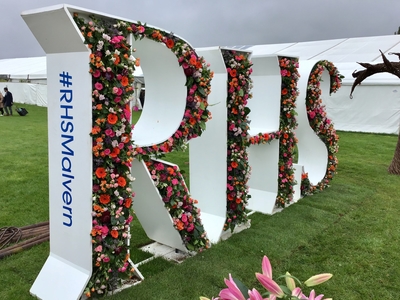 The opening day of the RHS Malvern Spring Festival was fantastic! As you would expect, the show gardens were my priority and they were all of an exceptionally high standard.
Here's an overview of my favourites;
The Leaf Creative Garden: A Garden of Quiet Contemplation – Designed by Peter Dowle.
Awarded a Gold Medal and Best Show Garden – understandably so as it was beautiful and definitely created a sense of calm. Being able to gaze across the garden and reflective pool to the sculpture of a dancing ballerina, created by Simon Gudgeon made a stunning focal point.
The planting was a mixture of perennials and semi mature shrubs, such as Japanese maples, Box and Cornus along with Digitalis Purpurea, Anthriscus sylvestris and Thalictrum. It was all set off beautifully against the back drop of the Malvern Hills.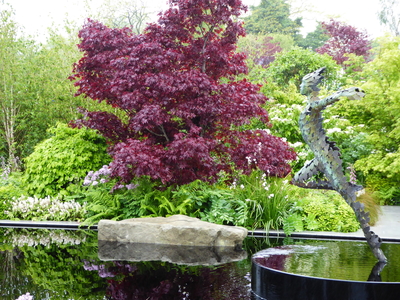 The Orange Express Garden – Designed by Villaggio Verde.
Awarded a Gold Medal. It tells the story of fruit production in a remote part of Spain, where a cooperative of growers built a small railway to transport their goods to the market. The attention to detail was outstanding and it all looked like it had been there for many years – from the Spanish newspaper in the latrine, to marks along the wall where the chairs would have naturally left a mark. This level of detail is what the RHS judges love as it all adds to the story of the garden.
The planting included fruit trees – lemon, pomegranate, plus pistachio and Villaggio Verde's olive trees, as that is their specialisation.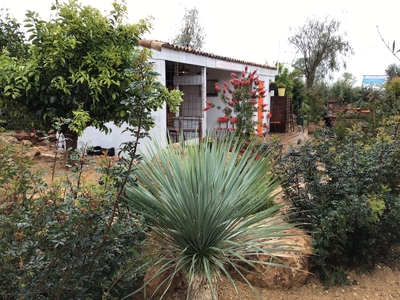 The Habit of Living – A garden in support of Diabetes Uk. Designed by Karen Tatlow and Katherine Hathaway
Awarded Silver Gilt Medal and Best Construction Award. This garden was definitely one of my favourites. The aim of the garden was to raise awareness of the charity and highlight the scale of the condition which affects more people than cancer and dementia combined.
At the start of the garden it has a narrow path surrounded by plum and purple coloured plants such as Heucheras and Sambucas nigra, which flowed past the seating area with a lovely water feature. The path widens as 'managing the condition' becomes easier which is demonstrated by the softer and lighter colour scheme of blues and whites flowers such as Iris's, Geums, grasses and Artemesia.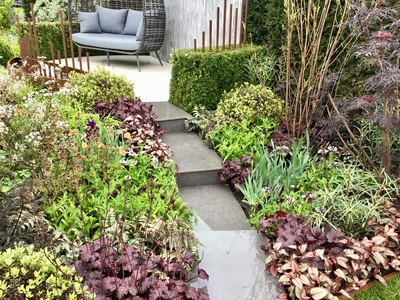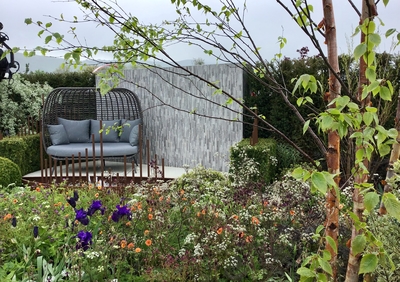 The Green Living Space Gardens
The Green Living Space gardens started out as shipping containers and were adapted by the designers to show with a bit of imagination a small space can be transformed easily into a beautiful outdoor piece of heaven.
Defiance – Designed by Sara Edwards
Awarded Gold and Best Green Living Space. It's based upon a London balcony with the owner being plant obsessed and craving green space in the city.
It had a stylish concrete wall to one side with a wooden pergola across the width of the garden. It was filled with lush tropical planting which contrasted beautifully with the pale grey colour of the container and concrete pots.
The planting was architectural palms, Phormiums and ferns which created lots of texture, colour and height. Sara also used trailing plants across the pergola which softened the edges and she also added a small pond with a large concrete planter which added a further sense of calm.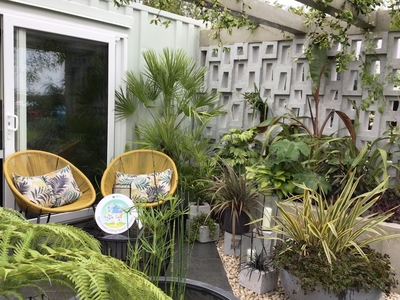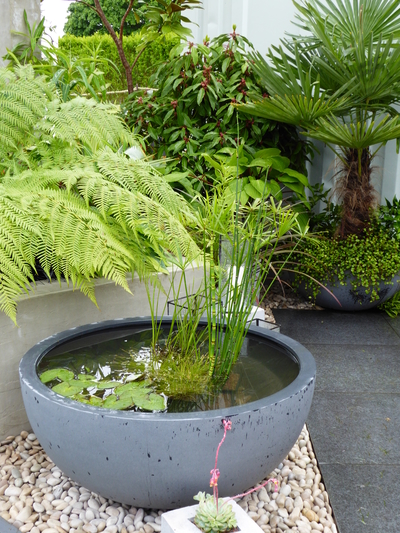 An Artists Studio at Home – Designed by Jessica Makins in collaboration with Stephanie Tudor
Awarded a Gold Medal. I loved the colour palette of neutral grey/green planting with highlights of dark purple from the soft Anthriscus and poppies to the almost black centres of the Euphorbias. The wall to the side was made of earthy clay with a seating area and inverted shelves containing white objet d'art. It created a really relaxed vibe where you would love to sit and draw or read.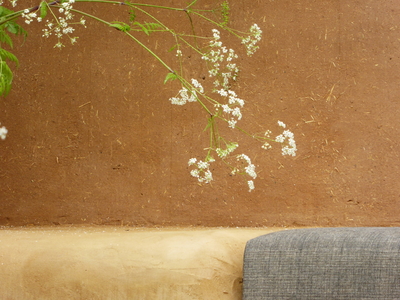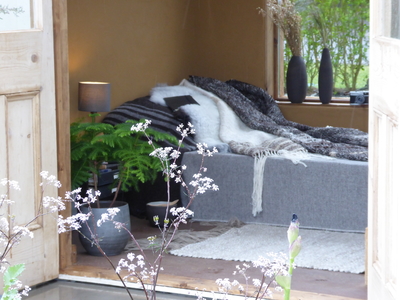 Congratulations to all the other garden designers:
Gold Medal – The Mindset by Anna Galagan
Gold Medal – What If in support of Rees Foundation by Sebastian Conrad
Silver Gilt Medal – Mediterranean Terrace by Gabriella Pill
Silver Gilt Medal – The Macmillan Legacy by Gary Bristow
Silver Medal – Grace & Dignity by Lucie Giselle Ponsford
Silver Medal – Ikhaya: Home by Stacey Bright
Silver Medal – The Redshift by Julie Bellingham
Silver Medal – Zeta: Memories of Home by Anastasia Yakovleva
There is so much to see and do whilst at the show such as the Floral Marquee which is full to the brim of stunning plants you can buy from unusual pelargoniums by local nursery Fibrex Nursery to air plants and cottage garden favourites – and everything you can possibly think of and more! It really is a plant heaven and you can spend ages browsing and chatting with the nurseries.
The schools gardens are also a treat to see – it's so nice to see young people getting into gardening and is filled with enthusiasm with their works of art.
There's also plenty of shopping for everything you need for your garden from machinery, to glasshouses to ornaments and water features. There is so much to see and do which makes this event a real highlight on the calendar and well worth visiting.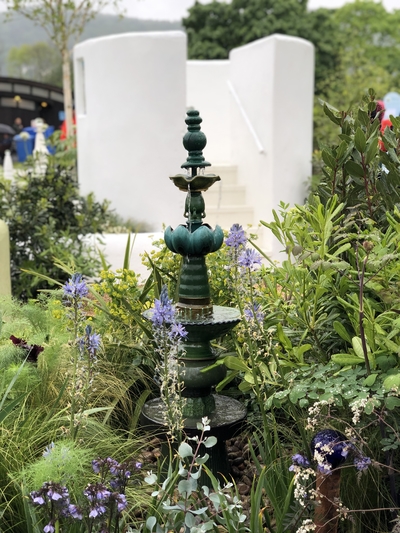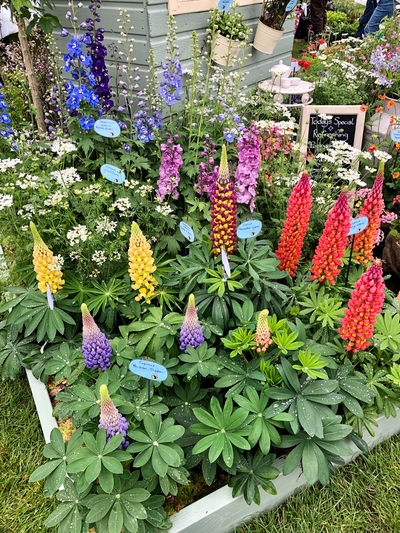 JOIN MY GARDEN LOVERS CLUB
Sign up to my free newsletter to receive top-tips, offers and planting ideas to create your perfect outdoor space! Receive your FREE bulb guide for year round colour.
[maxbutton id="1″ url="http://13.41.40.160/join-garden-lovers-club/" text="JOIN NOW" ]