Get yourself along to this year's festival – its theme this year is inspired by the Great Exhibition of 1851 where Malvern water flowed through the magnificent crystal 'Schweppes Fountain', the centerpiece of the opening ceremony.
There are some stunning gardens and floral exhibits along with a fabulous food hall and plenty of shopping – so there is something for everyone.
As a garden designer my focus is on the gardens and there are some absolutely beautiful and inspiring gardens to see.
Show Gardens
The 'Best in Show' award went to the very talented Ruth Gwynn and Alan Williams for their 'Perfumers Garden' – and they also received a Gold Award too – very well deserved as the attention to detail is impressive.
The planting included Iris, Rose, Basil, Citrus and Lavender along with pencil cypress.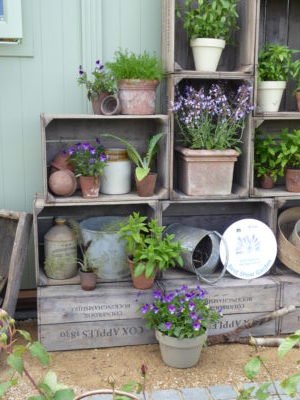 Another favourite is the garden by Graduate Gardeners Ltd with eye-catching brightly coloured plants – including purple alliums, dark cow parsley and grasses which all show up against the dramatic black painted boardwalk and water. They were awarded a Silver-Gilt medal.
Gold medal garden designer Martyn Wilson created 'Memories of Service' supporting the RAF100 Appeal, beautifully planted with blue Camassias, purple Pittosporum and topiary balls with a red white and blue colour scheme to represent the RAF. I found it hard to peer over the top of the hedges to view the garden but it was designed to give an intimate feel to the space.
Another favourite was The Dew Pond by Christian Dowle – I love his style of design as it makes me feel at peace and relaxed. The garden was designed to create a natural setting that attracts wildlife and that is sustainable and productive. There are 5 parts to the garden – an orchard, woodland, front garden, meadow & wall and a dew pond. They were awarded a silver medal.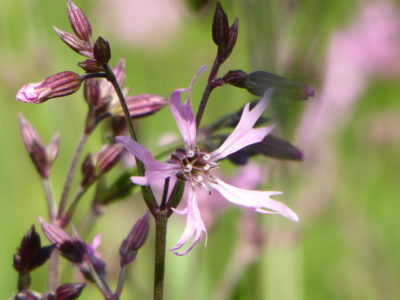 A Gold Medal and Best Construction was awarded to Peter Dowle of Howle Hill Nursery who created 'Spirit of the Wood' which was another show-stopping garden with some magnificent sculptures by Simon Gudgeon. Plants included lots of Japanese maple Acers, which were under-planted with lots of ferns and grasses for lots of texture and interest.
Other show gardens include:
'From Over the Fence' by Jonathan Bishop. Bronze Medal
'Bovis Homes Family Garden' by Design It Landscapes. Silver Medal
'Royal Porcelain Works Ltd: The Collectors Garden' by Big Fish Landscapes. Silver Gilt Medal
'Greenhance: The Garden in the Egg' by Jonas Egger. Gold Medal
'Billy's Cave' by Villaggio Verde. Gold Medal
Green Living Spaces
I was particularly interested in seeing the 'Green Living Spaces' gardens as these have been specifically created to bring 'big gardening inspiration to small spaces' and help the #generationrent & first-time buyers green up their lives.
There are 4 gardens in this category:
'The Salad Deck' by Andy Bending – Silver Gilt Medal.
'Outside Number 39' by elaine Portch – Gold Medal & Best Green Living Spaces Award
'Grow, dine & relax' by Anne Keenan – Bronze Medal
'The Urban Escape' by Sebastian Conrad – Bronze Medal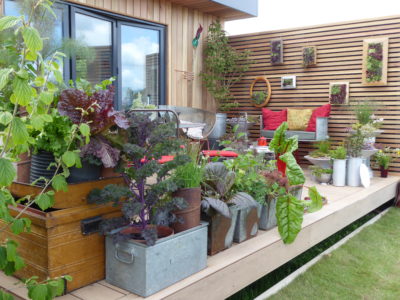 I had a lovely conversation with Sebastian about his garden. He is currently studying at Pershore Horticultural College and is so passionate about his plants and exhibiting at RHS Malvern. His garden was created to provide a sense of relaxation by using lush green ferns along with white flowers. However, I loved the vibrant colourful section with corals and bright orange flowers.
The Floral Marquee
The Floral Marquee was as fabulous as ever. Master Grower this year is Avon Bulbs, who are a multi gold medal winning nursery specialising in rare and unusual bulbs. Particular interest is the 6 varieties of Camassia including the 'Stellar Pink' variety.
As usual local Fibrex Nurseries were exhibiting and won 2 Gold Medals for their Pelargoniums and Ferns & Ivies. They are also celebrating their 60 year anniversary in June! I love visiting their nursery in Pebworth and I'm using their 'Lady Plymouth' variety in my show garden border at Gardeners' World Live at the NEC in June. Not only does it smell amazing, but the leaves are variegated with grey/cream colours. Beautiful! They are hosting their Plant Party on the weekend of 16/17th June and have lots of talks and workshops for you to attend – more information click here: https://www.fibrex.co.uk/blogs/news/the-big-show however, this is the same weekend as Gardeners' World Live, so plan your weekend wisely!!!
I was also impressed by Andy's Air Plants and Scamp's Quality Daffodils. Also Pershore based Hayloft Plants had a lovely display where you can buy unusual plants. How could you fail to miss the dazzling lilies by Hart's Nursery – the size of the blooms was spectacular and the smell was divine! There are so many plants to choose from that there's no way to pick 'favourites' but the Auriculars are so pretty.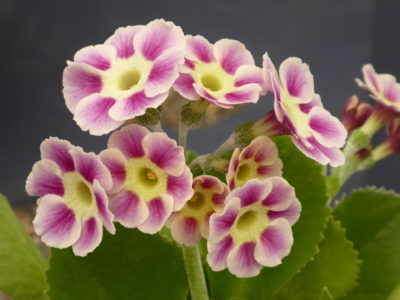 It's a great place to chat with the growers too and you may even bump into a celebrity gardener or two! Here's the lovely Carol Klein with award winning Surreal Succulents.
The Great Pavilion of Art and Flowers
Even if you're not into floristry, this is the pavilion you MUST visit as it's full of spectacular floral artistry. When you walk in the first thing you see is the Morgan Car decorated with outstanding designed flowers. The photographs don't do it justice as it really is a fantastic piece of art.
You can't fail to be inspired by floral artist Jonathan Moseley who is giving daily talks and demonstrations over the weekend. I'm sure you'll learn lots of tips and tricks on how to decorate your home with fabulous British grown cut flowers.
School Gardens
I loved the school gardens – hopefully it will inspire the next generation to develop their love of gardens, horticulture and being outside. Here are three gardens which I thought were wonderful as I loved their attention to detail!
Three Counties Home Educators – The Beatrix Potter Garden
Tudor Grange Academy, Worcester – Suspended Innovation
Greenfields Primary School, Kettering – A Very British Tea Party
The Festival Theatre
I got to listen to Chris Beardshaw present his show garden project which he is currently building the Morgan Stanley garden for the NSPCC at the forthcoming RHS Chelsea Flower Show. It was inspiring to hear how an experienced garden designer approaches the project and comes up with an amazing garden to showcase the work of the NSPCC. I can't wait to see it.
I also bumped into Joe Swift & Adam Frost – there will be plenty of celebrity gardeners for you to meet and talk to at the event – check the Festival Theatre agenda.
There is really so much to do and see at the show that I've not even had chance to talk about here, such as the Grow Zone, Food Hall and the Master Craftsmen. It's a wonderful show to gain ideas, inspiration and 'how to' advice – so my top tip is to make sure you have plenty of time and make sure you wear comfy shoes!
The show is open 10th to the 13th May, https://www.rhsmalvern.co.uk/buy-tickets/
---
Join my Garden Lovers Club
Sign up to my newsletter to receive top-tips, my monthly offer, and planting ideas to create your perfect outdoor space!
Win a pair of tickets to Gardeners' World Live 2018 & Border in a Box garden design kits by signing up to the club.