RHS Chelsea Flower Show 2019
WOW the Chelsea Flower Show was fabulous! This year's theme is definitely about back to nature with woodland style gardens and natural materials used on all the gardens.  Colourwise there was lots of whites, lemons and pale colours with a few gardens having a strong dark purple and burgundy shades – very beautiful colour palates. I arrived early which enabled me to have a good look around at the show gardens and take some great photos, so have a read of my review and how you can apply some of their design styles to your garden without breaking the bank!
The M&G Garden – designed by Andy Sturgeon
Gold Medal & Best Show Garden
This garden was about rejuvenation and how plants colonise a space.  The large and very striking black sculptures made from 50 tonnes of sustainable burnt-oak timber represented a rock formation Andy had seen in Australia. The paths and steps were made from English ironstone which was a neutral earthy tone in colour to offset the lush green plants.
Top Tip #1
If your garden is more courtyard than rolling hills, you can take the burnt-oak timber idea and use smaller wooden posts placed through your garden border – as demonstrated in this display by Daisy Roots Nursery in the Great Pavilion.
The Resilience Garden – designed by Sarah Eberle
Gold Medal & Best Construction Award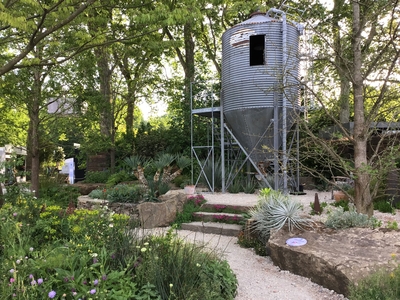 Created to celebrate the Forestry Commission's centenary, and demonstrate the challenges facing forests of the future. It also shows how woodlands can be made resilient to a changing climate and the increasing threats of pests and diseases.
The silo made a striking focal point, especially as it made a creative home office space, although I don't think I would want to be inside there during a thunder storm!  The trees used in the design were a mixture of native and exotics such as the Araucaria araucana, commonly known as the monkey puzzle tree.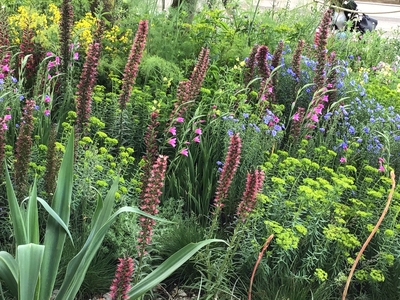 I loved the planting which included Echium russicum which contrasted beautifully against the lime green Euphorbia's, blue Linum and pink Ragged Robin.
The Greenfingers Charity Garden – designed by Kate Gould
Silver Gilt Medal
First impression was WOW, I loved the beautifully planted border at the front – gorgeous lemon lupins with white roses and bearded iris. My eyes were then drawn to the back of the garden with the geometric style green and grey striped tiles up the back wall and gorgeous Angelica with lime green flower heads. The trees and shrubs enclosed the seating area to make it feel cool and relaxed on a hot sunny day – and also provided privacy if it was located in an urban environment.
Above the whole garden was a balcony which was reached via a lift – all created to make the most of every inch of space available in the garden.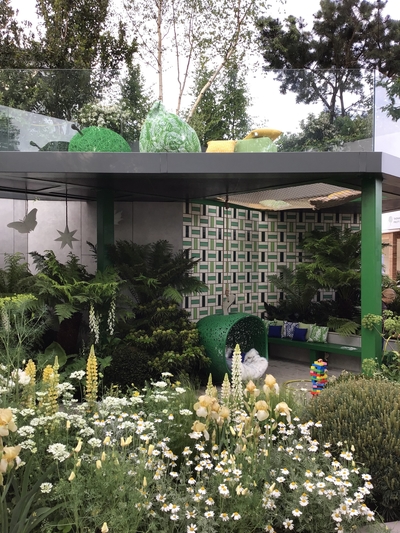 Top Tip #2
If you have a small and/or narrow garden, you can make the most of your space with vertical planting. This can be achieved with climbing plants, or create a living wall using ready-made systems like the one used in this garden for the The Montessori Centenary Children's Garden, by Jodi Lidgard, another Gold Medal winning garden.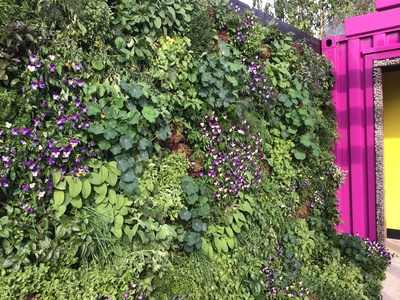 Kampo no Niwa – designed by Kazuto Kashiwakura and Miki Sato
Gold Medal.
My photographs don't do this garden justice – this was one of my favourite 'Space to Grow' gardens. It looks effortless and a relaxing place to be.  I loved the green oak pergola and the water feature that simply flowed through a rhyll to a tiny pond. Beautiful.
This garden was designed for a practitioner of Kampo, which is a traditional Japanese herbal medicine. Each plant used in this garden, such as mint, provides a healing tonic to aid digestion, aches & pains and fevers.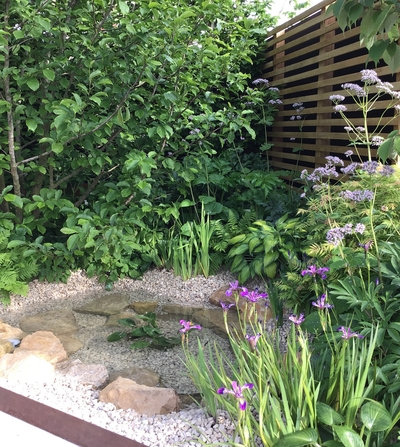 Top Tip #3
Create your own herb garden in pots and containers and place them by your kitchen door for easy access when you're cooking.  I love to grow mint in pots as it smells lovely when you walk past – to make a fresh mint tea, place a few sprigs in a mug and pour on boiling water and leave to cool slightly before drinking.
The Welcome to Yorkshire Garden – designed by Mark Gregory
Gold Medal and the People's Choice Award
You can't fail to be impressed by this amazing garden – it looks like it has been dug up and transported to Chelsea.  The attention to detail is mind-blowing.
The garden was demonstrating the history of Yorkshire and how the canals were an intrinsic part to the success of the County and developing the industry in the area.  It included a lock keepers cottage and its garden with beautiful veg and a natural habitat of wild flowers mixed in with some cultivated varieties.
Top Tip #4
I loved how the paint colour around the windows and door were co-ordinated with the Lupins and Delphiniums. This idea could be replicated at home easily with using furniture cushions matching your flowers and painting the garden shed – although you would need to ensure the flowers are in bloom all summer!
photo: Courtesy Karen Chadwick
Plant of the Year 2019
Every year the RHS chooses a 'Plant of the Year' – here is the top three:
In third place – Agapanthus 'Fireworks'
In second place – Digitalis x valinii Firebird
And in first place – Sedum takesimense 'Atlantis'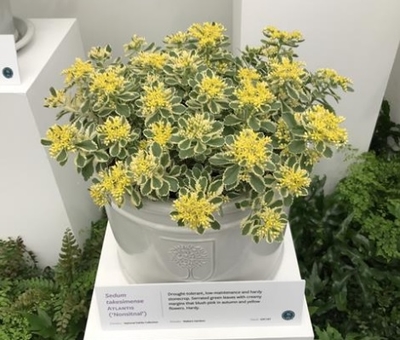 There were so many beautiful gardens and planting schemes, here's a few more photos from the Show:
Natural gardens:
Bronze medal – The Savills & David Harber garden
RHS Back to Nature garden designed by HRH The Duchess of Cambridge with Andree Davies and Adam White. No medal as it was an RHS garden.
Viking Cruises: The Art of Viking Garden designed by Paul Hervey-Brookes. Gold Medal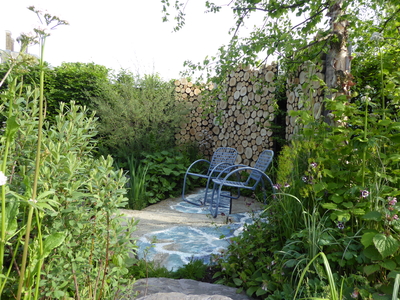 Further Gardens & Installations
This garden commemorates the 75th anniversary of the D-Day landings and aims to capture the disorientation and terror of the brave young men landing on the Normandy beach in hail of bullets. It was made from steel washers, and was designed by John Everiss. Stunning and thought provoking.
I also loved this highland cow sculpture from one of the trade stands – how lovely is he?
This planting combination was by designer Chris Beardshaw – another Gold Medal garden.
I loved the water feature of this perspex panel in the Silver Gilt medal winning garden by David Neale called The Silent Pool Gin garden, with lots of plants used in gin making. Lovely!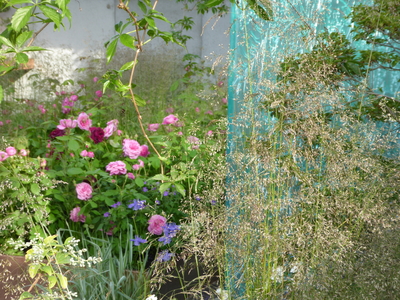 There are still many photos I could show you, but if you would like more details about all the gardens, check out the RHS Chelsea website https://www.rhs.org.uk/shows-events/rhs-chelsea-flower-show/gardens for more inspiration and ideas.
---
JOIN MY GARDEN LOVERS CLUB
Sign up to my newsletter to receive top-tips, my monthly offer, and planting ideas to create your perfect outdoor space!
[maxbutton id="1″ url="http://13.41.40.160/join-garden-lovers-club/" text="JOIN NOW" ]