Pantone have announced the 'Colour of the Year' 2022 called 'Very Peri' which is such a beautiful shade of blue/purple and provides lots of inspiration for the garden. So if you want to simply update your borders or create a whole new garden, here's a few ideas on how to incorporate this vibrant colour into your plot regardless of the style.
When I first saw this colour, my immediate thought was a lavender path – ideal for a country cottage garden, or underplanted around lollipop trees to give a more clipped and precise style.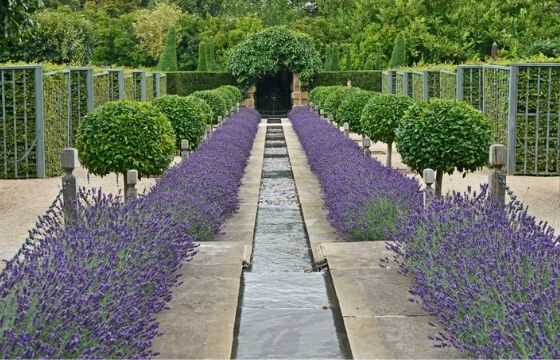 If you're in the "no such thing as too much colour" camp and you love a jewel themed garden how about Penstemon Czar with gorgeous tall spires of purple flowers with a white centre. They flower from June to October and are happy in most soils, grow to around 60-70cm tall. Plant with orange flowered Echinacea, such as Moodz Sympathy variety and Sedum 'Purple Emperor'. All of these plants are loved by pollinators so are ideal for a wildlife garden too. This is from my 'Beautiful Border' at BBC Gardeners' World Live show garden.
However, if you're after a more tranquil and calmer garden it's easy to combine 'Very Peri' coloured plants with monochrome colours such as Senecio 'Angel Wings' with its large silver leaves. It is an evergreen perennial with small clusters of yellow flowers in the summer. It grows to around 40cm tall, which is perfect for the front of a border in full sun with well drained soil. It looks lovely with the purple/blue of the hardy geranium and white larkspur.
For a shady garden, try Hosta 'Blue Mouse Ears' which has cute blue/green neat leaves with pretty blue/purple flowers in the summer. It will die back in the winter, and they're loved by slugs and snails. The only way to protect them is to remove the slugs and snails each evening or after it's rained when they come out to party!
Is a new patio or paving on the cards this year? Have a look at blue slate. This will really enhance the plants I've mentioned. You could use slabs or chippings – both will create the desired style. And remember the fence – if its looking like it needs some TLC, paint it (assuming it's made of wood!). I use Cuprinol Garden Shades as I find it goes on really well and there's a great range of colours too. Try a neutral colour such as Frosted Glass which will disappear into the background and won't compete with your flowers but will enhance the whole garden.
Photo credit – Cardiff Slate & Stone Ltd
I hope you like these ideas for your garden makeover, but if you would like help with your plot, just ask!