It's August and the summer holidays are here, it's a time when we can be more sociable and have friends round for a barbeque and a drink. The weather is usually warmer and there's still daylight to enable us to sit outside in our gardens in the evening and enjoy it all.
So what's looking good right now? Here are some ideas on how to zhoozh up the garden and give it a simple mini-makeover:
The quickest way to brighten up the patio is create pretty pots – you can buy them ready planted but why not have a go yourself and tailor them to your colour scheme and style.  Plants in flower at the moment are:
Penstemon
They're fabulous perennials as they can flower from early summer to mid-autumn and have a range of gorgeous colours and they're so easy to take care of too.  They grow from 15cm to 1m in height, depending on the variety and prefer a sunny spot, but can tolerate part shade. They can be grown from seed and you can take cuttings. I love them!
Crocosmia
'Lucifer' variety has vibrant red flowers on arching stems, which look wonderful in a jewel-coloured border. They grow to around 1m tall and can be grown from corms or purchased in pots from the garden centre. They are clump forming, so will need to be dug up every few years and divided – fabulous extra plants for free! Other varieties are available in shades of yellow and orange coloured flowers.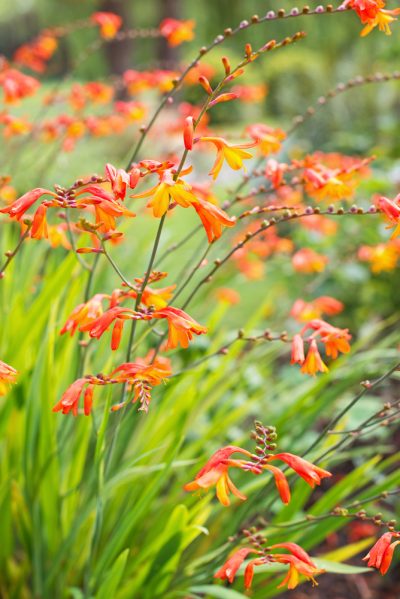 Agapanthus
There are many varieties available mainly with beautiful shades of blue flowers, but you can also get white and purple flowers too. They look stunning in pots with their strappy green leaves and intense blue flowers, which grow to around 1m tall, in a sunny spot in well drained, nutritious soil. Remember to keep them well watered.
Top Tip:
If you have an empty space in your border, pop in a pot and you have an instant update to your garden.  You can also make pots seasonal, which means you always have gorgeous flowers all year round.
Further ideas to help you create a wow factor in the garden is add some cushions in the same colour as your flowers – you can see this created beautifully in this RHS Chelsea show garden, the yellow cushions pick up the beautiful zesty coloured lupins. It provides a lovely coordinated style and you can create this easily regardless of the size of your garden.
Further reading:
Container gardening made simple – https://borderinabox.com/container-garden-thrillers-fillers-spillers/
_______________________________________________________________________________________________________________________
Join my Garden Lovers Club
Sign up to my newsletter to receive top-tips, my monthly offer, and planting ideas to create your perfect outdoor space!