I created a 'Beautiful Border' show garden at the BBC Gardeners' World Live event which was held at the NEC in Birmingham in June 2018.  It was a fantastic event held over four days and it's a wonderful place where you can get practical inspiration for your own garden all day long! There were plenty of celebrity guests too as well as all the presenters from the TV show.
I was delighted to win a Platinum award and also the 'Best Border' at the event and my garden was also featured on the TV show too. The presenter, Mark Lane, articulated my garden perfectly – you can see the clip here https://www.youtube.com/watch?v=OX7F2130J14&feature=youtu.be
photo by Ginger Horticulture
My garden border was titled and inspired by 'The Jar of Life' analogy where every inch of space counts. This is where a jar is filled with rocks to symbolize the most important things in life such as our wellbeing, followed by gravel and sand to signify the next levels of importance which fill the spaces in between them. The border was filled with sensory plants which either smelled divine, were tactile, tasted amazing, or looked beautiful which all contributes to our wellness. The water feature makes a restful sound and the relaxing colour palette of mauves and cream created a space which could easily be reproduced at home in a sunny garden.
I used a variety of plants, but here's my favourite three:
Penstemon digitalis 'Husker Red'
is a bushy semi-evergreen perennial which grows to around 75cm tall, and has beautiful dark red/purple leaves and stems, with white bell-shaped flowers that look stunning in a mixed border and bloom from June to August. They love full sun and can grow in loam, sand or chalky soils as long as it's well drained.
Astrantia major 'Star of Billion'
is a clump forming perennial with white pincushion flowers. It likes a sunny or part sunny border and grows to around 60cm tall in all soils. It flowers from June to August and can be used as a cut flower too.
Salvia hybrid 'Love and Wishes'
is another perennial plant with an upright habit and is part of the sage family.  It grows to around 80cm tall and has small, aromatic, mid to deep green leaves. The flowers are a bold dark purple and look fantastic next to any lime-coloured plant.  It also flowers all summer long so it's a perfect plant to use in a pot or the border.
If you would like to recreate this border in your own garden, my design kit called 'Wellbeing' is the version to choose – all the plants are for a sunny spot in moist but well drained soil.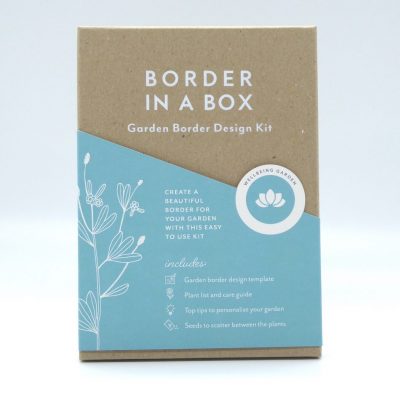 I would like to say Thank You to everyone who helped with my project:
Water feature: https://www.solusdecor.co.uk
Screens: https://www.screenwithenvy.co.uk/
Japanese maple: https://www.howlehillnursery.co.uk/
Plants: http://www.bernhards-nurseries.co.uk/
---
Join my Garden Lovers Club
Sign up to my newsletter to receive top-tips, my monthly offer, and planting ideas to create your perfect outdoor space!